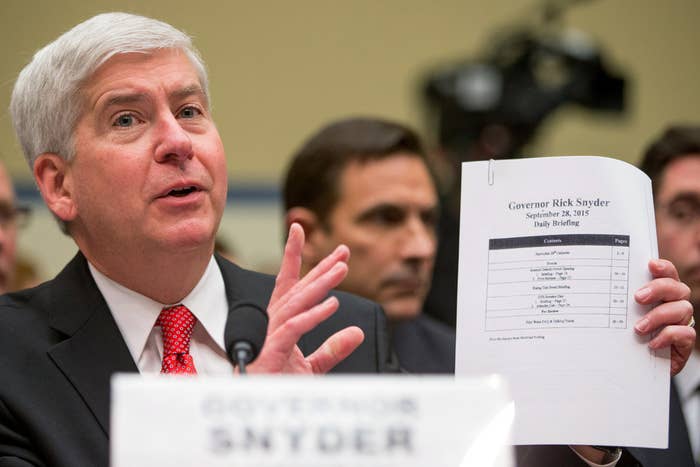 Michigan Gov. Rick Snyder on Thursday testified before Congress on his government's role in Flint's water contamination crisis, which has put several residents at risk of serious health issues, including lead poisoning.
In his opening remarks, Snyder called the Flint crisis "a failure of government at all levels: local, state, and federal officials. We all failed the families of Flint."
He added that he was "not going to point fingers or shift blame," and spent the rest of his time enumerating the measures he has taken in light of the contamination crisis, including an appeal to Congress for $165 million to "deliver permanent, long-term solutions."
Flint's water crisis began in April 2014 when a state-appointed emergency manager approved the switch from Detroit to the Flint River as the primary water source.
The water was not properly tested and ran through dilapidated pipes, which resulted in contamination, discoloration, and the extremely high presence of lead. President Obama declared an emergency in Flint in January.
Also before the committee Thursday, Gina McCarthy, the top administrator for the Environmental Protection Agency (EPA), more or less re-read the op-ed she wrote for the Washington Post on March 14, and again placed the bulk of the blame squarely on the state for failing to cooperate with her agency after discovering Flint's water was unsafe.
She acknowledged some accountability in terms of the response timeline, saying that while the EPA did not cause the crisis, they could have possibly acted sooner.
Michigan Rep. Tim Walberg opened up the line of questioning, asking Snyder to confirm the documented emails he received in 2015 from various members of his staff that discussed early concerns over a rise in legionnaire's disease in Flint.
Snyder maintained that he was not aware of the potential spread until October 2015. Walberg then immediately produced emails dating back to March 2015 that discussed a "significant uptick of legionnaires disease in Flint."
"I don't recall any mention of that to me, and I also don't remember any discussion," Snyder said.
That didn't go over well with Pennsylvania Rep. Matt Cartwright.
"I'm not buying that you didn't know about any of this until October 2015," Cartwright said, citing an often-argued point from Snyder throughout the investigation. "You weren't in a medical coma for a year."
Cartwright mentioned the resignation of EPA regional administrator Susan Hedman, before calling on Snyder to follow suit.
"She resigned, and there you are, dripping with guilt, drawing your paycheck, hiring lawyers at the expense of the people, and doing your dead level best to spread accountability to others, and it's not appropriate," Cartwright said.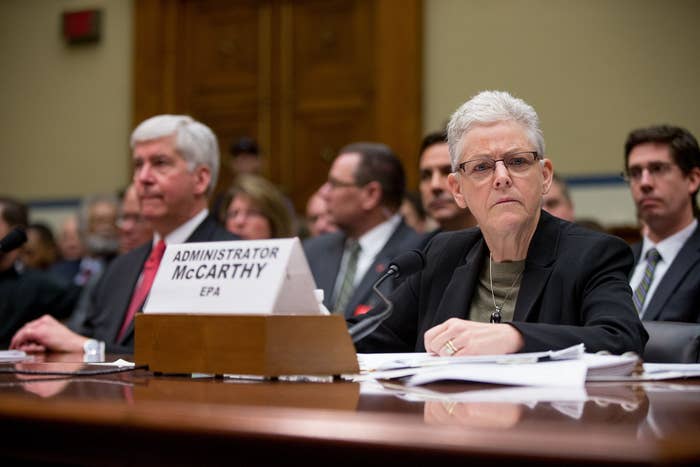 Several representatives implored Snyder and McCarthy for their lack of leadership and integrity throughout the process of addressing Flint's crisis.
Gerald Connolly, a congressman from Virginia, said the governor and EPA administrator had employed "Alice and Wonderland" management techniques, noting that once they identified who was at fault, they simply said, "Off with their heads."
Maryland Rep. Elijah Cummings, who co-chairs the Committee on Government Oversight and Reform, called Snyder "an absentee governor," and echoed at least three other representatives in urging him to resign.
Snyder is one of several officials whose agencies were heavily involved in Flint's water contamination issue who are expected to testify. The list includes people from the Michigan Department of Environmental Quality (MDEQ) and Virginia Tech, who sent a research group to Flint last summer to test the water for lead.
Last month, Snyder was accused of avoiding from the House committee, although his office contends he never received an invitation.