A meteorologist claimed in a weather segment about Hurricane Matthew that hungry Haitian children were eating trees and contributing to deforestation in the country.
Haiti and Cuba have been hit particularly hard by the storm, which has forced mass evacuations and has resulted in at least five deaths in Haiti.
During a weather segment Monday, The Weather Channel's Jennifer Delgado talked about Hurricane Matthew's path through Haiti, as well as the issue of deforestation the country faces.
Delgado first highlighted the differences in tree growth between Haiti and the Dominican Republic, with whom it shares a border.
"You notice what's different in this NASA image, you see all brown here, and then green to the east," she said. "That's because this whole area has been essentially deforested."
The meteorologist went on to say that Haitians "take all the trees down, they burn the trees. Even the kids there, they're so hungry they actually eat the trees."
While deforestation has been a real issue in Haiti, researchers at North Carolina State University have attributed its cause to agricultural exploitation, the harvest of timber for export markets, and the increasing local reliance on farming as a means of business.
Delgado faced criticism on Twitter.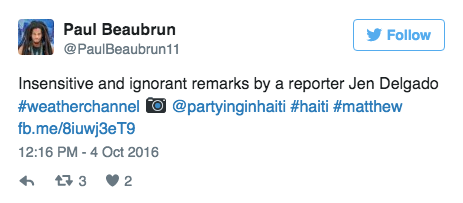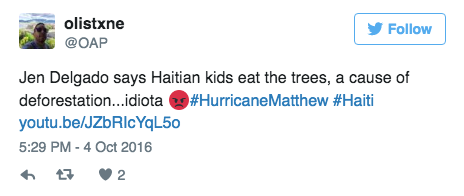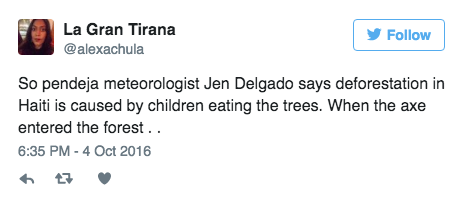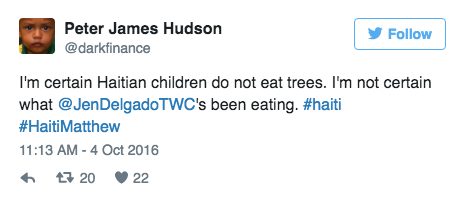 On Tuesday, she issued an apology on Facebook, saying that her comments were inappropriate. She gave a similar apology on air that day.
The Weather Channel also released a statement, saying Delgado "was not intending to offend the Haitian community and misspoke," and reiterating its mission of providing in-depth coverage of the hurricane.