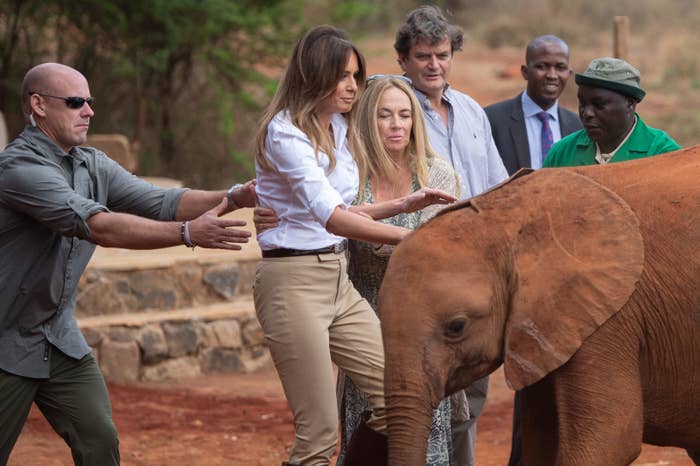 NAIROBI — For what it's worth, US first lady Melania Trump appears to be genuinely enjoying herself on her five-day, four-country tour of Africa. So far it's included stops in Ghana, Malawi, and Kenya. It will conclude in Egypt on Saturday, where she'll get the chance to see the Sphinx. She's visited a UN World Heritage site, danced with local school children, fed baby elephants, and, of course, posed for dozens of photos while cradling children.
But a vast majority of the people in the countries she has visited so far don't appear particularly invested, or even interested, in the visit. And those who have taken notice, don't seem particularly thrilled.
Scheaffer Okore, a Kenyan who describes herself as an "Afro politico feminist," told BuzzFeed News that she didn't see Trump's trip as more than a big photo op.
"I simply don't care because there's an obviousness about her and her husband not really caring about the continent or anything specifically African," she said, "and this tour seems to be more about exploration than anything with serious intent."
"The Trumps are problematic attention seekers who feed on optics, nothing else," she said.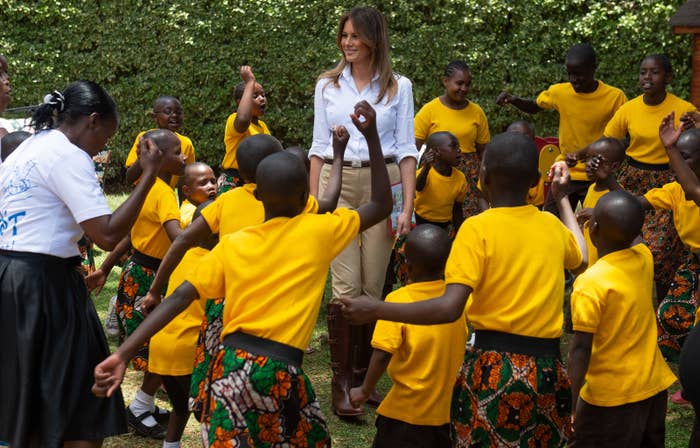 So far, Trump has checked off all the expectations of white foreigners who visit the continent, presidential or not.
Her official visit to Kenya started Friday morning with a stop at an elephant orphanage, wearing a pith helmet and everything, followed by a visit to a shelter for children of imprisoned mothers. The first lady also visited the State House to speak with officials, and ended her day at the national theatre for a cultural performance.
Trump's Kenya stop appeared to have some impact on the locals; a few people told BuzzFeed News that the capital city of Nairobi's notoriously thick traffic was even worse this morning because of Trump's motorcade. Overall, people seemed to have mixed feelings, ranging from pride to annoyance, about her visit.
Before that, in Malawi, Trump was greeted at the airport by dozens of traditional dancers. She later paid a visit to a school located in the capital, Lilongwe, where White House reporters following her on the trip noted that the ratio of students to teachers is more than 100 to one. She sat in on reading lessons, distributed school supplies, soccer balls, and totes emblazoned with "Be Best" branding, and donated 1.4 million books to the school.

Malawians didn't appear to be too moved by her presence in their country. But at one point in the trip, a small handful of white people held signs as the first lady's motorcade passed, with phrases like "Welcome to Malawi #notashithole," "Melania Me Too," and "Welcome to Nambia," referencing a time last September when President Trump incorrectly pronounced Namibia while addressing African leaders.
When Trump announced on Aug. 20 that she would embark on her first solo international trip as first lady to Africa, she said in her statement it was in order to "educate myself on the issues facing children throughout the continent, while also learning about its rich culture and history."
Given her husband's denigrating comment about "shithole" countries like Haiti and those in Africa back in January, the first lady's chosen destination was wrought with irony.
When she specified during the UN General Assembly on Sept. 26 which African countries she would travel to, Trump said that she would be promoting her "Be Best" initiative, which aims to empower children by educating them about their well-being, social media use, and opioid abuse. She said that she chose Ghana, Malawi, Kenya, and Egypt in particular because they "have worked alongside USAID and our partners to make great progress in overcoming some of their biggest challenges."
Early in his presidency, Donald Trump moved to make sweeping budget cuts to programs like USAID, on which several African countries depend heavily.
Trump kicked off her Africa tour in Ghana on Oct. 2, where she visited the Cape Coast slave castle — a UN World Heritage site that, frankly, any person visiting the West African country would be remiss to skip over — the following day.
"My visit to Cape Coast castle was a solemn reminder of a time in our history that should never be forgotten," she said of her visit to the massive center where African slaves were held before Europeans shipped them across the Atlantic. Following her tour, she laid a commemorative wreath inside the fortress. When former president Barack Obama and his wife, Michelle, visited the same site in 2009, they dedicated a marble plaque for the occasion that still hangs at the entrance.
But apart from media coverage from both local and international outlets, some of which has been dragged for its use of cliches about Africa, the first lady's presence in Ghana hardly seemed to be felt. It was difficult to tell whether the small groups of Ghanaians standing around the morning of her arrival were there in support or protest of Trump's arrival, or waiting on public transportation to take them to work.
Trump's trip to Africa follows a trend carried by the first ladies who preceded her. Michelle Obama took two trips while her husband was in office, once to South Africa and Botswana, and again to Morocco and Liberia. Laura Bush went to South Africa, Tanzania, and Rwanda. Hillary Clinton traveled to Senegal, South Africa, Zimbabwe, Tanzania, Uganda, Eritrea, Morocco, and Tunisia over the course of two trips.
Some Africans remain unimpressed by Trump's efforts, convinced that they will have no impact on their respective countries.
Christine Mungai, a Kenyan journalist, called the whole affair "boring" in an opinion piece for CNN, and wrote that the activities the first lady was participating in in Kenya would not give her an accurate depiction of life in the East African country.
"If she wants to grasp how white American evangelicals — a solid constituency supporting her husband — are shaping the world in their own image," Mungai suggested, "she should visit some of the megachurches in Nairobi, which might make her feel like she's in a congregation right in Oklahoma or North Carolina, except for the Swahili praise and worship."
Okore, the Kenyan "Afro feminist," also pointed out the discrepancy between Trump's show of goodwill on the continent with her husband's policies on Africa and marginalized people in the US.
"Their journey to where they are is soiled with so many unanswered questions, and wait, does their administration have an African policy?" she asked. "I mean Trump is about division in every way, how can they possibly be about Africa when their America is against people of color and other minorities?"
But, Okore added, "I like her shoes, though."
Compared to her husband's apparent disregard for the continent, the first lady's visit, if nothing else, did not add to that narrative. One White House reporter even noted that it was the happiest she'd seen Trump. But whether or not this trip will allow her to carve out her own identity remains to be seen. In reference to a controversial jacket Trump wore on her way to visit immigrant children separated from their parents at the US–Mexico border in June, a common reply to tweets about her Africa tour has been: "I don't really care, do u?"