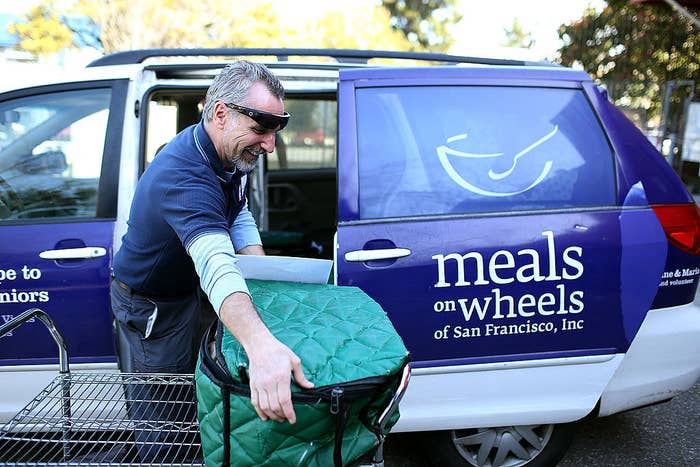 Since Thursday's release of President Donald Trump's budget proposal — which includes sizable funding cuts to various food programs — Meals on Wheels has seen a massive increase in donations and volunteer sign-ups.
While the budget outline does not expressly call for the elimination of the food delivery service, it does suggest eliminating the $3-billion Community Development Block Grant program, which partially funds Meals on Wheels, and also proposes cuts to the Department of Health and Human Services budget.
"5,000 Meals on Wheels programs across the country...could be effected if that 17.9% cut to the US Department of Health and Human Services resulted in a cut to programs within," Meals on Wheels America said in a statement.
Office of Management and Budget Director Mick Mulvaney called into question the efficacy of Meals on Wheels and other services, saying Thursday that the government "can't spend money on programs just because they sound good and great."

He also said that reducing funding for these programs was "one of the most compassionate things we can do," and that the government would no longer "ask you for your hard-earned money anymore...unless we can guarantee to you that that money is actually [going to] be used in a proper function."
Since the budget proposal was unveiled, however, Meals on Wheels operations have reported significant increases in community engagement.

"On a given day, Meals on Wheels America typically receives $1,000 in unsolicited online donations," spokeswoman Jenny Bertolette told BuzzFeed News via email. "Thursday, when the Budget Blueprint was released, we raised more than $50,000 online."
"These gifts will help fund our national advocacy efforts and awareness campaigns that support the network of 5,000 senior nutrition programs across the country," she said.
Bertolette added that these programs serve 2.4 million senior citizens in total each year.
Local Meals on Wheels branches fundraise independently, with some telling BuzzFeed News that they have also experienced similar spikes in donations.
"It's like December levels of donation," said a spokeswoman for Meals on Wheels of Central Maryland, noting that the organization typically receives the most donations and inquiries about volunteering around the holiday season.
"We are seeing a big spike in interest and engagement on all levels," Meals on Wheels San Francisco representative Karl Robillard told BuzzFeed News. "Monetary donations, volunteer inquiries, and even a 96-year old-woman who wants to organize a protest on the steps of City Hall."

Robillard added that based on the uptick in community engagement, "It is clear that many Americans feel strongly that taking care of homebound seniors and the elderly is a clear morale and economic imperative."
In a statement, Meals on Wheels of Central Maryland Executive Director Stephanie Archer-Smith called the Trump administration's proposed cuts "infuriating" and "more than hurtful, because we stand by the work that we do and see firsthand, the impact that it has."