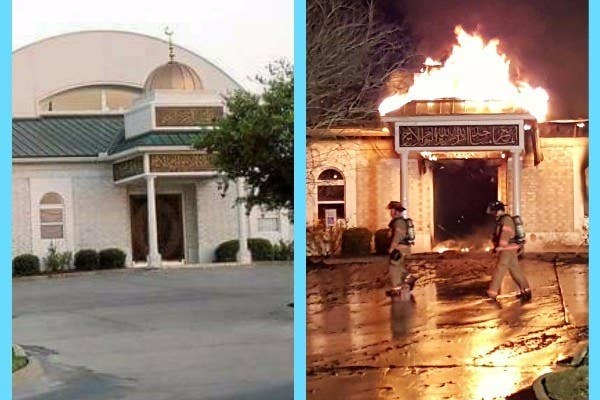 A man who was previously arrested for possessing explosives is now suspected of setting fire to a mosque that burned down in Victoria, Texas, in January.
State attorneys this month submitted evidence suggesting that Marq Perez, 25, had allegedly set fire to the Victoria Islamic Center on Jan. 28. It was one of four mosques set ablaze in recent months, leaving several Muslims and advocates stunned.
A judge determined Perez was a serious threat to the community and ordered him taken into custody, according to a statement from the Southern District of Texas State Attorney's Office.
Perez had been charged with possession of an unregistered destructive device related to an incident on Jan. 15 in which he allegedly set a car on fire by taping fireworks together and lighting them up, according to the complaint.
An anonymous informant later came forward to authorities saying that they were involved in the Jan. 22 burglary and Jan. 28, and that they worked with Perez, according to the Victoria Advocate.
The man who owned the car that Perez is suspected of setting on fire described him to the Advocate as a right-wing extremist.
Stephen Ruiz, who has known Perez since high school, said he had made racist comments about the Islamic center close to the date of the fire.
"He's never liked anyone foreign," Ruiz said.
Ruiz believes Perez targeted him and his family after repeated, unsuccessful advances he'd made toward his wife.
"For the past four months, he has been steadily vandalizing my house," Ruiz said.
Perez has not been charged with setting fire to the Victoria mosque, but people in the community have already expressed relief that someone is under suspicion.
"The fact that evidence was presented today tying the suspect to the fire is that law enforcement didn't want such a dangerous guy to be out in the community," Abe Ajrami, spokesperson for the Victoria Islamic Center, said during a press conference on Thursday.
He added, however, that it was "hurtful" to know that the suspect was a resident of Victoria.
"This wasn't about the loss of a building," Ajrami said. "This incident really shook us to the core. I want people to understand that this isn't something we watch on TV or read in the newspaper. This is something we live daily. It's our kids [who] grew up here. We come here early in the morning when it's dark and pray here. Our kids come here and take classes."
Watch the full press conference here.
The Houston branch of the Center for American Islamic Relations (CAIR) released a statement on Friday praising the arrest.

"We welcome this arrest and thank investigators for their swift and professional actions in apprehending the alleged arsonist," CAIR Houston Executive Director Mustafaa Carroll said. "The actions of law enforcement authorities send a strong message of deterrence to others who may consider turning their bigoted views into violent actions."