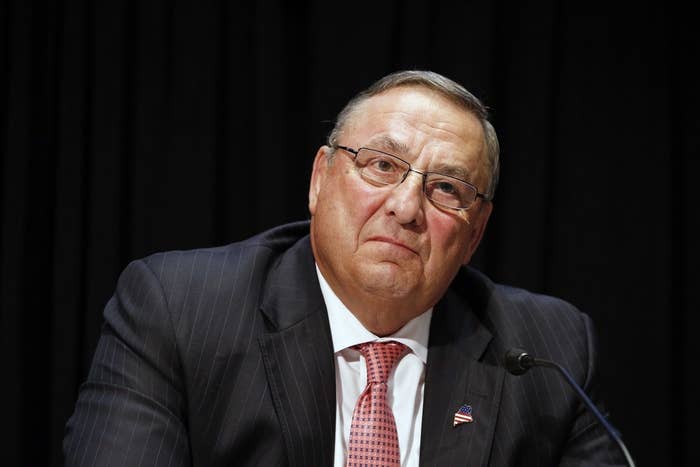 In a bid to address alleged claims from a state lawmaker that he is racist, Maine Governor Paul LePage said Friday that people of color and those of Hispanic origin were "the enemy" in the country's drug war.
While defending his practice of keeping a binder full of the photos of convicted drug dealers, and commenting that a majority of them were black or Hispanic, LePage told reporters at a press conference that he was just stating facts.
"When you go to war, if you know the enemy is in red, and you dress in blue, you shoot at red, don't you? You shoot at the enemy," he said.
"You try to identify the enemy, and the enemy right now, the overwhelming majority of people coming in, are people of color or people of Hispanic origin. I can't help that," he added.
His comments came the day after he left an expletive-laden voicemail for Maine representative Drew Gattine. LePage claims the lawmaker accused him of racism after learning about his binder.
"I would like to talk to you about your comments about my being a racist, you cocksucker," LePage said, according to audio first obtained by the Portland Press Herald.
"I've spent my life helping black people, and you little son-of-a-bitch, socialist cocksucker...I want you to record this and make it public because I am after you. Thank you," he added.
LePage walked back parts of his message Friday.
In a statement, he clarified that when he said he was "after" Gattine, a Democrat, "I meant I would do everything I could to see that he and his agenda is defeated politically."
During Friday's press conference, LePage also said that while he was "enormously angry" with Gattine, his message was meant only for his ears.
The governor also came under fire in January for his controversial tirade against drug dealers with names like "Shifty" and "D-Money" who deal drugs in Maine and getting "white women" pregnant.
Watch Governor LePage's full press conference below.