KISUMU, Kenya — After months of political drama that has inflamed ethnic tensions, eroded trust between citizens and the police, and cast doubt on the country's ability to withstand corruption and uphold its democratic ideals, Kenya's election commission announced on Monday that Uhuru Kenyatta has been formally reelected as president for the next five years. He earned an announced 98.3% of the votes — even though people in Western Kenya never got the chance to cast their ballots.
But the end to a chaotic election cycle has also potentially opened a newer crisis, as millions of Kenyans, specifically those who opposed the government, must now grapple with another question: What's going to happen to them?
Tensions surrounding the country's presidential elections were high long before the initial Aug. 8 vote. As the gap in the polls between an incumbent Kenyatta and his tenacious and longtime rival Raila Odinga grew smaller, worries that Kenyans would descend back into the post-election violence that wracked the country in 2007 and 2008 resurfaced. The situation was thrust into ominous territory when Chris Msando, the IT manager for the Independent Electoral and Boundaries Commission, was mysteriously and brutally murdered eight days before the August elections. Kenyatta was declared the winner in that race, but Odinga petitioned the Supreme Court, citing allegations of illegalities and irregularities in the way votes were counted and sent to Nairobi from other cities. On Sept. 1 the judges ruled in his favor, calling for a fresh election.
Kenyan politics only became murkier and more scandalous between the Supreme Court's ruling and the Oct. 26 election do-over. Public disagreements between top officials at the electoral commission exposed the rifts in the organization, and on Oct. 10, Odinga effectively dropped out of the race, saying that the commission had not addressed his prior demands about the changes that needed to be made within the organization to ensure a fair, free vote. The following week saw the abrupt resignation of its former deputy commissioner, Roselyn Akombe, on Oct. 18. (She fled the country, telling the BBC that she feared for her life.) And that same day, electoral commission chairman Wafula Chebukati himself admitted that he could not promise that the elections would be credible.
As a group that has historically felt overlooked by and underrepresented in the government, supporters of opposition leader Raila Odinga in the western port city of Kisumu are concerned. Many of them think the results of this election rerun will cast them further into the shadows, as they struggle to keep their communities afloat amid police brutality and a local economy that is suffocating under the weight of political uncertainty.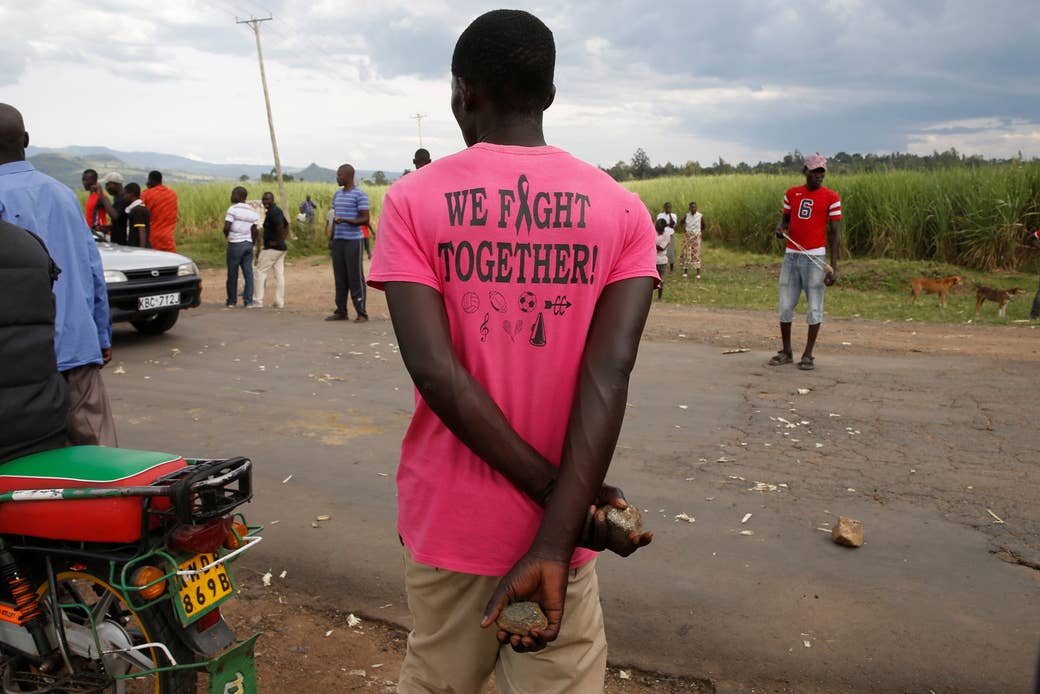 Bishop Hannington Olambo only knew that the police were firing tear gas in his neighborhood when a woman knocked on the door of his office to seek refuge. He recognized her; she sold vegetables on the side of the road nearby. The woman was soon followed by a man, a shoe peddler who set up shop close to the woman. Olambo let them both inside, and they waited for the moment to pass.

A few minutes later, they heard banging on the door. Within seconds, Olambo said, the police had broken in and he was face to face with nine officers.
Human rights organizations have said that in handling the protests between the elections the Kenyan police depended on an excessive use of force to scatter demonstrators. Olambo can say the same from firsthand experience.
"When they came in, I raised my hands and told them that I'm an elections peace worker," Olambo told BuzzFeed News during an interview in Kondele, a slum in Kisumu. "The police responded in Swahili, saying, 'We have nothing to do with peace-building. We are here to do our work.'"
Then the officers started beating him with clubs.
Olambo, 75, said that the attack left him with severe injuries to his arm and his ankle; more than two weeks later, he still struggled to wear his shoes. He said they also beat the shoe peddler, breaking his arm. Olambo begged the police not to hurt the vegetable seller, as she already walked with a limp. Instead, they took away her cell phone and the money she'd earned that day.
Olambo reported the incident to a police officer he knows personally at the local station, but he doesn't expect much to come from the investigation. Instead, it sent a message to him just how dangerous his work as a peacekeeper could be in a city like Kisumu during a time like this.
"I feel fear in my role as a mediator," he said. "Police brutality in the areas I serve has always been denied, even when the truth is in plain sight."
The bishop also pointed to ethnic profiling of Luos like himself and Odinga — both in the media and by politicians — as part of the reason authorities targeted him.
"The way they carry out security operations in this area is unusual," he said. "I think it's just a scheme to destroy the economy of this region."
Kondele police did not immediately respond to calls from BuzzFeed News for more information.
Justus Nyang'aya, head of Amnesty International Kenya, said in a report released the same day as the election results that in "Kisumu, the evidence we gathered paints a grim picture of police shooting, aggressively assaulting, and even breaking into the homes of people suspected to be protesters; but also those who happen to be in the vicinity of protests. People have been seriously injured or shot while buying food in the market, walking home from school or resting in their homes."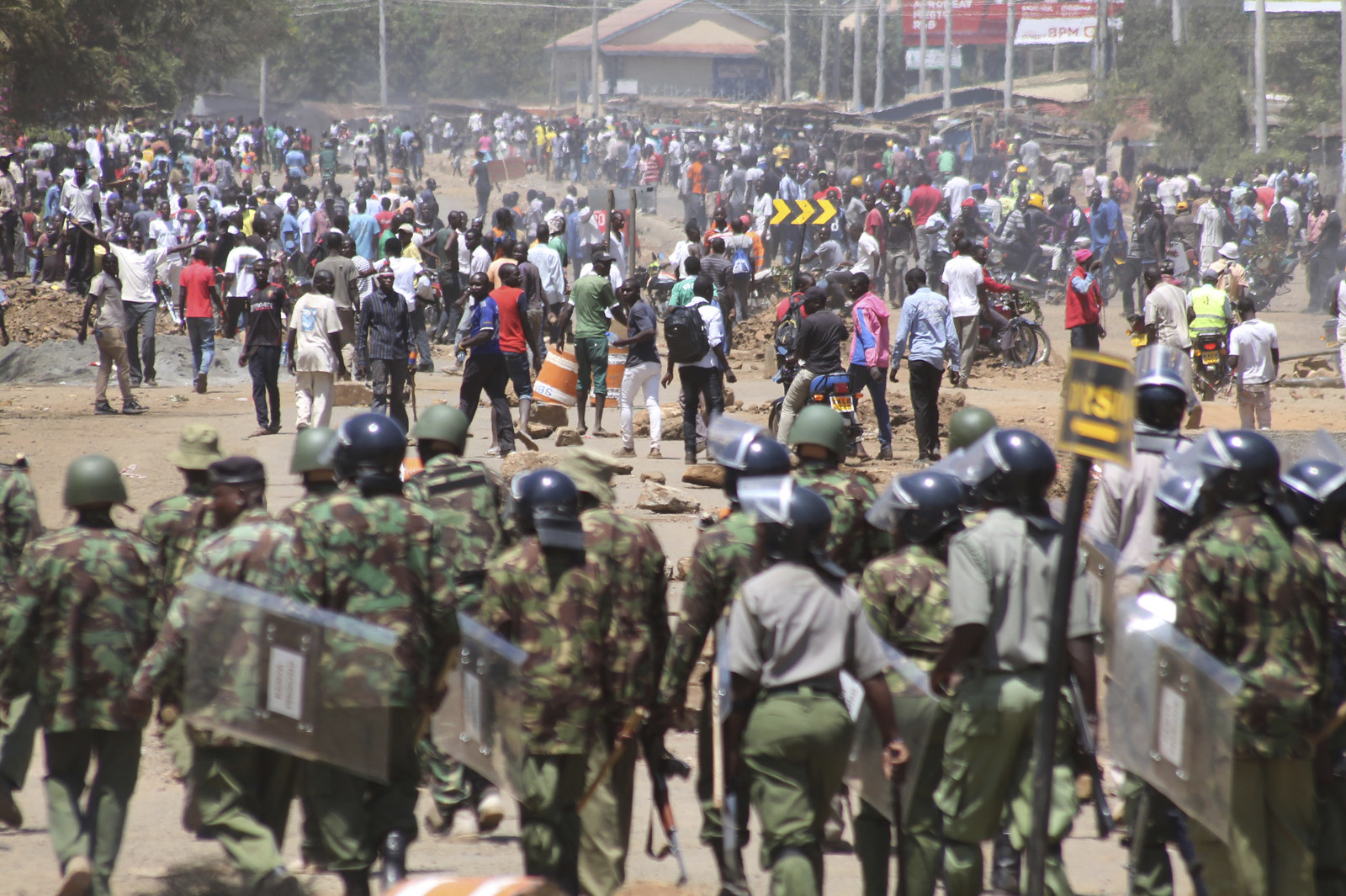 The decision to declare Kenyatta president on Oct. 30 came as a surprise to many Kenyans. On Oct. 26, the day of the election rerun, the election commission announced that because four counties had not been given the opportunity to vote, it would reschedule polls in those counties — all of them in Western Kenya, a known stronghold for Odinga — at a later date. Two days before the election, Odinga, who had withdrawn from the race on Oct. 18, declared his National Super Alliance (NASA) party a resistance movement, and urged his supporters to stay home and boycott the elections. The second election day also saw mass protests across the region as some of his supporters blocked the roads to prevent police from delivering ballot papers to their designated polling stations. The electoral commission noted that 38.8% of registered voters headed to the polls, a 43-point drop from the 81.9% turnout in August.

Election-related violence stemming from both votes has resulted in the deaths of more than 100 people. Médecins Sans Frontières spokesperson Paul Odongo told BuzzFeed News that between Oct. 26 and 29, the organization had recorded 28 deaths in Kisumu, two of them from gunshot wounds.
Amid all the tensions, some activists in Kisumu face a double threat: Within their communities they're often mistaken for Kenyatta supporters, but the police look at them and see nothing more than thugs.
Frank Juma used to drive matatus — public vans in Kenya that function like buses — for a living, but had been out of the job since last November due to a stifled economy. So Juma, 27, started volunteering as a peace ambassador for a local NGO, a job that he knew would be both crucial and potentially dangerous in the aftermath of the controversial vote.
On Aug. 10, two days after Kenyans first voted, he walked up to a group of young protesters in Kondele, hoping to share information with them about how not to, as he described, "expose themselves" to police. Like them, Juma considered himself a dedicated Odinga supporter, but he wanted to facilitate more peaceful demonstrations in the area.
"They took me as a Jubilee [Kenyatta's party] sympathizer and attacked me with stones," Juma told BuzzFeed News during an interview at one of the hotels in Kisumu. "I barely escaped with my life, and was saved only by people nearby who recognized my face and knew the work I was trying to do."
Juma has seen firsthand what happens when protests led by frustrated young men slide into violence. On the day of the election rerun, he sat in the back of an ambulance and helped medical staff respond to emergencies throughout Kisumu. One call brought them to a rural area called Mamboleo, where they picked up a young man who had been shot in the leg. Normally, Juma said, the trip from Mamboleo to Jaramogi Hospital takes about 45 minutes. But that day, because of all the roadblocks protesters had set up throughout town — at which they would ambush vehicles demanding money or else they'd stone the car — the trip took more than two hours. The man died shortly after they reached the hospital, he said.
An employee of the Jaramogi Hospital records department confirmed to BuzzFeed News that a 19-year-old man had been taken to the hospital that day with a gunshot wound, and died few hours later.
"Nothing good can come from doing things peacefully."
Still, Juma expressed unwavering support for Odinga and the boycott he called for.
"Nothing good can come from doing things peacefully," he said over the sounds of gunshots on the other side of the hotel wall. He cited the nurses' strike, which has been peaceful and is entering its fourth month in Kenya but has seen no major results. "In this country, when you want something good, you have to take it."
Kenyan nurses first went on strike from public hospitals on Dec. 6 last year. Nine days later, they signed a return-to-work contract with the Ministry of Health, and began talks with the government about reaching a collective bargaining agreement in February. Six months later, the two entities were still at an impasse, prompting nurses' return to the picket lines in June, where they have since stayed.
But the other side of the protest line can be just as dangerous, said Eric Okello, who heads up Kenya's Youth Reconciliation Forum. One of the key parts of his job involves embedding in demonstrations and speaking to both police officers and disgruntled Odinga supporters to soothe tensions and promote peace.
"We were on the road a few weeks ago talking to young people and asking them not to confront police, and also asking the police not to beat protesters," Okello told BuzzFeed News. "I saw an officer beating someone badly, so I told him it was wrong, and asked him to refrain from using excessive force. I also tried to advise him on how to use tear gas canisters in a way that would minimize the impact on the community."
The next day, another police officer with whom Okello had a friendly relationship warned him not to join any protests that day. He'd overheard the officer from the day before talking about Okello, saying that he'd been watching him and that he would kill him if he ever saw him again.
Instances like this, Okello said, only exacerbate the distrust between the community and its police officers.
"These guys protesting are hungry, they have no job, they're idle, and they're against the police. In return, the police beat them up," he said.
Maurice Ogolla is also involved in community policing, but had a more critical view of the at times rowdy young men rallying in the streets for Odinga. Ogolla, who owns a small clothing boutique from his home with his wife, told BuzzFeed News that while he supports the opposition party, he stopped following Odinga when he dropped out of the race. He believed that the electoral commission had successfully implemented the changes demanded by Odinga, who should have stood by his candidacy.
Ogolla said he's worried that Odinga supporters are too quick to follow his word, and that in a place like Kisumu, where a majority of residents already support the party, the violence stemming from protests will only hurt their own.
"Jubilee [Kenyatta's party] is not suffering from these protests," he said. "We are eating ourselves here. Kenyans from other regions already think that Luos are the problem. What will they think of us now?"
The face of Kenyan political resistance has been overwhelmingly male: Young men are the ones taking to the streets facing off against police, featured in photos setting tires on fire and lobbing tear gas canisters away from danger. But for Ruth Owuor, it would be a mistake to discount women from the opposition movement.

Owuor, 29, is an activist, Odinga supporter, and mentor to young women. She told BuzzFeed News that young women preferred to promote peacefulness rather than express their frustrations in the streets.
"A majority of women here fear violence. That is why you'll not see them coming out and burning tires on the road," Owuor told BuzzFeed News during an interview in Mamboleo. "But most of them, they'll have a peace walk carrying banners, handing out information saying how tired we are of this, and that the commission should make some changes."
She said that Roselyn Akombe's resignation gave the women in Kisumu a much-needed jolt in their activism because it spoke to the unique pain women experience in election-related violence.
"When she gave that message, we went to the press supporting what she said about how the commission was not ready to carry out fair, free, and credible elections. As women, we know that when there's violence, our children will suffer. If there's violence, it's our men who will die," she said.
In addition to concerns over their safety, small business owners in Kisumu are struggling to reconcile their continued support of Odinga and the strain the elections have placed on their profits. Many recalled customers who, before the elections, regularly bought goods and paid in installments, or at a later date. Now their customers struggle to pay them back.
Beatrice Akinyi, who sells breakfast cereals from a stall in Kisumu, told BuzzFeed News that her business has suffered greatly from the violence. The market where she buys her products is only about a mile away from her stall, but the roadblocks put in place by protesters made it nearly impossible for her to restock — and even when she could reach the market, she had to pay more than usual for the transportation.
Following the announcement of his reelection, Kenyatta made appeals for peace in his victory speech. But he also made it clear that he would not make any decision about entering talks with the opposition party until the courts had settled all election-related cases.
"Those who are going to ask me 'Are you going to engage in dialogue?', let them first and foremost exhaust all their constitutional options," he said.
Kenyatta also interpreted his victory as a sign of his party's resilience.
"For those who voted for Jubilee by way of revalidating our August 8 victory, I thank you. Now we can begin the process of reimagining our nationhood," he added.
Akinyi said that even though she's an Odinga supporter, she accepts the result of any election so long as it was conducted freely and fairly. But she does not think a Kenyatta victory would lead to positive changes in Kisumu.
"I don't think things will improve, because Kenyans in Kisumu are constantly neglected," she said. "The president and the election commission do not favor the community. We do not feel like Kenyans here."