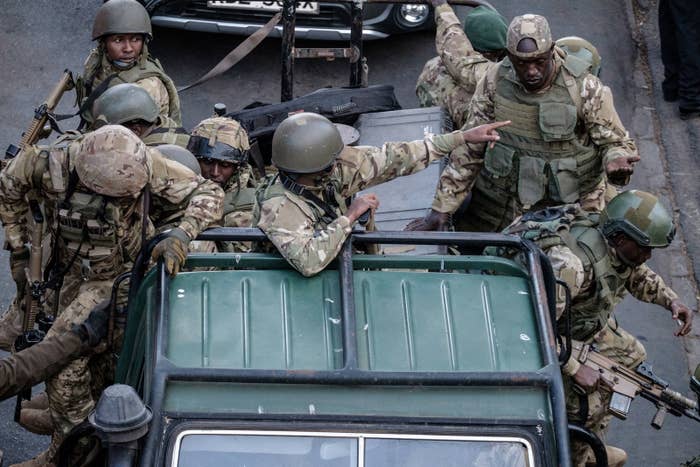 NAIROBI — Somali militants reportedly killed at least 15 people people after attacking a luxury hotel complex in Nairobi, Kenya.

The attack on the 14 Riverside complex began around 3 p.m. Tuesday, sending employees and guests diving for cover behind desks and under cafe tables. The Somali militant group al-Shabaab has claimed responsibility.
At least 15 people died, Reuters and other outlets reported, including an American man. The US State Department confirmed to the Associated Press that a US citizen was among the dead, but declined to identify the person. A Kenyan police officer told the AP that officials took 15 bodies to the morgue. According to Reuters, an attendant at the mortuary said that 11 of the victims were Kenyan, two have yet to be identified, and another was a British national.
Security forces evacuated "scores of Kenyans and other nationalities from the buildings" to ensure that they were secure, Interior Minister Fred Matiang'i said in a statement. Officials, he added, were "mopping up the area," and the "nation remains calm."
"Kenyans and all our visitors are safe and should feel free to continue going about their normal business," he said.
However, Kenyan authorities have yet to say whether the militants are in custody or contained.

US Ambassador to Kenya Bob Godec expressed condolences on Twitter late Tuesday night, and commended "the courage of Kenyan security services actively working to end the attack."
Godec added that "the US Mission is in close communication with Kenyan authorities and is providing assistance. All Mission personnel are safe and we stand ready to assist US citizens in need."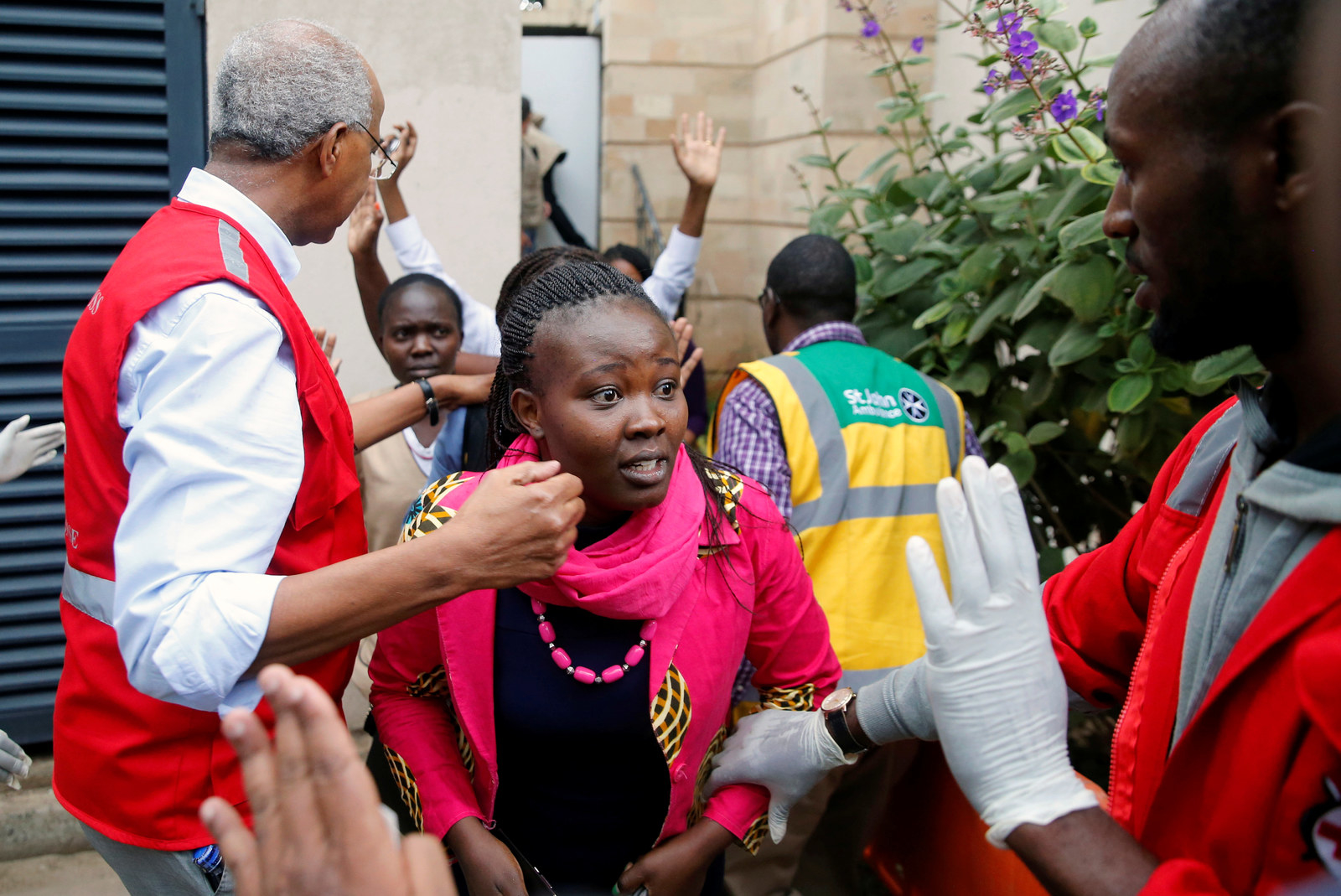 Kenya's Inspector General Joseph Boinnet said the attack began with an explosion that targeted three vehicles in the parking lot of a bank in the hotel complex, which was followed by a suicide bombing in the foyer of the hotel that left guests with severe injuries.

Grace King'ori, 22, said her sister Janice, 25, called her from the fifth floor of the complex where she works for an advertising agency to say she thought there was an attack happening. King'ori said her sister told her not to come to the hotel, but she couldn't stay at home, so she made the trip to Riverside Drive.

During the call, King'ori could hear gunshots in the background, then screaming, before the call cut out. Janice then called back an hour later, saying she was safe in the office with around 100 colleagues waiting to be rescued.
Steve Gachugi, 27, said his sister Diana works at a marketing company inside the Dusit complex.
She messaged the family WhatsApp group around 4 p.m., saying she was inside the hotel and to pray for her, but didn't provide any more details, he said. Gachugi has not heard from her since.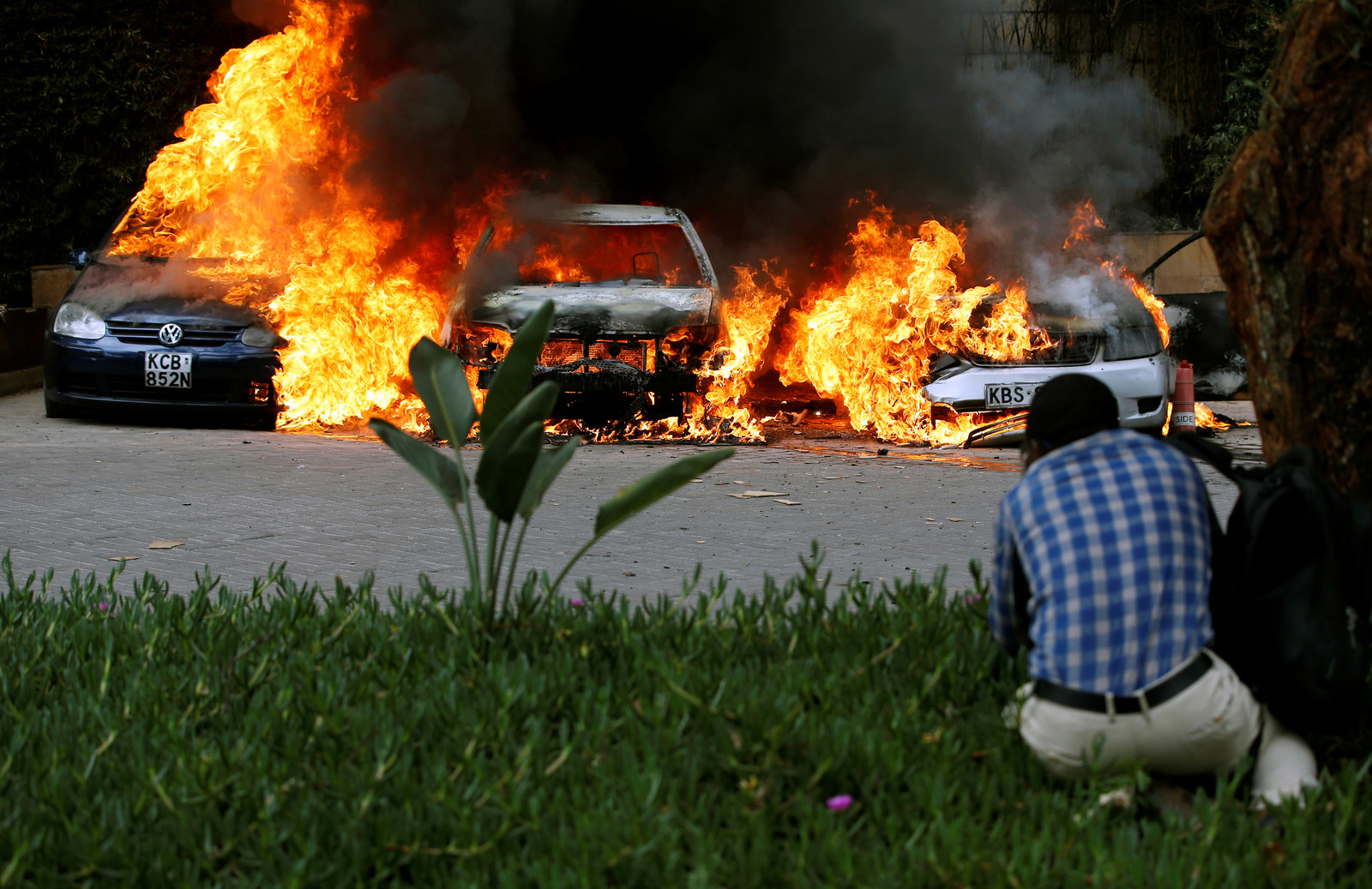 In September 2013, al-Shabaab militants attacked Westgate shopping mall in Nairobi, starting a siege in which 67 people died, not including the attackers.

Tuesday's attack also comes three years to the day since al-Shabaab militants attacked a Kenyan military base in Somalia.
Matthew Champion contributed reporting from London.