NAIROBI — The lawyer who officiated the unofficial swearing-in of Kenya's opposition leader was deported to Canada late Tuesday night, raising serious questions about the constitutionality of his departure, given that he is a Kenyan citizen by birth.

Miguna Miguna was arrested in his home on Feb. 2, and charged with treason when he appeared in court four days later.
According to local reports, the attorney was transported from a Nairobi police station to Jomo Kenyatta International Airport Tuesday night, and forced to board a midnight flight to Canada.
Just days earlier he had facilitated Raila Odinga's oath to become the "People's President of Kenya."
The controversial symbolic inauguration came three months after President Uhuru Kenyatta was declared the winner of the 2017 elections, bringing what many hoped would be an end to a long, hotly contested period in which the Supreme Court of Kenya annulled the initial Aug. 8 ballot results and ordered a fresh vote.
Odinga withdrew from the second election, claiming the country's electoral commission had not ensured it would be a fair contest the second time around.

Miguna has citizenship in Canada after obtaining asylum status there in 1988, but Kenyan Interior Ministry spokesperson Mwenda Njoka argued that he renounced his Kenyan citizenship when he acquired his Canadian passport, justifying his removal.
The government's reasons draw from an older version of Kenya's constitution, which required people to renounce their citizenship before naturalizing in another country.

The state-run newsroom Nexus tweeted an image of Miguna's Canadian passport and said that he was "headed home," adding that the interior ministry "even assisted him with a flight ticket home." The tweet also pointed out that Miguna had renewed his passport in June 2017.
But Kenyan attorneys say that Miguna's deportation violated the 2010 Kenyan Constitution.

Oiboo Morintat, a partner attorney at McKay Advocates in Nairobi, told BuzzFeed News over the phone that Kenyan law guarantees citizenship to anyone born in or outside of Kenya to Kenyan parents, and allows for dual citizenship.
"The only way you will lose your citizenship is if you renounce it," he said.
Several critics of Miguna's deportation pointed out that he ran for governor of Nairobi last year, which would require him to be a citizen of Kenya.
Miguna addressed the press briefly during a layover in Amsterdam Wednesday afternoon and denied claims that he had renounced his Kenyan citizenship when he received his Canadian passport.

"I have never ever renounced my Kenyan citizenship and will never do that. I've never even contemplated it," he said.
BuzzFeed News has reached out to Canada's Ministry of Immigration, Refugees, and Citizenship for more information.
Morintat added that even if a person is found to be residing in the country illegally, they are still granted by law the right to a due process before being removed.
"If you don't have the papers to work in Kenya, for example, it is for the courts to determine your deportation," he said. "If you are in the country, then you enjoy all the rights of innocence until proven guilty. An immigration officer cannot walk into your office and just deport you for being there illegally."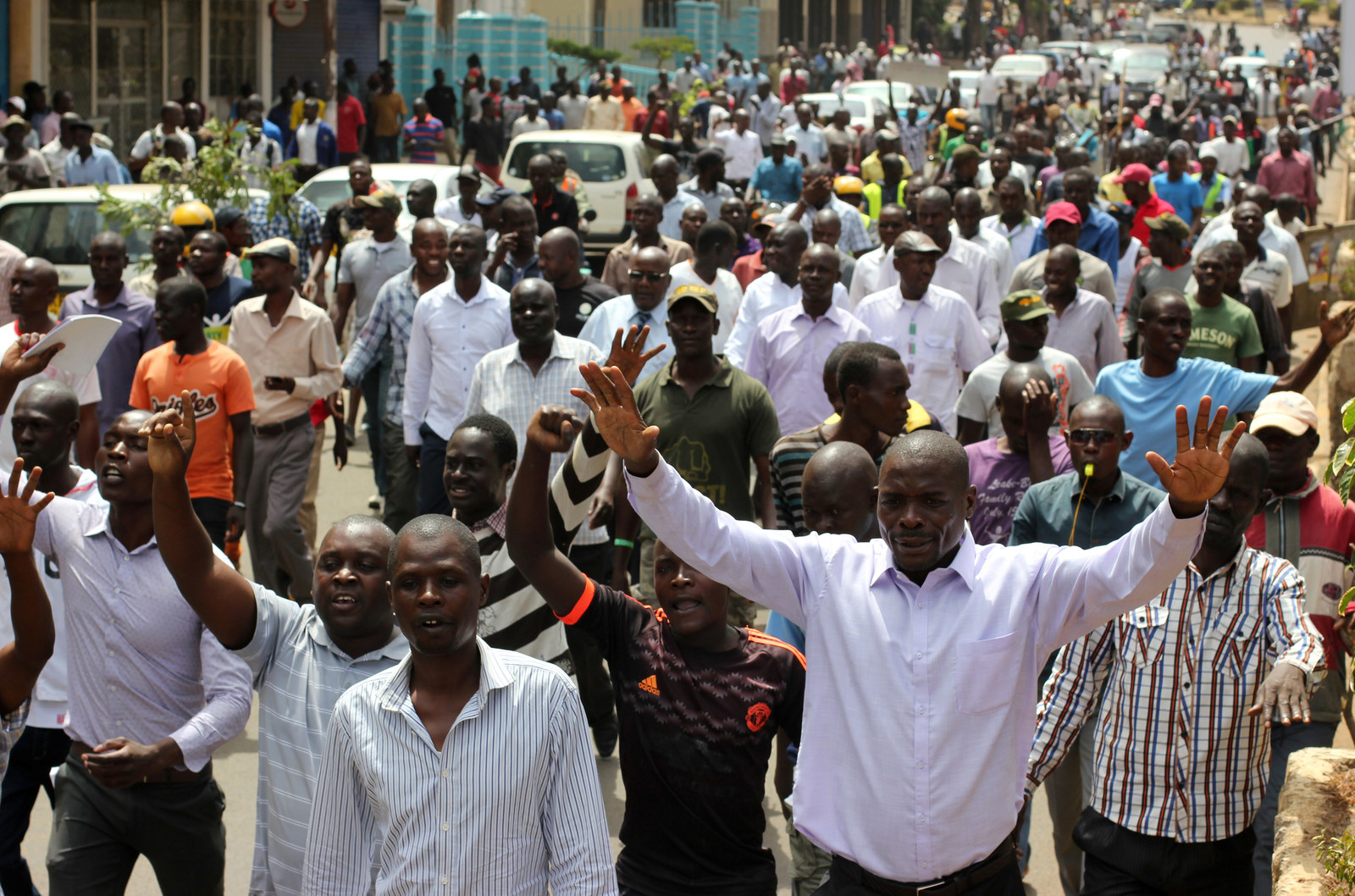 Morintat argued that because the government had already violated Miguna's rights by holding him in custody for more than 24 hours without access to his attorneys, they resorted to deportation since the charges against him would have no longer been valid.

"The moment the government went beyond 24 hours of detention, any charges against him in any court would have been quashed for violation of his constitutional rights," he said. "No court would have convicted him, even if he had committed treason."
Kenyan Supreme Court Chief Justice David Maraga issued a statement Wednesday afternoon condemning the government's recent disobedience of court orders — which included a media blackout that began during Odinga's swearing-in and lasted nearly a week — and warning them of the consequences.
"Compliance with court orders is not an option for any individual or institution. Neither is it a favour to be doled out to the Judiciary," his statement read. "As Chief Justice I want to assure the country that the Judiciary will continue to dispense its constitutional duty with independence and authority."
Boniface Mwangi, an activist turned politician and presidential candidate in last year's elections, called President Kenyatta a coward for deporting Miguna, and warned that those whom the president cannot deport, he will kill.
Morintat said that government's actions on both the media shutdown and Miguna's deportation have sent a grim message to Kenyans about their freedom.

"The government should be the last to violate its own constitution," he said. "There's no law. It's setting a very dangerous precedent for us as a country."
CORRECTION
Oiboo Morintat's name was misspelled in an earlier version of this post.