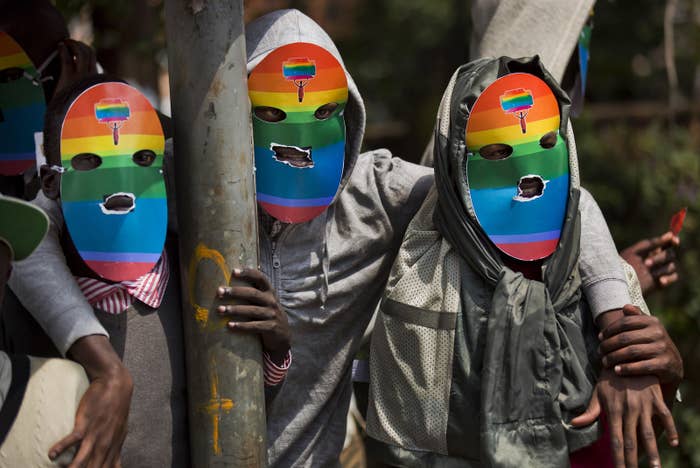 NAIROBI — Forcing men to undergo anal examinations just because they are suspected of being gay has been ruled illegal by a court in Kenya.

The decision has been celebrated by activists and human rights organizations, and could influence an upcoming ruling in a separate landmark case about LGBT rights in Kenya.
Forced anal exams as a means of determining a man's sexuality are common practice in at least nine countries — seven of which are in Africa — despite being considered a degrading form of torture in international law and being found to have no medical merits by physicians. And while some have vowed to ban the exams, Kenya is the first country to have a documented case where judges have ruled against them.
Njeri Gateru, the head of legal affairs for Kenya's National Gay and Lesbian Human Rights Commission, said in a statement sent to BuzzFeed News that the advocacy group is "thankful that the Appeal Court has put Kenyan citizens' rights first. With this ruling, the judges are saying that we all deserve to be treated with dignity and afforded our basic rights, as enshrined in the Kenyan Constitution."
Gateru added that the "humiliation and pain caused by these useless anal examinations will follow our clients for the rest of their lives. However, we are emboldened to see our constitution at work, ensuring that all Kenyans have the right to dignity."
The decision was a reversal of an earlier ruling from 2016 on the legality of such exams, and whether or not they violated a person's privacy. The case involved two young men identified by their initials in the petition as COL and GMN, who were arrested by police near a bar in Mombasa — on the coast of Kenya near the Indian Ocean — in February 2015 because they were thought to be gay.
While they were in custody, police searched their homes. They found a video of the TV show Queer as Folk, which a local judiciary considered sufficient evidence to suggest that the two were having sex with other men. The official then authorized a doctor to conduct the exams, and HIV and Hepatitis B tests. The men consented to the exams, but later argued in court that they had been coerced. They were ultimately charged with engaging in unnatural offenses, a reference to one of Kenya's penal codes that prohibits "carnal knowledge of any person against the order of nature."
Human Rights Watch senior researcher Neela Ghoshal, who has interviewed both the men and the doctor who carried out their exams, told BuzzFeed News that the arrests were the result of an online pornography scandal that increased criminal profiling of LGBT people. Many people suspected that some of the men in the videos were from the area.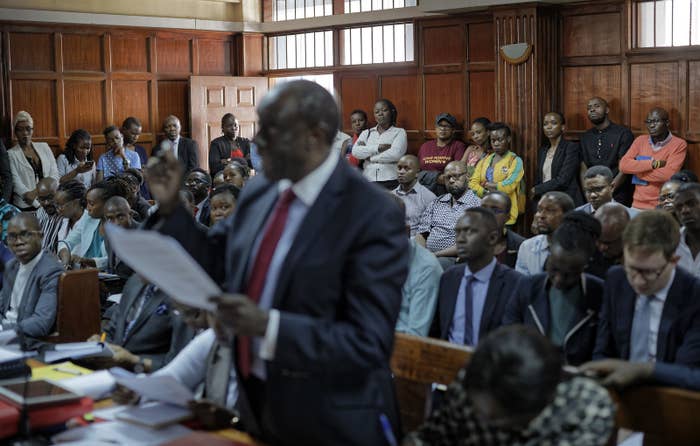 "There was a lot of pressure on police to do something about it and arrest someone," she said. "Police had to prove that they were taking action. But rather than go after the Europeans who may have been behind it, they started arresting people they believed were gay or transgender."
Backed by the commission, the two men petitioned the courts in November 2015, arguing that the state had violated their rights by forcing them to undergo humiliating tests simply because of their perceived sexuality. But on June 16, 2016, the court ruled against them on the grounds that they'd agreed to the tests. They appealed that decision, which was heard on Feb. 8 this year and decided on Thursday .
The ruling could influence an upcoming decision by Kenya's High Court on the constitutionality of the nation's penal codes, which petitioners argue are used to criminalize and justify violence against members of the LGBT community.
But Ghoshal said that it will be easier to determine whether or not the ruling on forced anal testing could be an indicator of a turning point for LGBT cases once the language of the judges' decision has been released. (So far, only the decision has been publicized.)
"If it's a more expansive ruling that says it looks like people were targeted because of their sexual orientation, that would be more helpful language," she said. "If the language is more narrow, it might be of only limited help in the decriminalization case."
An in-depth study on forced anal tests that Ghoshal published in 2016 found that Kenya, Tunisia, Egypt, Turkmenistan, Cameroon, Lebanon, Uganda, and Zambia all use anal examinations as a means of determining a man's sexuality. More recent reports indicate that Tanzania now also conducts them. She noted that Egypt is by and large the worst perpetrator of the act; a BuzzFeed News report from 2015 found that the tests frequently accompany investigations of a man's perceived sexuality, and that in two years, more than 150 men were arrested on charges of being gay.
Ghoshal also pointed out that Kenya's case will likely serve as precedent for other African countries preparing to fight the act in court.
"In Uganda, activists are planning to file a case in the next couple months," she said, "I'm sure this decision in Kenya will be an inspiration and motivation to them."