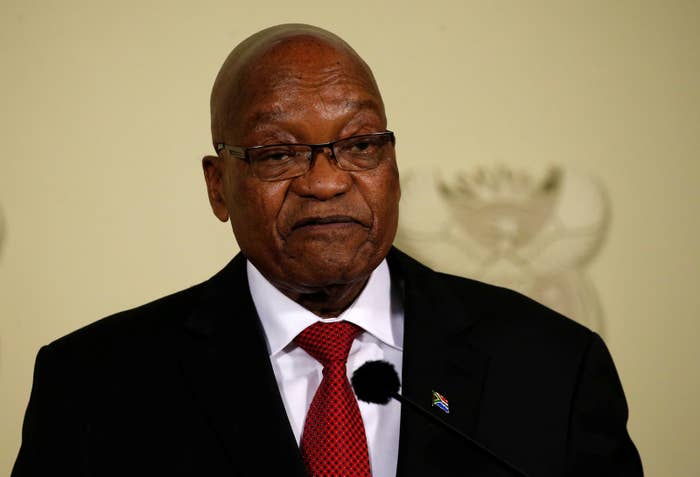 NAIROBI — Former South African President Jacob Zuma, who was forced out of office by his own party last month, is facing multiple charges of money laundering, corruption, and racketeering, the nation's prosecuting body announced Friday.
The charges are all connected to a $2.5 billion arms deal made in the late 1990s, before Zuma became president in 2009.
"I am of the view that there are reasonable prospects of a successful prosecution of Mr Zuma," National Prosecuting Authority (NPA) director Shaun Abrahams said Friday, as he reinstated charges first laid down in 11 years ago.
On Dec. 28, 2007, Zuma was indicted on one count of racketeering, two counts of corruption, one count of money laundering, and 12 counts of fraud, Abrahams said. Then-chief prosecutor Mokotedi Mpshe decided in 2009 to terminate his prosecution of Zuma, but in 2017 the South African Supreme Court of Appeals declared his decision irrational.
Abrahams also noted in his announcement on Friday that Zuma had previously attempted to get the case dismissed, arguing that his case had been marred by "prosecutorial manipulation, impropriety, fair trial abuses, prosecutorial misconduct, deliberate leaking of information to the media," and deliberate delays.
"Mr. Zuma in addition disputes all the allegations against him and records that he lacked the requisite intention to commit any of the crimes listed in the indictment," Abrahams said.
The South African government finalized a massive purchase of billions of dollars of military equipment from British, Swedish, German, and France in 1999 in what was then formerly called the Strategic Defense Procurement Package. Years after the deal was made, allegations began to arise that various top-level members of the African National Congress — Zuma's political party — had received bribes from the countries selling them weapons in order to broker the deal.
This is a developing story. Check BuzzFeed News for updates.