Indian Nurse Who Spent Four Decades In A Coma After Brutal Rape Dies
Aruna Shanbaug was sexually assaulted inside the hospital where she worked in 1973, leaving her in a vegetative state for 42 years. She died Monday morning in Mumbai six days after contracting pneumonia.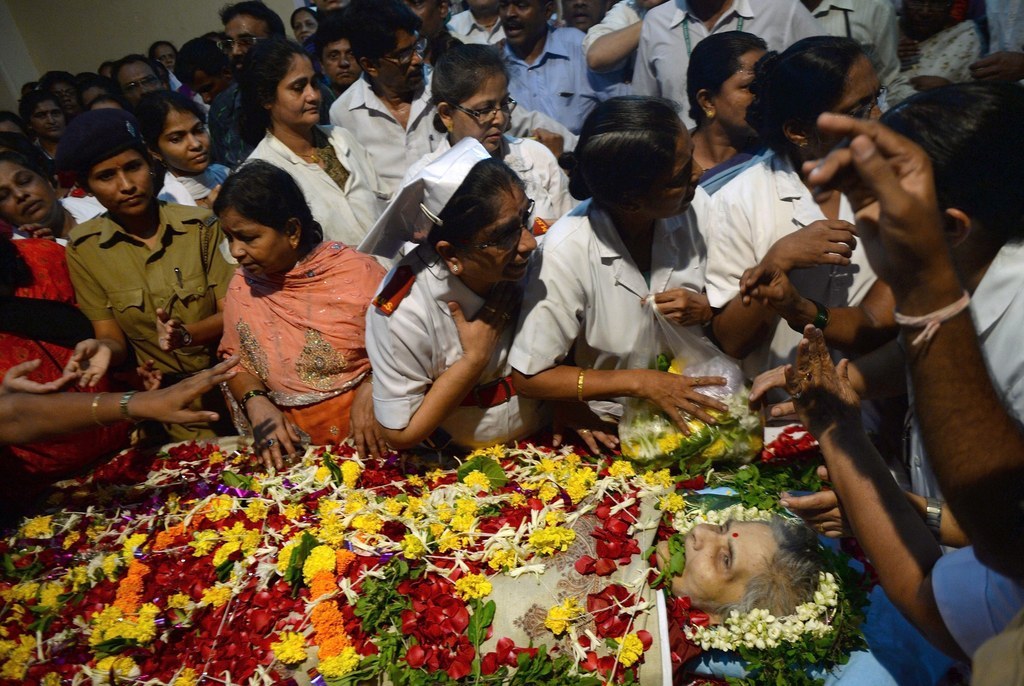 Aruna Shanbaug, an Indian nurse who was the victim of a 1973 sexual assault so violent that it left her in a vegetative state for 42 years, died Monday of pneumonia, according to hospital officials. She was 67 years old.
Shanbaug was attacked inside King Edward Memorial Hospital in Mumbai where she worked by Sohanlal Bharta Walmiki, who had asked her to meet him in an experimental dog lab where he worked. When she arrived, he strangled her with a dog chain and sodomized her, authorities said.
She was just 25 years old, and a newlywed.
The BBC reported that Walmiki was sentenced to seven years in jail on charges of robbery and attempted murder. Because language in Indian law did not consider sodomy a form of rape, he was never charged with it.
Although Shanbaug survived the rape, it left her in a vegetative state. After spending four years at another facility, she was transferred back to King Edward Memorial, where she remained under the diligent care of family members and her fellow nurses for the next 38 years.
The nurses who cared for Shanbaug were among the most passionate advocates to keep her alive amid a national debate over the use and ethics of euthanasia.
Many went back and forth on the quality of Shanbaug's life in a vegetative state. One of the most vocal proponents of her being euthanized, author and journalist Pinki Virani, submitted a petition to India's Supreme Court in 2011 to take her off life support, claiming that she was "virtually a dead person."
But King Edward Memorial nurses, who took over Shaunbag's primary care after her parents died and less frequent visits by family members, argued passionately that she was responsive and should be allowed to die naturally.
A neurologist who examined Shanbaug that same year found that she "breathed on her own, responded slightly to light, and could swallow and digest food," according to the New York Times. The doctor added, "As far as I know, she is the longest-living survivor of a persistent vegetative state."
In March 2011, the nation's Supreme Court turned down Virani's petition. The decision paved the way for the the country's groundbreaking law on passive euthanasia, or when doctors decide against procedures that could save the life of a patient in a vegetative state, rather than actively removing them from life support.
One of the judge's stated that Shanbaug was "certainly not brain-dead" after seeing footage of her in the hospital.
"She expresses her likes or dislike with sounds and movements," the judge stated. "She smiles when given her favorite foods."
One of the nurses who cared for Shanbaug told the New York Times that despite the strain on staff and resources at the hospital, they were always prepared to care for their fellow nurse.
"We have a hundred patients in a very crowded ward, but still each and every one of us cared for her personally," she said. "We are so glad that we could give Aruna a natural death."