Ibtihaj Muhammad is a sabre fencer from New Jersey who qualified for the Olympics in February — making her the first American to represent the U.S. at the Olympics in hijab.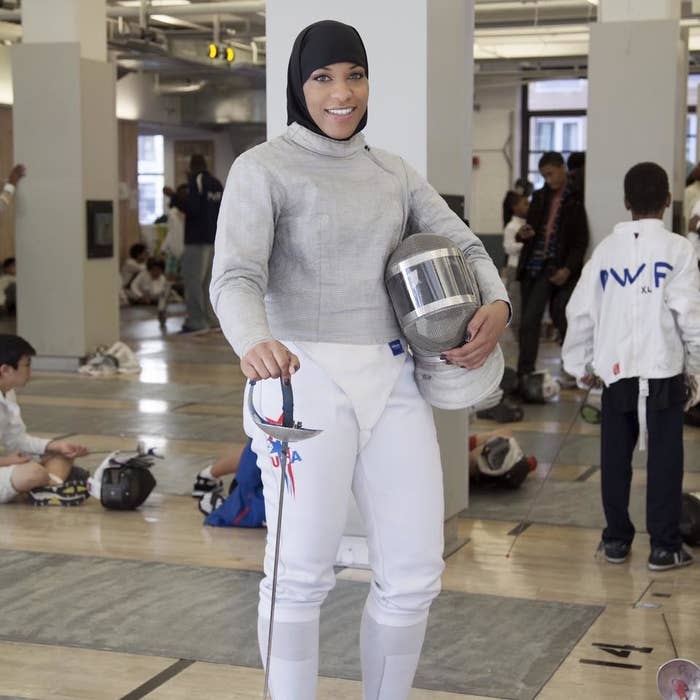 Muhammad told BuzzFeed News at the time that she was introduced to fencing when she was 13, after her mother discovered it was a sport that would not require her daughter to alter her uniform as a Muslim woman.

Now, at 30, Muhammad prepares to fence in Rio de Janeiro at the Summer Olympics, and continues to use her platform to speak out against Islamophobia and invite more diversity into the sport.
Sabre fencing combines the grace and flexibility of ballet or yoga, the strategic approach of chess, and the dynamic movements you see in Mortal Kombat. It is definitely about more than the sabre.
I recently took a fencing lesson from Muhammad at her training center, and this is what I learned.
Muhammad, along with coaches Akhi Spencer-El and Mihaly Csikany, walked us through the fundamental stances and moves.

It's nearly impossible to pull off the lunges, parries (defensive blocks), and ripostes (offensive move) — all done while wearing a thick, white uniform and mask — without both strength and finesse.
In sabre fencing, the only place on an opponent's body to score points is the torso. Fencers battle by moving back and forth across a long, narrow strip — you could be penalized if you step outside of it — requiring them to stay low to the ground but balanced.
Muhammad, Spencer-El, and Csikany paired us up and taught us how to lunge offensively against our opponents and block points when they lunged back at us. Then they let us combine what we learned for mini duels.
After the lesson — and a lot of sweating — Muhammad told me she is proud to have made it to the Olympics and, perhaps more importantly, diversify it.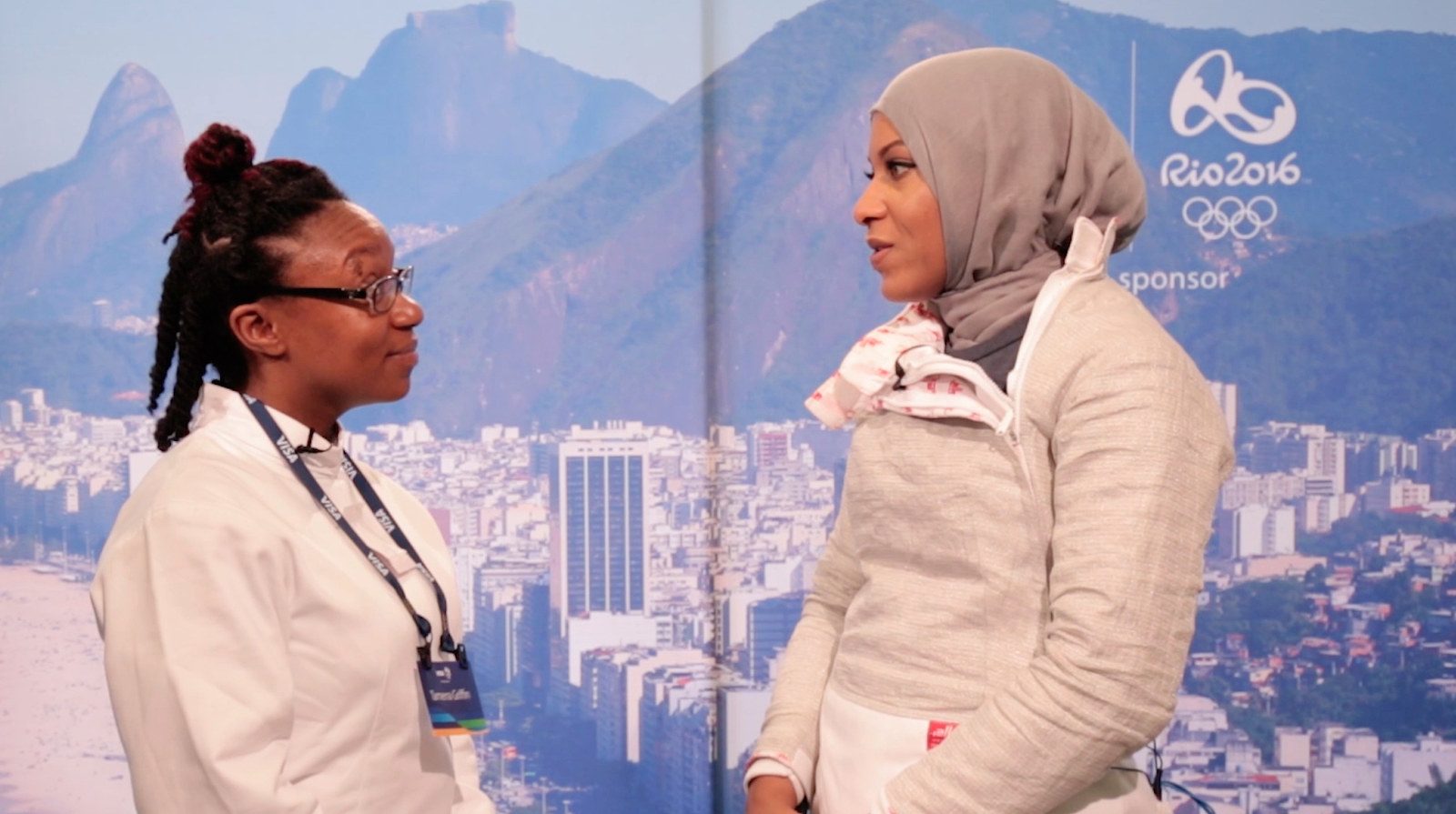 "I wanted Team USA to be as diverse as the community that I grew up in, the America that I know," she said.

Filling this void, she added, was a huge moment for her "and hopefully for a lot of other minorities who have a hard time envisioning themselves in certain spaces because we're not present."
Muhammad's road to Rio was a group effort.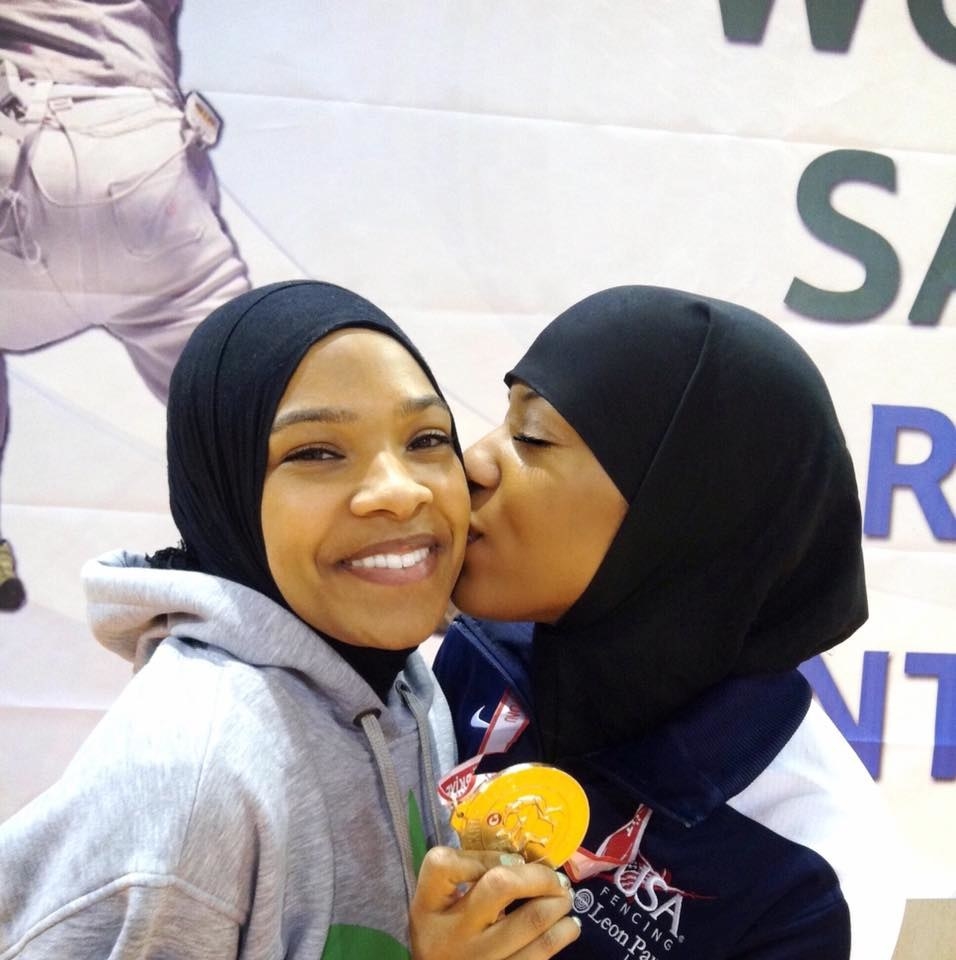 "A lot of people, when they think of athletes, think of the podium finishes and the wins, but we do have lows in our careers where you're not always winning," Muhammad said.

"To have my family there as a support system in those times of defeat, and even in those times of triumph, has been really comforting for me."
Muhammad's younger sister, Faizah, also fences; the two practice together regularly.
She also credits her Muslim community for supporting her internationally. She hopes to use her platform to challenge misconceptions.
"Now that I'm able to be this beacon for the community and to show Muslims in a positive light hopefully, I think it will move the perception of Muslims more in a positive direction," she said.
And she gets pumped up to compete by listening to the same summer hits you jam to.