Muhammad Ali, the famed heavyweight champion boxer and international icon who died on June 3, was honored Friday with a procession, private funeral, and massive memorial service in his hometown of Louisville, Kentucky.
The former boxer known around the world as "The Greatest" was eulogized and remembered by political leaders, celebrities and close friends during a Muslim prayer service held Thursday at Louisville's Freedom Hall, but more than 100,000 people attended the long procession in his hometown.
The service Friday began with a motorcade through Louisville at 9:30 a.m., which snaked through town until the early afternoon. When the hearse carrying Ali's body drove through his childhood home on Ali Street, scores of people lining the road began chanting his name and phrases like, "The greatest who ever lived," "Float like a butterfly, sting like a bee," and "Kumbaya." Dozens of people ran alongside the hearse, shouting his name and throwing flowers onto the windshield.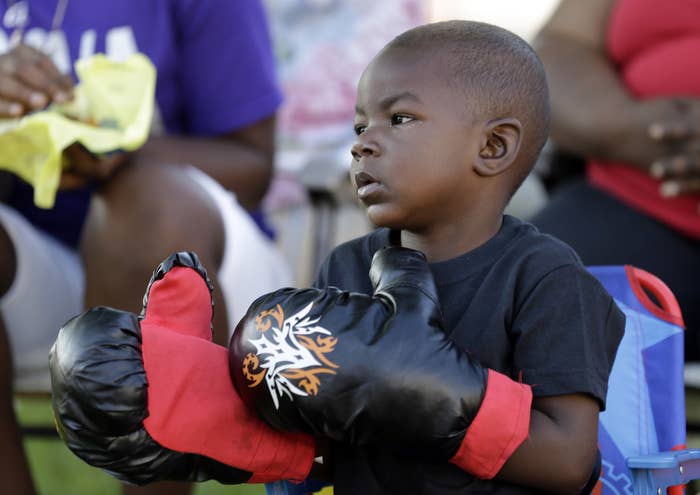 The tour made one stop at the Ali Center, followed by a private funeral service at Cave Hill Cemetery.
Ali's pallbearers included Will Smith (who played the boxer in the feature-length film Ali), former heavyweight champion of the world Lennox Lewis, and Mike Tyson, who reportedly took a red-eye flight from Las Vegas to make it to the service in time. Several of Ali's family members, including a cousin who serves as a local attorney, were also listed as pallbearers.
Those who honored Muhammad Ali Friday afternoon noted the impact he made not just inside the ring, but on the social issues that permeated in the country during the champ's prime, including a war in Vietnam and racial injustice at home.
Senior Pastor of Louisville's St. Stephen Church, Dr. Kevin W. Cosby, remarked on Ali's black pride, and the pride he inspired blacks across the U.S. in the middle of the Civil Rights movement.

"Before James Brown said, 'I'm black and I'm proud,' Muhammad Ali said, "I'm black and I'm pretty," Cosby said before the crowd of more than 15,000.
Ali, he added, "dared to love black people at a time when black people had a hard time loving themselves."
Sports journalist Bryant Gumbel spoke about meeting the boxing legend at the age of 17, and how his braggadocios character gave young people, especially minorities, the confidence to exercise their talents.
"We reveled in being like him by stretching society's boundaries like him," Gumbel said. "But Ali's impact was not limited for those of a certain race, or of a certain religion, or of certain mindset. The greatness of this man for the ages was that he was in fact, a man for all ages."
It was a theme repeated by those who knew him.
"He pointed us to a greatness beyond ourselves," said another speaker, Utah Senator Orrin Hatch, for whom Ali campaigned during his re-election in 1988. "He pointed us to the greatness of God."

President Barack Obama was not able to attend the service, but his senior advisor, Valerie Jarrett read a statement she said was penned by the president.
"The man we celebrate today is not just a boxer, or a poet, or an agitator or a man of peace. He was not just a Muslim, or a black man or a Louisville kid," Jarrett read. "He was Muhammad Ali."

Ali drew heads of state, religious leaders and pop icons to him, she said.
"It seemed sometimes that the champ was simply too big for America, but I actually think the world flocked to him precisely, as he put it, because Muhammad Ali as America - brash, defiant, pioneering, joyful, never tired, always game to test the odds," Jarrett said. "Muhammad Ali was America. Muhammad Ali will always be America. What a man."
The champ's wife, Lonnie Ali, spoke of Ali's determination in the ring and outside, and his effort to inspire people even as he struggled with Parkinson's.
"Muhammad wants young people of every background to see his life as proof that adversity can make you stronger," she said.
But she also spoke of his sense of timing, such as meeting the teachers and mentors that helped him succeed in boxing, the shift of the nation's attitude against the Vietnam war as he refused to be drafted, and his rise in popularity as television needed a hero.
He was an inspiration not just for his athleticism, she said, but his fights outside the ring.
"Muhammad may have challenged his government, but he never ran from it, or from America," she said.
Comedian and friend Billy Crystal spoke about his friendship with The Greatest.
"I've labored with a way to describe the legend. He was a tremendous bolt of lightening, created by mother nature out of thin air," he said. "Muhammad Ali struck us in the middle of America's darkening night."
In the touching tribute, Crystal said Ali referred to him simply as "little brother," and the two often shared laughs and jokes, even at inappropriate times.
He recalled Howard Cosell's funeral - the famed sportscaster who also struck a long-running friendship with Ali - and what Ali whispered to him as mourners surrounded them during the service.
"He quietly whispered to me, 'Little brother, do you think he's wearing his hairpiece,'" Crystal recalled. "So I said, 'I don't think so.'"
"'Well, then, how will God recognize him?'" Crystal recalled. "Here we were, me and Muhammad Ali laughing like little kids who heard a dirty joke in church."
President Bill Clinton made the closing remarks of the ceremony, saying he hoped Ali's life would be inspiring.
"I think he decided very young to write his own story," Clinton said. "He decided not his race or his place or the expectations of others would strip from him the power to write his own story."
Even after he was hindered by Parkinson's, Clinton said, he was able to inspire.
"I will always think of Muhammad as a truly free man of faith," he said. "It is the choices that Muhammad Ali made that have brought us all here today in honor and love."
Tickets to the memorial service were free and distributed on Wednesday morning. ESPN reported that hundreds of fans were lined up as early as 6 a.m. to receive one of the 15,000 tickets available. They were gone in an hour.

Despite the free entry, some people had been caught selling their tickets on Craigslist and other platforms, according to the Courier-Journal.
At least 100,000 people flocked to the streets throughout the day to see the procession, including BuzzFeed's own Tracy Clayton.