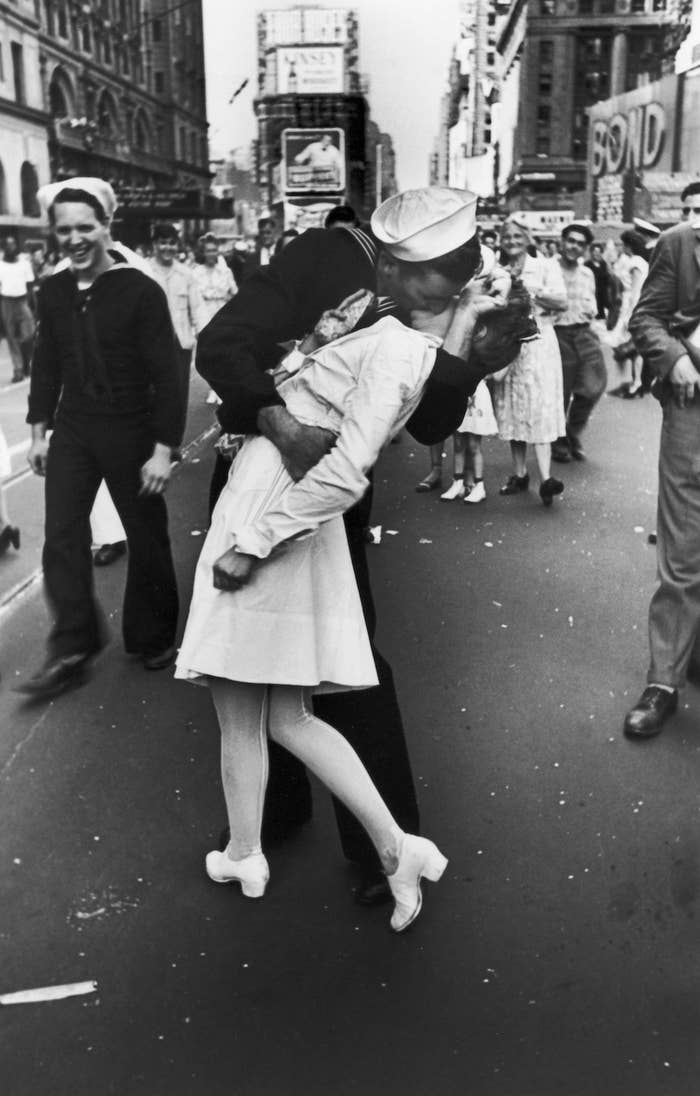 Greta Friedman, widely believed to have been the woman in the iconic photo of a nurse and sailor kissing in New York City's Times Square at the end of World War II, died Thursday. She was 92 years old.
Friedman's son Joshua confirmed his mother's death to CBS News and the New York Daily News on Saturday.
Greta had been recently diagnosed with pneumonia and had been residing at an assisted living facility for the past two years, where she had contracted other illnesses, according to CBS News.
Born Greta Zimmer in Austria in 1924, she and her sisters fled Hitler and the Nazis in 1938, moving to the US.
On Aug. 14, 1945, when she was a 21-year-old dental assistant, Greta heard news that Imperial Japan's forces had surrendered and left her office on Lexington Avenue to learn more.
Once she reached Times Square, she was grabbed and kissed by George Mendonsa, a former sailor.
Life magazine photographer Alfred Eisenstaedt snapped a photo of a nurse and sailor kissing, but did not get their pair's names.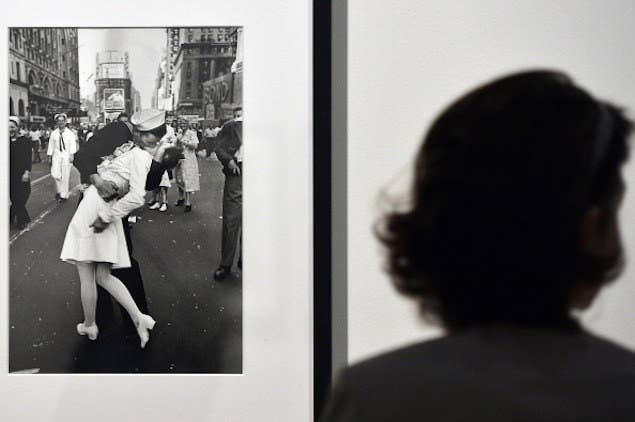 The photo remains one of the most iconic images in American history and has been recreated hundreds of times by couples in Times Square.
Questions been raised over the years about the identify of the subjects, as well as whether or not the sailor grabbing and kissing a woman he did not know constituted an act of sexual assault.
In 1980, Life issued a call for the sailor and nurse from the iconic photo to come forward, which elicited multiple claims from people claiming to be the pair, including Friedman and Mendonsa.
In the book The Kissing Sailor: The Mystery Behind the Photo that Ended World War II, author Lawrence Verria confirmed that Friedman and Mendonsa were the true subjects — a belief widely shared today.
As for the question of sexual assault, Greta's son told the New York Daily News, "My mom always had an appreciation for a feminist viewpoint, and understood the premise that you don't have a right to be intimate with a stranger on the street." However, he said, "she didn't assign any bad motives to George in that circumstance, that situation, that time."
In 1956, Greta married a doctor named Mischa Friedman, with whom she had two children, before his death in 1998.

Friedman is survived by her two children, Joshua and Mara, and her grandchildren, Caroline and Michael Friedman, the New York Daily News reported.