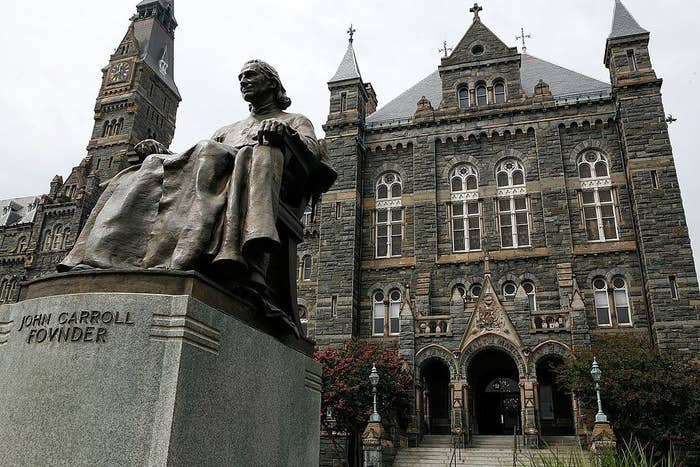 The president of Georgetown University announced on Thursday that he would enact a series of measures to acknowledge and make amends for the school's history with slavery – including offering preferential consideration during the admissions process to descendants of the slaves the school once sold.
In 1838, Georgetown's administration sold 272 men, women, and children and used the profits to keep the university afloat, according to a New York Times report from April.

Most notable among the new policies is the preferential consideration that will be given to aspiring Georgetown students who descended from the slaves sold in 1838.
According to a statement sent to BuzzFeed News, Georgetown University President John DeGioia will make a formal announcement of his plans later Thursday.
In that address, DeGioia will offer a formal apology for the university's historical relationship with slavery; rename two campus buildings after a slave and a free woman of color; formally introduce the new Institute for the Study of Slavery and Its Legacies; and build a public memorial both to the slaves whose labor helped construct the university, but also those who were sold in order to sustain it.

He also promises to "engage with the descendant community in an active and sustained manner," according to the statement.
"We know we've got work to do, and we're going to take those steps to do so," DeGioia told the Times.
So far this plan does not include the possibility of offering descendants of slaves university scholarships, the Times reported. The preferential consideration given to them will be similar to that which is currently afforded to children and grandchildren of Georgetown alumni.
Georgetown was founded in 1789 and was the first institute of higher education established by Catholic Jesuit priests.
In 1838, the university fell on hard times financially. Then-presidents Rev. Thomas Mulledy and Rev. William McSherry decided to sell 272 slaves for the modern-day equivalent of $3.3 million. Of that amount, $500,000 satisfied the university's debt. The sold slaves were taken from Maryland and moved to Louisiana.