Rachel Dolezal's Friend Says "She Would Have Fooled You, Too"
Someone close to Dolezal and her sons told BuzzFeed News that she often discussed issues like slavery, interracial relationships, and civil rights from what she claimed was a black woman's perspective.
Debby Ann Carlson met Rachel Dolezal in northern Idaho in 2012; she was referred to her by a friend when she sought out suggestions for a hairstylist.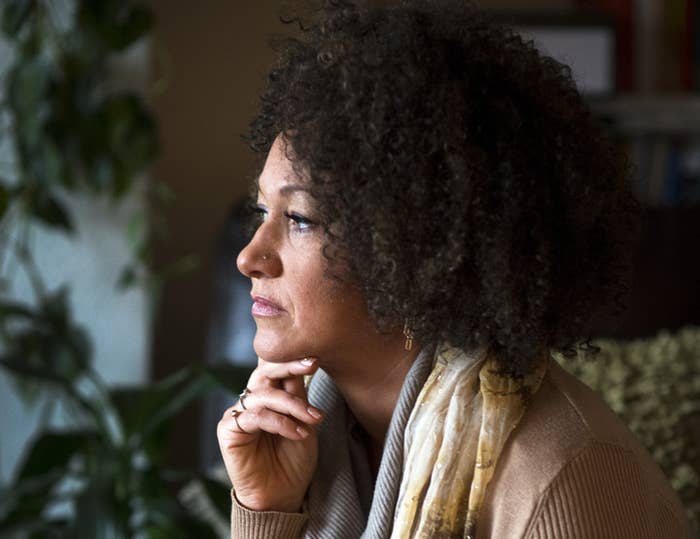 Carlson, who is white, told BuzzFeed News that Dolezal used sew-in as well as clip-on hair extensions with her. The processes took five or six hours, and over the years the two became friends.
"I didn't think I would get that close to my hairdresser," said the 52-year-old. "I used to tease Rachel and say, 'Nobody plays with my hair as much as you. Not even my husband.'"
One of Carlson's sons was the same age as Dolezal's son, Franklin. She told BuzzFeed News that once while she was getting her hair done at Dolezal's house, she noticed Franklin playing video games.
"'We need to get our sons together,'" she recalled telling Dolezal. Her sons were also "computer nerds and into video games."
Sleepovers and joint birthday parties between the two families followed. Carlson said she and Dolezal often sent Facebook private messages to each other that ended with lines like, "Love ya." They shared Subway sandwiches.
One year for her birthday, Rachel left a box with a pair of shoes on Carlson's doorstep.
She learned that Dolezal's racial background had become a national story when another friend sent her a Facebook message that read, "They're tearing your girlfriend up on the news."
On June 11, Dolezal's parents announced that their daughter, a former NAACP Spokane chapter president, educator, and artist, had falsely led people to believe that she was black when she was, in fact, white.
Since then, other questions have been raised about her life, academic background, and family, including Dolezal's accounts of targeted hate crimes and sexual assault. Despite widespread criticism, Dolezal has maintained throughout numerous interviews since that she identifies as black.
"It's really hitting home hard," Carlson told BuzzFeed News. "I don't even know how to consider our relationship anymore. I feel hurt. I feel lied to."
Carlson called Dolezal an amazing mother and a wonderful friend.
"She's done an awesome job raising two boys on her own. She should be so proud of who she is and it's almost like she's not, and it's sad," she said.
When her friends ask her now if she knew Dolezal was Caucasian, she answers no, and says that Rachel often said that she was "proud to be a black woman."
"She would have fooled you, too," Carlson said.
Carlson told BuzzFeed News that Dolezal came over to her house once to watch a documentary on Martin Luther King Jr. with two of her sons, who are 10 and 12 years old. Throughout the film, Dolezal shared facts about Black History Month and her connection to the civil rights movement.
"I can read textbooks and explain things to my children," said Carlson, who grew up just outside Oakland. "I thought they were getting something firsthand."
In 2013, a friend of Carlson's told her she wanted to move from the Bay Area to where she lived, in Post Falls. The woman was white, and married to a black man. She asked Carlson about race relations in northern Idaho, and whether or not she thought it would be safe for an interracial couple.
Carlson took the question to Dolezal.
"Rachel said that it would be really difficult for a white woman to live here with a black man," Carlson told BuzzFeed News.
Since then, Carlson deliberately began to limit the information she took in about Dolezal through the media. Before her interview with BuzzFeed News, she was not aware that Dolezal had appeared on national television to defend herself.
"How do you go on the Today show but not contact the people you've opened your home up to?" Carlson asked.
Carlson last talked to Dolezal on May 18. They exchanged a few brief messages about the hate crimes Dolezal had allegedly been targeted by in the past. She discovered Dolezal had recently traveled to New York when she saw a photo of Franklin on Facebook in what she guessed was Times Square.
She told BuzzFeed News that until now, she had refrained from discussing the unfurling story with nearly everyone except her husband.
"At this point, I would really love to just sit down and talk to her, friend to friend, with no cameras around, and I'd like to know the real truth," she said. "But I don't know if I'll ever hear from her again."
One of Carlson's sons overheard her phone conversation with BuzzFeed News and asked if he could watch a recorded local news segment that featured her story.
"Before you start watching things with Rachel, me and your dad need to talk to you," she told him. "There's going to be things that you see that you're going to start questioning."
Carlson said that once a person lies, it becomes harder to believe them later.
"But I guess it's not just me who fell for it," she said. "Rachel believes it, too."