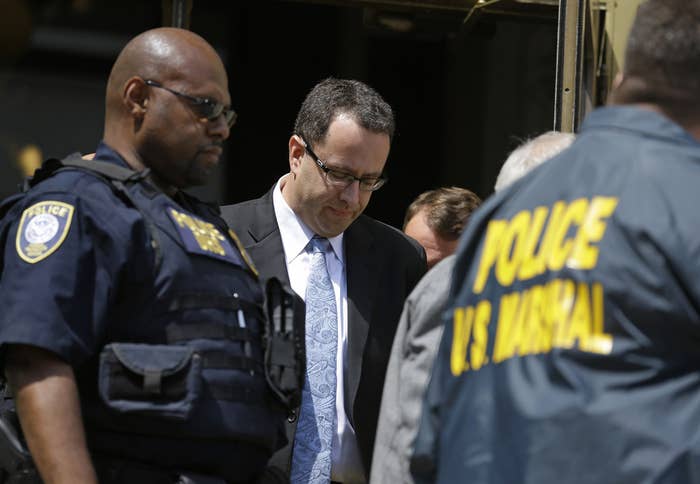 Jared Fogle, former Subway pitchman, agreed to plead guilty on Wednesday to charges of sex with minors and distributing child pornography. Under the plea deal Fogle accepted in the Indianapolis Federal Courthouse, he will face 5 to 12 and a half years in prison and pay restitution to his underage victims.
Fogle has been charged with traveling to New York City to pay minors to perform sexual acts on him in expensive hotels, as well as receiving child pornography that was produced by co-conspirator Russell Taylor, who worked for a charity that Fogle founded.
During a press conference on Wednesday afternoon, authorities detailed the extent of the investigation into Fogle's crimes.
Throughout the course of the inquiry, investigators acquired 16 smart phones, five basic cell phones, six laptops, one desktop computer, 10 flash drives and memory cards, 46 CDs, and 22 DVDs. Altogether, they reviewed more 159,634 text messages, 47,623 images, and 3,394 videos pertaining to Fogle's sexual activities with minors.
Indiana State Police Superintendent Doug Carter said, "Words tend to escape me today as this came to fruition," and issued a warning to perpetrators against children that authorities would eventually find out.
"I cannot think of anything more repugnant than molesting a child," he added.
Steve DeBronta of the U.S. Attorney's Office said he was "fairly confident" that no other victims could be identified based on the recovered evidence, but that the specifics of the plea deal would allow him to alter the nature of the charges against Fogle if new details should emerge.
DeBronta added that the federal investigation did not involve Subway, and that there were not currently any charges or allegations that Subway employees were aware of his crimes.
Fogle's attorney, Jeremy Margolis, released the following statement after the press conference:
Jared Fogle is agreeing to plead guilty to the charges filed against him today. In doing so, Jared is accepting responsibility for what he has done. He is also volunteering to make restitution to those affected by his deplorable behavior. While Jared fully recognizes that such monetary contribution will not undo the harm he has caused, he is hopeful it will assist these individuals as they try to move forward with their lives.

Jared also understands that he requires significant psychiatric medical treatment and counseling. He has already begun that process by being extensively examined by a world-renowned expert in sexual conditions in order to chart a course to recovery. It is Jared's intent and goal to become healthy again.

Most importantly, Jared understands that he has hurt innocent people, vulnerable people, and his family. He has expressed remorse to me and to his loved ones, and will, when given the opportunity, express that remorse to this court and to the people he has harmed. His intent is to spend the rest of his life making amends.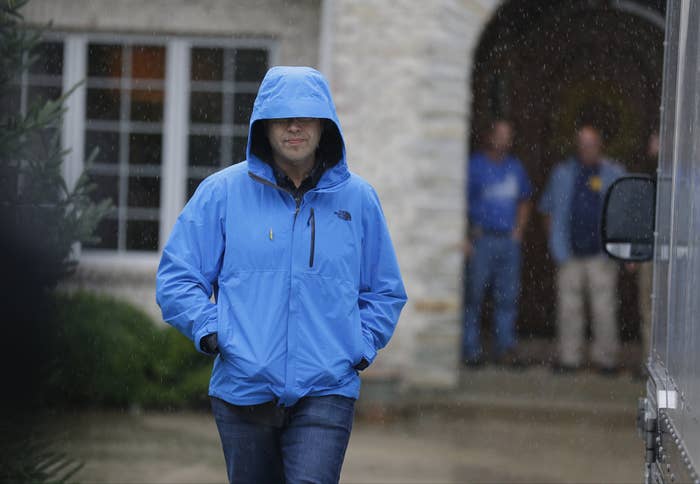 Fogle came under fire last month when the FBI raided his house as part of a child pornography investigation. Subway terminated its contract with him shortly after the news broke.
According to the court documents, there were 14 victims total, and all of the incidents with minors took place between March 2011 and Jan. 30, 2015.
Of the group, 12 were girls and boys from the Southern District of Indiana and were subject to being filmed by Taylor without their knowledge.
During this time, the Department of Justice alleges that Fogle engaged in "sexually explicit conduct" with them.
The documents detailed that the minors "did not know that they were being secretly filmed in the residence of Taylor's current and former residences."
There were "multiple hidden cameras concealed in clock radios positioned so that they would capture the minors changing clothing, showering, bathing, or engaging in other activities," the document read.
Fogle received many of the videos Taylor distributed and had full knowledge of the minors' statuses, as well as the means by which the secretive videos were produced.
The court document also accuses Fogle of viewing other child pornography that Taylor had not produced, which depicted some minors as young as 6 years old.
An additional minor, acknowledged in the document as Minor Victim 13, alleged that Fogle traveled from Indiana to New York City between 2010 and 2013 to "engage in commercial sexual acts" with her, and sought out the same with other minors.
In one instance on Nov. 3, 2012, Fogle had sex with Minor Victim 13 at the Plaza Hotel when she was 17 years old.
The next day, she said Fogle sent her a text message "offering to pay her a fee if she could find him an underage girl to engage in commercial sex acts with him," adding "the younger the girl, the better."
In December 2012, Fogle allegedly sent several text messages to the same victim insisting that "he would really make it worth her while" if she continued to send him other minors to have sex with him.
She added that Fogle was made aware of her age when they first met.
Fogle took a plea deal Wednesday. He plead guilty to the travel and child pornography charges, and is expected to pay $1.4 million in restitution to his 14 victims.
According to a statement sent to BuzzFeed News from Subway, "We have already ended our relationship with Jared and have no further comment."
During its investigation, the FBI relied on a number of women from across the country – including Florida, Georgia, and Washington state – to work undercover to secretly record Fogle's making inappropriate statements about underage children.
Rochelle Herman of Sarasota, Florida told ABC7 she worked for the FBI for approximately four years. She befriended Fogle during a trip he took to Sarasota in the mid-2000s. He would often travel to the area for work, she said.
Herman tipped off the FBI after Fogle made comments about himself having sex with minors "here in the U.S, during international tours and his visits to Thailand."
During the course of the investigation, Herman recorded the conversations she had with Fogle, and now that it's over, she said she feels relieved and "happy with the outcome," though she thinks a harsher punishment is needed.
"He has caused a lot of pain," she said. "It's pain that will never go away."
Shortly after the court document was released, Katie Fogle, Jared's wife, announced that she would seek a divorce.
BuzzFeed News contacted the office of James Reed, Katie Fogle's attorney, and was directed to an automated statement, released on her behalf, which said:
Obviously, I am extremely shocked and disappointed by the recent developments involving Jared. I am in the process of seeking a dissolution of the marriage. My focus is exclusively on the well-being of my children. Neither I nor my family will have any further comment on the matter. I appreciate respect for my family's privacy during this difficult time.
The Fogle family also released a statement, which was sent to BuzzFeed News, saying that they were "shocked and profoundly disappointed in Jared's abhorrent criminal behavior and we are very concerned for the well being of those affected by his conduct."
"At the same time," they went on to say, "we are gratified that Jared is accepting responsibility for what he has done by agreeing to plea guilty to the charges filed today and by volunteering to make restitution to the victims."
The family added that they looked forward to the day that Jared could rejoin the family and society.
Correction
Fogle agreed to plead guilty but has not yet formally entered the plea. A previous version of this story misstated the status of Fogle's plea deal.