Only Three Jurors Believed Tsarnaev's Central Defense – That He Was Under The Influence Of His Brother
The jury had to decide on a series of questions — including whether Tsarnaev intentionally targeted the marathon and acted in a "depraved manner" — before deciding to sentence him to death. One of those cut right to the heart of his defense.
The 12 jurors who sentenced Boston Marathon bomber Dzhokhar Tsarnaev to death Friday rejected the argument at the heart of his defense: that the 19-year-old acted under the influence of his older brother, Tamerlan.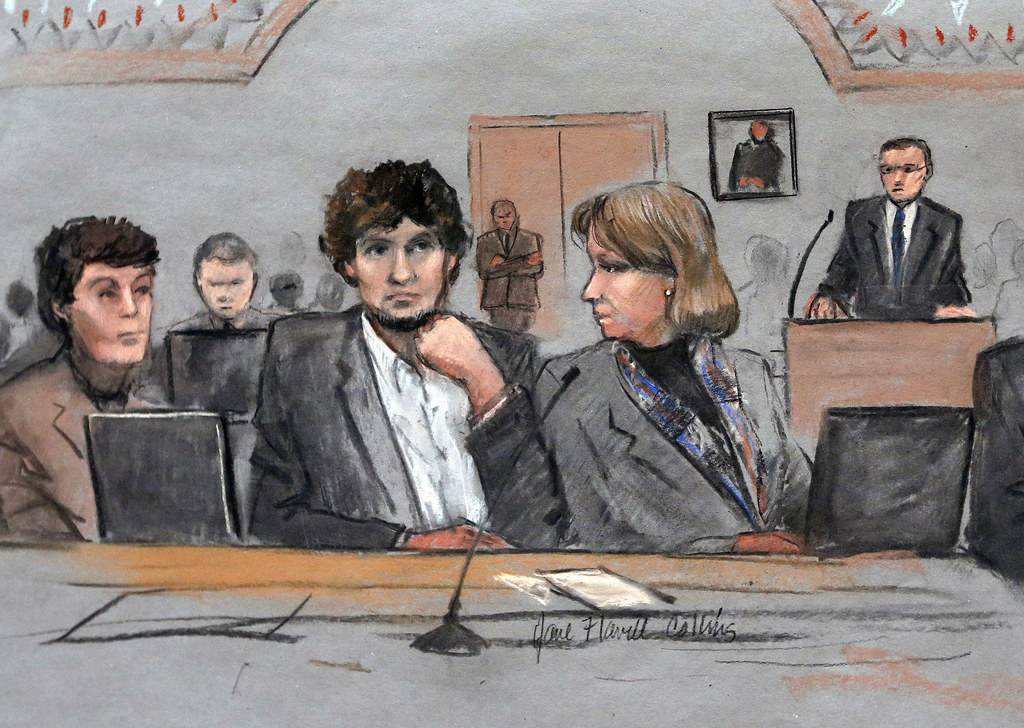 Only three jurors supported that claim, though. And only three jurors hold Tamerlan responsible for planning and orchestrating the attack. Five jurors said Tamerlan radicalized first, and encouraged Dzhokhar to follow him.
Throughout the trial and especially in the sentencing phase, defense attorneys spent significant time saying Tamerlan had a great hold over his brother. Tamerlan was charismatic, the lawyers argued, emphasizing the tendency within Chechen culture for younger siblings to idolize older ones.
This question and scores of others were part of a questionnaire the jurors filled out that included three types of factors: gateway, aggravating, and mitigating.
Download PDF
Gateway Factors
The jury decided unanimously that Tsarnaev was at least 18 years old at the time of the attack; that he intentionally killed his victims; that he understood people would die; and that his involvement in the bombings showed a "reckless disregard for human life."
Jurors voted "yes" to some counts of Tsarnaev intentionally inflicting serious bodily injury resulting in multiple deaths.
Aggravating Factors
The jury decided unanimously that the three deaths at the marathon occurred due to the use of weapons of mass destruction.
They also ruled that Tsarnaev crafted a substantive plan and premeditated an act of terrorism; that he had an intent to kill more than one person in a criminal episode; and that he deliberately targeted Martin Richard, who was 8 years old, due to his youth.
Jurors ruled that the prosecution proved some of the counts of Tsarnaev being fully aware that he had created grave risk of death to multiple people, and that he committed the acts in an "especially heinous, cruel, and depraved manner."
The jury also ruled that the government did not prove that Tsarnaev made statements urging others to participate in terrorist acts against the United States.
On all other factors, the jury was unanimous: Tsarnaev murdered officer Sean Collier and caused injury, harm, and loss to the family and friends of the people who were fatally injured: Krystle Marie Campbell, Lu Lingzi, Richard and Collier.
The jury also found he deliberately targeted the final leg of the Boston Marathon and demonstrated a lack of remorse.
Mitigating Factors
The mitigating factors were unsuccessfully used to urge jurors to sentence Tsarnaev to life in prison without parole. The defense had argued that the brothers grew up in an unstable household and that and that Dzhokar fell under the influence of his older brother when he helped stage the bombing.
Eleven jurors agreed that Tsarnaev had no prior history of violent behavior.
Of the argument that Tamerlan's age, physical size, and perceived aggressiveness rendered his younger brother "particularly susceptible" to his influence, three jurors ruled in the affirmative.
Two jurors believed that Tamerlan killed MIT Officer Sean Collier, and three found that Dzhokhar would not have committed the crimes had it not been for his older brother.
The jury did, however, recognize the character witness accounts the defense presented, and said Tsarnaev's upbringing had an impact on him.
The jurors unanimously said Dzhokhar's teachers thought he was "hardworking, respectful, kind, and considerate," and that his aunts and cousins still loved and cared for him.
Jurors voted unanimously that Dzhokhar's father's mental illness disabled him and created a situation in which Tamerlan became the primary figure in his life. However, only two found that his mother's transition into religious extremism resulted in a limited amount of guidance and stability.
Ten jurors agreed that his mother played a role in Dzhokhar's religious decisions.
Tsarnaev will have a separate formal sentencing this summer, where he will have the chance to address the court.