Ferguson Police Chief Resigns From Troubled Department
Jackson's resignation will take effect on March 19. But a state representative on Wednesday said that's not enough, and wants the city's mayor to also go.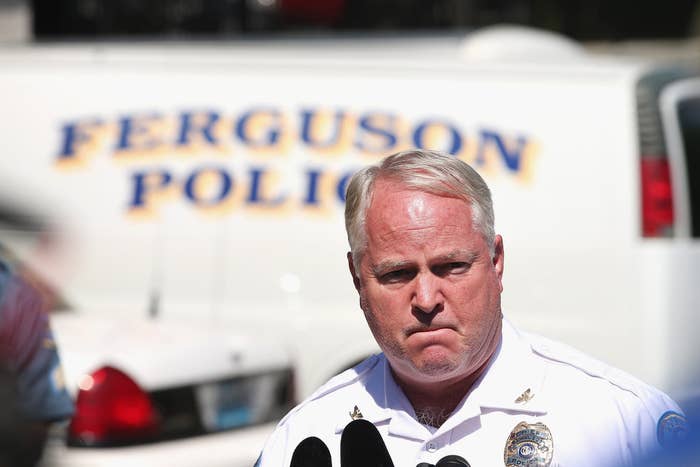 Ferguson Police Chief Thomas Jackson resigned Wednesday in a "mutual decision" between him and city administrators, Mayor James Knowles said during a news conference.
Jackson, who led the department during at the time of Michael Brown's fatal shooting, city unrest, and a federal report that criticized local law enforcement for rampant racial discrimination and a focus on generating revenues over public safety, will walk away with a severance package worth roughly a year's salary, Knowles added.
Jackson's severance package will pencil out to about $100,000, Knowles said. That's despite leading the department for only about five years. Ferguson's former city manager, John Shaw, received a similar severance package when he resigned this week.
Referring to Jackson's severance, Knowles said it was "fair to say" that the chief would "get the same treatment" in the private sector.
Jackson did not attend the news conference.
Knowles said Jackson's decision was made over the weekend, but had not been finalized until Wednesday. He added that Jackson and the city had been in discussions about the "best way to move forward" since protests erupted in the city, as well as a critical Department of Justice report that found police had repeatedly engaged in racial profiling.
"The chief is a kind and honorable man you don't have to go to," Knowles said. "He comes to you and knows this is something we have to seriously discuss."
Jackson is the third major city official to resign in the wake of the Department of Justice report.
Asked whether he, as mayor, would resign as well, Knowles said he did not plan to.
"Somebody is going to have to be here to run the show," he said.
But Missouri state Rep. Tommie Pierson, who represents St. Louis County, said he thought Knowles should also go.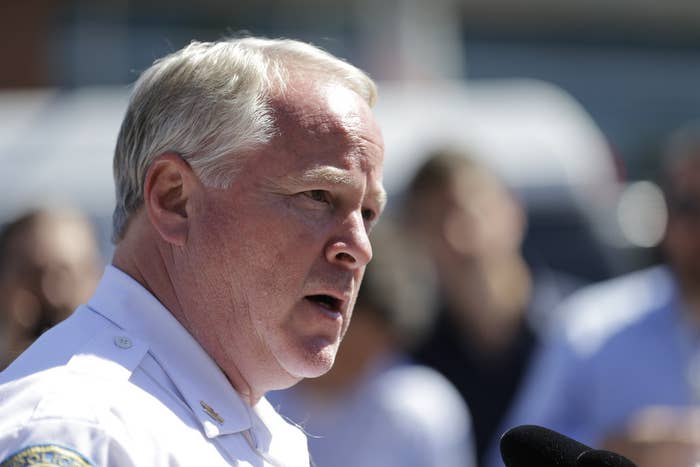 In an interview with BuzzFeed News, Pierson said Knowles deserved to be held responsible for how local law enforcement had been operating.
"I think he deserved to be out," Pierson said. "I think when all the king's men fall around him, the king should fall, too. And the king is the mayor."
Pierson added: "He preys on his people. I don't think there's anything left for him to do than do like his aides and resign."
On Wednesday, the Justice Department also indicated its Civil Rights Division would travel to Ferguson in the coming weeks to "discuss the findings and next steps" with city leaders and the community.
Vanita Gupta, acting assistant attorney general for the division, said in a statement that the Department of Justice would continue its work with Ferguson's leadership, "regardless of whomever is in those positions."
In a letter originally obtained by the St. Louis Post-Dispatch, Jackson said it was with "profound sadness" that he was announcing his decision.
It is with profound sadness that I am announcing I am stepping down from my position as chief of police for the city of Ferguson Missouri. My resignation will be effective March 19, 2015 to provide for an orderly transition of command.

It has been an honor and a privilege to serve this great city and to serve with all of you.

I will continue to assist the city in any way I can in my capacity as private citizen.

Warmest regards,
Thomas Jackson
Chief of police
City of Ferguson, Missouri
Missouri state Senator Maria Chappelle-Nadal told BuzzFeed News she was "delighted" by the news that Jackson is stepping down.
"I'm glad the Chief made the right decision," she said.
On Knowles, Chappelle-Nadal said that if he was aware that police officers were intentionally ticketing young black men to drive up city revenue he needs to admit to it.
"He needs to be held accountable. If he knew that, he's negligent," Chappelle-Nadal said.
Asked if she thought anyone else in Ferguson should resign, Chappelle-Nadal said, "I want to reserve the right to answer that at a later date."
Jackson has served as the city's top cop since 2010 and oversaw local law enforcement's handling of the events following the death of unarmed teenager Michael Brown, who was shot by police officer Darren Wilson on Aug. 9.
On Nov. 24, a grand jury acquitted Wilson of all charges.
A scathing review of the police department by the Department of Justice highlighted many troubling trends, including racial discrimination against black civilians, systematic use of citations to generate city revenues, and inappropriate use of attack dogs on civilians, all of whom were black.
The Department of Justice's report ignited a loss of jobs across the board in Ferguson, from law enforcement to the courts. Last week, two Ferguson police leaders — Capt. Rick Henke and Sgt. William Mudd — resigned, and municipal court clerk Mary Twitty resigned.
The City of Ferguson released a statement earlier on Wednesday confirming the "mutual separation," adding that Lt. Col. Al Eickhoff will serve as interim Chief of Police:
City of Ferguson Police Chief and City Council Agree on Mutual Separation from the Ferguson Police Department

Ferguson, MO - The City of Ferguson and Police Chief Thomas Jackson have agreed to a mutual separation which involves the Chief's resignation from the City of Ferguson. The Chief's resignation is effective Thursday, March 19, 2015.

This was a mutual decision by both the Police Chief and the City's administration. Chief Jackson will receive a severance payment and health insurance for one-year.

Lt. Col. Al Eickhoff will assume the duties as acting Chief of Police effective Thursday, March 19, 2015.

The City of Ferguson will begin a nationwide search for a new Chief of Police.