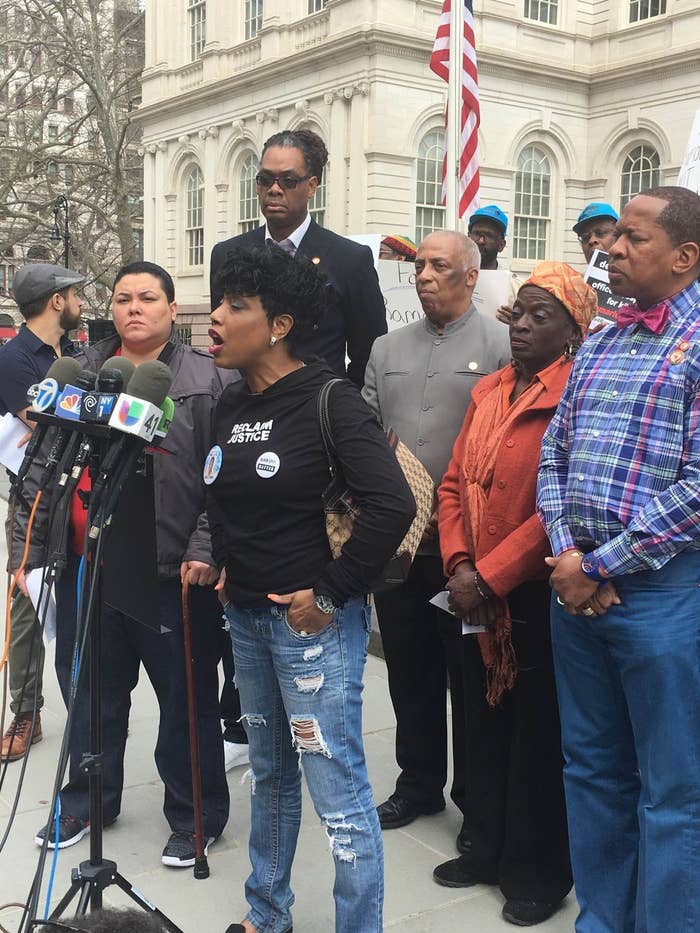 The mother of an unarmed 18-year-old killed by an NYPD officer in 2012 on Thursday called for his resignation, as well as an internal investigation into the department's handling of the incident.
On Tuesday, Preet Bharara, U.S. Attorney for the Southern District of New York, declined to press federal charges against NYPD Officer Richard Haste, who fatally shot Ramarley Graham inside his Bronx apartment on Feb. 2, 2012.
Constance Malcolm, Graham's mother, criticized authorities for taking four years to reach a decision in the case, and urged NYPD Commissioner Bill Bratton to call for his resignation.
"What this city just told me two days ago is that you're not safe anymore in your home," Malcolm told BuzzFeed News. "All a cop has to do is say, 'I feared for my life,' or, 'I thought,' and that's their get-out-of-jail free card."
Bharara's investigation found that Haste believed Graham was armed and had reached for his gun, prompting the officer to shoot.
Graham was later found to be unarmed, but the attorney ruled that "the determination as to the willfulness of his actions must be assessed in light of his knowledge at the time of the shooting."
In 2013, a Bronx grand jury indicted Haste on two counts of manslaughter, but a judge dismissed the case due to a prosecutorial error and a second grand jury decided not to re-indict him.
Robert Cornegy Jr., who co-chairs the New York City Black, Latino, and Asian Caucus, announced Thursday that 26 members had signed a letter urging Bratton to conduct a separate internal investigation into Graham's death.
Malcolm and Cornegy claimed they were told by police that the Justice Department had asked that an internal inquiry be delayed until after the federal investigation. Since that is now over, they want the NYPD to launch their own.
The DOJ also declined comment to BuzzFeed News on the matter.
"Now that the federal investigation into the Ramarley Graham case has concluded, the NYPD's internal disciplinary process will move forward," an NYPD spokesperson told BuzzFeed News in an email.
Several other officials — flanked by dozens of activists also held signs calling for justice — attended the news conference in support of Graham's family, including City Councilman Andy King.
"Commissioner, it's time to fire Richard Haste," King said.