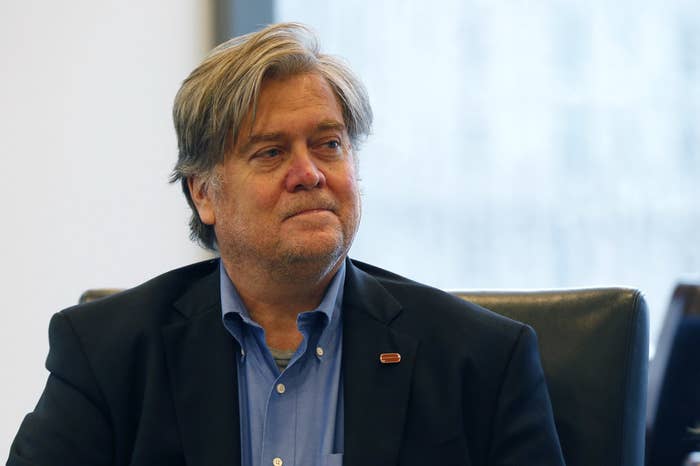 Donald Trump's campaign CEO, Stephen Bannon, allegedly pulled at his then-wife's neck and wrist during a 1996 dispute in Santa Monica, and smashed a phone when she tried to call the police, according to court documents.
Bannon was charged with misdemeanor domestic violence, battery, and dissuading a witness for the 1996 incident, according to court records and a police report first obtained by Politico and the New York Post. The case was later dropped when his ex-wife Mary Piccard refused to press charges.
On Friday, Trump campaign manager Kellyanne Conway said she didn't know if Trump was aware of the incident.
According to court documents, Santa Monica police responded to a call the morning of Jan. 1, 1996. The caller dialed 911 but had hung up. When officers arrived, they said Piccard, Bannon's then-wife appeared "very upset," according to the police report.
She later told authorities that she and Bannon, to whom she had been married seven months at the time, had a history of arguing frequently and physically fighting, though they hadn't for some time. They had twins who were less than 1 year old.
The fight that morning was prompted by an argument over whether Piccard could use a credit card to go shopping. She told Bannon that she wanted a divorce, and later related to police that he "laughed at her, and said he would never move out," according to the police report.
Outside, near their car, Piccard said in the report she spat on him, and in response he "reached up to her from the driver's seat of his car and grabbed her left wrist. He pulled her down, as if he was trying to pull [her] into the car, over the door."
She added that Bannon "grabbed at her neck, also pulling her into the car." She fought back and eventually escaped.
When she went back inside to call the police, Piccard said Bannon chased her around the house screaming "that he was going to take the girls and leave." She said in court documents "I took the phone to call police and he grabbed the phone away from me throwing it across the room, breaking it as he screamed that I was a 'crazy f----g c--t!"
She said the phone had broken into so many pieces that she could not use it. Police said that the attack left "red marks on her left wrist and the right side of her neck."
The Santa Monica District Attorney's office filed a complaint against Bannon on Feb. 22, 1996. He was arraigned on March 12 that year, and pleaded not guilty to the counts of misdemeanor domestic violence, battery, and dissuading a witness.
After a delayed trial date in July, a judge ordered the case to be dismissed after the "victim/witness" could not be found.
Speaking on the 1996 case, a Bannon spokesperson told Politico, "The bottom line is he has a great relationship with the twins, he has a great relationship with the ex-wife, he still supports them."
Piccard also said she would only see him in public spaces because he "has been verbally abusive to me in front of the girls and I do not fee safe," according to a court document filed in Los Angeles County. At another time, she said in a court document, Bannon "spanked" one of their children while the girl was sick.

Meanwhile, on Thursday, The Guardian US reported that Bannon is currently registered to vote in Florida but does not live there, a possible violation of election law.