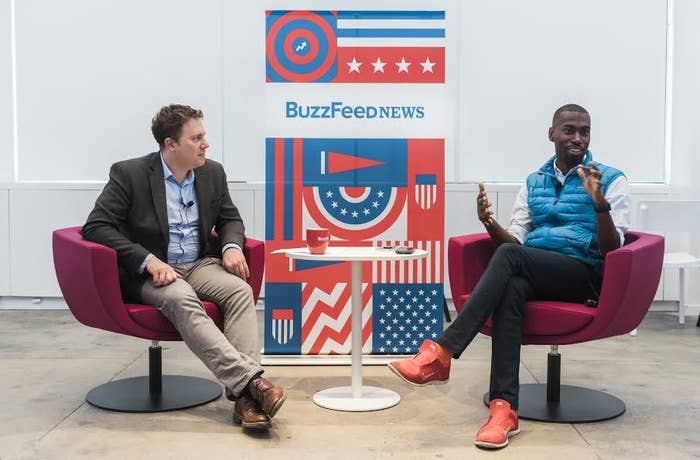 DeRay Mckesson said Hillary Clinton's policy platform on racial justice can still be improved upon and that his next step could be working with a former high-ranking government official committed to social justice, he told BuzzFeed News Thursday.
Mckesson was interviewed by BuzzFeed editor-in-chief Ben Smith Thursday, appearing at BuzzFeed's headquarters in New York as part of its new "Breakfast at BuzzFeed" speaker series. "Breakfast at BuzzFeed" has also interviewed renowned HIV/AIDS researcher Dr. Anthony Fauci and former New York Times editor Jill Abramson.
Mckesson, the well-known activist who will also soon embark on an organizing project in Baltimore, said although Campaign Zero influenced Clinton's platform on a national standard for police use of force and alternatives to policing, but it's "not enough." He also said it's important the movement pushes candidates around issues of racial justice, including presumptive Republican nominee Donald Trump.
"One of the things Hillary said to us is she talked about the importance of communities being involved, and that was, like, a big deal for her. And we said, 'Well, we don't see that in your platform.' Where are you giving communities any oversight or any authority? So we saw that dissonance. We pushed her on The New New Deal [but] I think there's a little more to go with her."
He described Bernie Sanders as a "real model" when it comes to addressing a full-range of issues.
"She's only talked about three or four issues, but in a more expansive fashion, where has Sanders addressed a wide-range of issues," Mckesson said. "But the question remains how to get things done what their priorities are."

"Hillary... has been slow to talk or address anything with regards to race. With that said, when she has, she's addressed [them] so much deeper than Bernie," he said.
Intrigue over what Mckesson will do next has intensified after his unsuccessful run to become mayor of Baltimore, where he raised $300,000 but received only a small percentage of the vote.
Mckesson suggested the movement will continue be a force in the presidential election, pushing candidates around policing and other matters of racial justice. "People have pushed Trump. It seems that he will be the nominee, and it's important that we apply pressure to anyone who's might be the nominee."
He balked at a question about meeting with Trump, saying he wasn't sure if a private meeting with him was the best tactic to engage him. "When he talks about race it's usually in the realm of deportation and walls which isn't helpful," he said.

Watch the full video here: