Denver Broncos Player Called "A Worthless Fucking Nigger" In Threatening Letter
Brandon Marshall shared the hate letter on Instagram.
Denver Broncos linebacker Brandon Marshall received a racist letter that referred to him as, among other things, a "nigger," a "spoiled jigaboo," and a "mud puppet."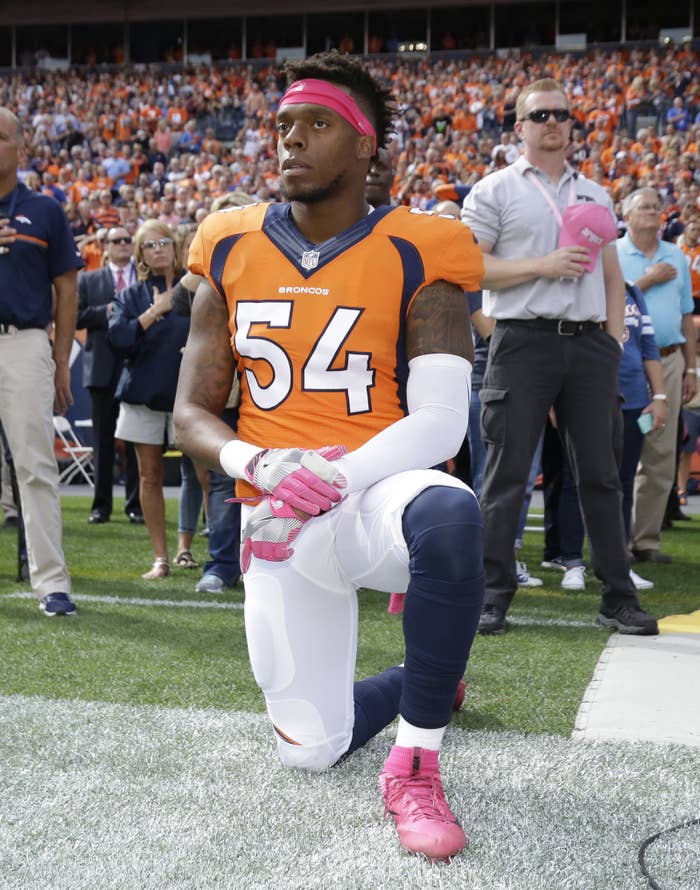 Marshall posted the letter to Instagram on Friday with a caption that read, "The hatred by some against people of color is one of the reasons we are where we're at in the world today, and they wonder why we feel the way we do and take the stances we take. I received this letter at work."
The letter reads:
Hello Mr. Marshall

How are you? You are a great football player Mr. Marshall. No you are not!! You are a worthless fucking nigger who is a spoiled fucking jigaboo!! If you are sooo [sic] unhappy with America, turn in your "millions" and move back to the jungle, you fucking gorilla/monkey!! We hate you and your "kind" of niggers!! You black fucking porch monkey. Your name should be Sasabo. Your time is coming, watch out nigger!!

Go back to Africa you "mud puppet"
Marshall was criticized when he joined 49ers quarterback Colin Kaepernick and several other athletes in taking a knee during the national anthem before football games. He also lost two sponsorships.
"We have freedom of speech," he told The Gazette back in September. "But then we use our platform, and we get bashed for it. It's almost like they want to only go with the grain. And once we go against the grain, it's an issue. I feel for Kaep. I understand where he's coming from, and I support him."
People have started to write Marshall letters of positivity, and have posted them on Twitter.
BuzzFeed News has reached out to Marshall and the NFL for comment.