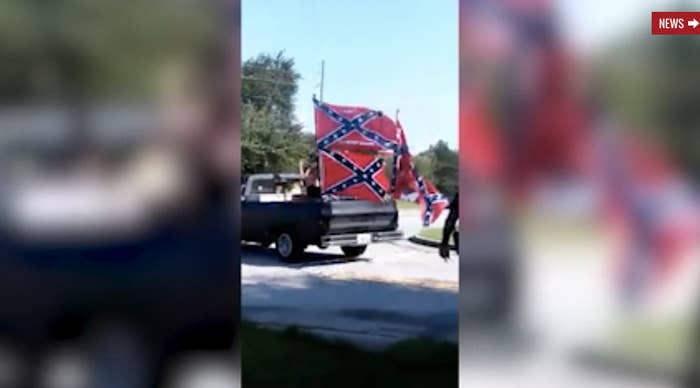 The Georgia couple convicted of aggravated assault and making terroristic threats when they waved Confederate flags and made racist comments at a child's birthday party have been sentenced to a combined 19 years in prison.
Jose Torres and Kayla Norton joined 13 other members of a group called Respect the Flag in July 2015 and drove a convoy of pickup trucks into an 8-year-old's birthday party in Douglasville, Georgia.
Video footage of the incident first captured by the Atlanta-Journal Constitution shows the assailants waving the flags and shouting racist obscenities and threats with their guns out.
At one point in the video, someone can be heard saying, "I'm going to kill y'all niggers."
Torres and Norton were each charged on Feb. 6 with three counts of assault, one count of making terroristic threats and acts, and one count of violating the Georgia Street Gang Terrorism law.
On Monday, Douglas County Superior Court Judge William McClain sentenced 26-year-old Torres to 13 years in prison, and an additional seven to be served on probation.
Norton, 25, was sentenced to six years in prison, with an additional nine years of probation.
The trial included emotional statements made between the defendants and some of the people who had attended the party.
In court, Norton attempted to apologize.
"I accept responsibility for what I've done. I know I was in the wrong. But I want you all to know that that is not me," she said.
Gesturing at Torres, she went on to add, "That is not him. I would never walk up to you and say those words to you, and I'm so sorry that that happened to you. I am so sorry."
One of the party-goers, Hyesha Bryant, responded to Norton's statement.
"I never thought this would be something I'd have to endure in 2017," Bryant began, according to the Atlanta-Journal Constitution. "As adults and parents, we have to instill in our children the values of right and wrong. That moment you had to choose to leave, you stayed. You staying affected my life and it affected my children's life."
But ultimately, Bryant forgave them.
"I forgive all of you," she said. "I'm not a mean-spirited person."
As he handed down his sentence, McClain said that Torres and Norton's actions were "motivated by racial hatred."
He also pointed out that in some cases, certain actions combined with the meaning of the Confederate flag cannot be read ambiguously.
"I suppose the Confederate flag can be interpreted different ways in different contexts," he said, "but if you're driving around town waving Confederate flags and using the N-word everywhere you go, then there's only one way to interpret that."
He added that given "the tension in this country, the absolute last thing we need is people riding around with the Confederate flag threatening people."