Columbia Law School is allowing students who feel disturbed by recent grand jury decisions not to indict police officers responsible for killing Michael Brown and Eric Garner to postpone final exams.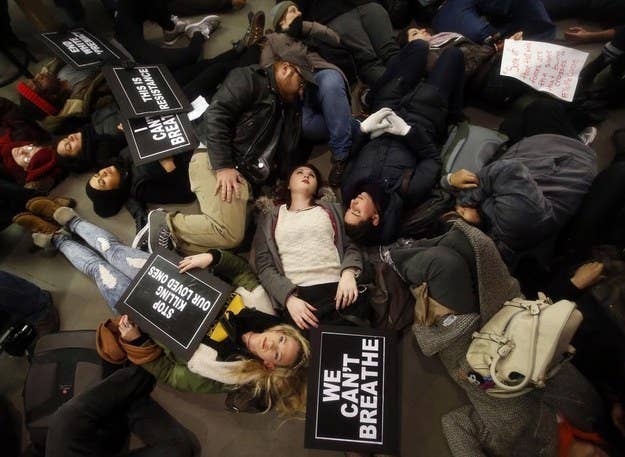 Interim dean Robert E. Scott sent an email Saturday announcing the policy.
"Students who feel that their performance on examinations will be sufficiently impaired due to the effect of these recent events may petition Dean Alice Rigas to have an examinations reschedule," the email read.
Elizabeth Schmalz, executive director of communications and public affairs at Columbia Law School, said only a few students have rescheduled their exams for later in December, but declined to disclose exactly how many.
"Each request is reviewed and evaluated individually and decisions are based on a student's specific situation," she said in an email to BuzzFeed News.
What Dean Scott's email did not mention, however, was the role that a letter of demands written by Columbia Law students of color had written him and the rest of the school's administration and faculty two days before.
The manifesto is titled "Emergency Action: The Columbia Law School Coalition of Concerned Students of Color," and draws a connection between students' experiences as minorities on campus, and how recent instances of police brutality against people of color can have a visceral effect on their academic progress.
One of the grievances discussed in the letter is the pressure students of color feel to speak for and represent entire communities about sensitive topics.
"As student leaders of color at Columbia, we have been asked to bear the burden of educating the broader community about issues that have wreaked havoc on our psyches and lives, with some support and some dehumanizing moments of dismissal by our peers and faculty," the letter read. "Nonetheless, we have borne the burden and done so with unfailing grace."
The writers also highlighted the complicated nature of having to choose between participating in protests, and considering how that might affect their school work.
"We join marches with the looming anxiety that spending our time organizing events and attending rallies could put our studies and positions in the law school community in jeopardy," the letter read.
At the end of the letter, the Coalition at Columbia Law lists a set of expectations for faculty and administration in addressing their concerns. In addition to exam postponement, they asked for a formal institutional recognition of their trauma, and an emergency event for students across the university, alumni, faculty, and administration to share and discuss the concerns of students of color in light of recent news.
Arielle Reid is a third-year Columbia Law student and member of the Coalition at Columbia Law. She said that the call for exam postponement is part of a larger initiative for the organization that had been in place before the grand juries handed down their decisions.
"We want to make Columbia Law School more responsive to people of color," she said. "This isn't just about exam postponements. It's about the culture that law schools breed. Our mission is to make sure that the institution that we pay hundreds of thousands for is more accountable for how they treat us."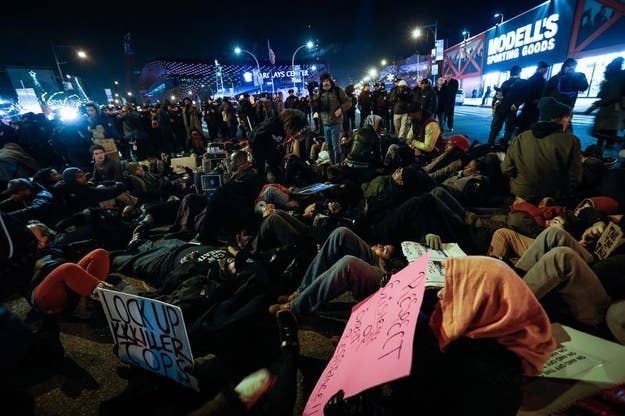 An example of this treatment is in the law school's facilitation of a Forum on Ferguson, which took place on campus on Dec. 1.
The event was organized in part by student organizations like the Columbia Law Black Students Association, Empowered Women of Color, and the Latino/a Law Students Association. According to the university's press release, the discussion "featured discussion of the grand jury's decision and its legal and social implications."
Some law students who attended the event expressed their frustration that the faculty members leading the discussion were all white, despite the fact that the student organizations had specifically requested the presence of faculty of color.
Columbia Law professor Kimberle Crenshaw, a renowned racial justice scholar who has spoken publicly about the Eric Garner and Michael Brown judicial decisions, had to sit in the audience and raise her hand to speak.
Reid will not postpone any of her finals, which consist of a paper and a take-home exam, but said she knows a small number of students who will exercise their right to take their tests later.
"I talked to other students who have been out protesting, or who have been victims of police brutality who are taking advantage of it," she said.
Traditionally, the law school's policy states that exams can be rescheduled in cases of illness, the birth of a child, religious observance, bereavement, or "in other exceptional and documented circumstances."
Schmalz said that focusing on routine matters such as exam schedules "diverts attention away from the real issue that should be examined now: how to ensure a criminal justice system that protects fairness, due process, and equality."
Critics have called the university's announcement a "coddling" measure, and have countered the decision by arguing that professional lawyers cannot simply take a day off from work when faced with personally disturbing events.
Reid called this particular coverage a sign of "ignorance and callousness, showing a complete lack of empathy for anyone's experiences other than their own."
She also noted the difference between law students and professional lawyers.
"Being a lawyer, you have clients who pay you to do things for them," she said. "As law students, we pay hundreds of thousands of dollars to institutions to support us. They work for us. We are their clients. We don't see a problem with asking them to be there for us."
Students at Harvard Law and Georgetown Law are now requesting the same postponement on their final exams, according to the National Law Journal.