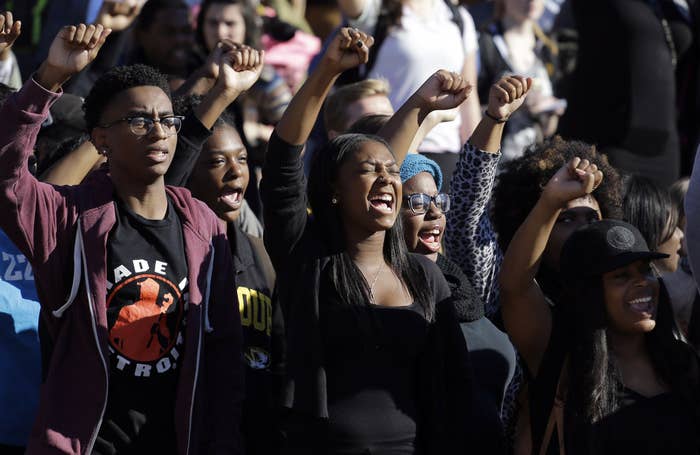 The campus-wide protests against racial discrimination at the University of Missouri that led to the resignation of the school's top leaders and sparked threats of violence has reignited student-led movements at college campuses across the nation.
From coast to coast this week, students at universities marched in solidarity with Mizzou students and showed their support online with the use of hashtags like #BlackOnCampus and #ConcernedStudent1950 — the latter phrase referencing the year African-Americans were first admitted to the Columbia, Missouri, university.
The movement sparked on Mizzou's campus has characteristics that set it apart from other university demonstrations. Still, as students have expressed in interviews with BuzzFeed News and on social media, the grievances of students of color on majority white campuses is an ongoing issue.
Yale University
Racial tension heightened at Yale University during Halloween, when a school official sent an email criticizing the idea that some costumes might be considered racially or culturally insensitive.
Four days later, during a conference on free speech, a speaker on campus likened the response to the Halloween costume email to someone having "wiped out an entire Indian village," Yale Daily News reported. The comment garnered impassioned responses and a student-led protest outside the conference.
Mitchell Rose Bear Don't Walk, a senior at Yale, was among several individuals and campus groups behind the March of Resilience on Tuesday.
Bear Don't Walk told BuzzFeed News that the goal of the event, which drew more than 1,000 students, was to strengthen the ties among different students and campus communities at Yale, and that showing support for University of Missouri students was born out of that.
"We want to show them how very, very important solidarity is, and to let them know they are loved," she said.
Jamilah Prince-Stewart, who graduated from Yale in 2009, said listening to the experiences of current students of color felt like a painful déjà vu.
"When you're a black student at a predominantly white school, you have a chip on your shoulder, and are constantly having to prove your worth," Prince-Stewart said. "I don't think the experiences of what they go through on a daily basis should be minimized."
Ithaca College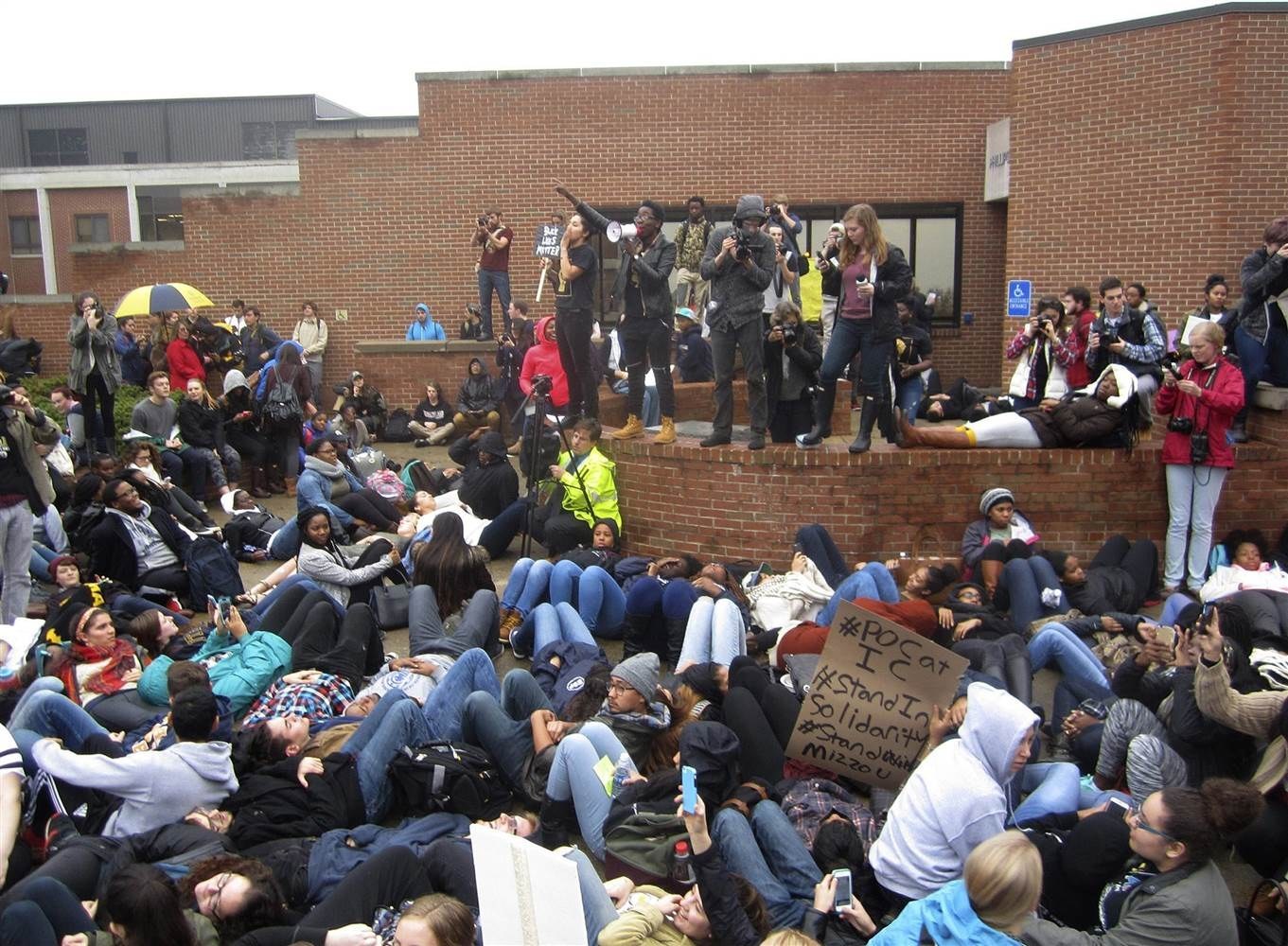 Complaints of racial insensitivity also led to protests at Ithaca College in upstate New York. The campus publication the Ithacan reported Wednesday that more than 1,000 students participated in a walk-out in solidarity with the University of Missouri and demanded the resignation of college president Tom Rochon.
The protest came after the campus recently dealt with its own slew of allegedly racist incidents.
In September, a public safety officer was caught saying during a training session for resident assistants that he would shoot anybody he saw who was holding a BB gun. And during an event last month, two white male alumni repeatedly referred to a black female alumna as a savage after she referred to her "savage hunger" for success as a student.
The student group largely responsible for the demonstrations, People of Color at Ithaca College, said their goals for the university include increased safety and emotional well-being for students of color on campus, but that they had no desire to work within the current institutional structure.
"Campuses, like our own, are dedicated to upholding an image of diversity and inclusion because it is profitable," a statement from the group said. "But what about the structures that create these acts of oppression?"
The group charged the college administration with hiding and sheltering those structures, and said that "even after they are made aware of the vast issues, they protect these structures."
Smith College
Students at Smith College in central Massachusetts staged a solidarity march the same day as Ithaca's. According to Boston.com, around 200 students and faculty attended the event at the women's liberal arts school.
Raven Fowlkes-Witten, a senior at Smith, told the news site that the overlapping demonstrations were intended "to show that we support Ithaca, but also to show that it's possible to gather students to speak out against injustices that are happening everywhere, and hopefully to inspire other students to do the same."
Claremont McKenna College
At Claremont McKenna College in California, dean of students Mary Spellman resigned Thursday after alleged racial insensitivity led two students to begin a hunger strike.

Spellman's resignation came after she sent an email to a Latina student last month saying she would work to serve those who "didn't fit our CMC mold."
Less than a week later on Halloween, the college's junior class president became the subject of controversy when she posed in a photo with white students dressed in stereotypical Mexican costumes. The student stepped down from her position Tuesday.

Howard University
One of the nation's most prominent historically black colleges also entered the fold alongside University of Missouri students, and has since faced threats from those in opposition to the movement against discrimination on college campuses.
Thursday evening, a Howard University organization called Ubiquity hosted an event called #ThisIsOurHouse: Reclaiming Black Space on campus.
Ubiquity president Darrell Johnson told BuzzFeed News that the aim of the event was to support black students at predominantly white institutions, historically black college and universities, and on college campuses all over the world.
Johnson, who had been following the demonstrations at the University of Missouri for the past two weeks, said that he was dissatisfied by conversations he had heard implying that historically black colleges were the only spaces where black students could feel truly safe.
On Thursday morning, though, an anonymous threat letter circulated on the internet stating that "n---ers left on Howard campus after 10 tomorrow will be the first to go."
But at night, several hundred students gathered in a peaceful act of defiance. Protesters carried "Black Is Still Beautiful" signs, and organizers urged participants to not allow threats of violence to intimidate them, both on campus and more broadly.
The university had responded during the day with increased campus security. Johnson said that some classes had been canceled, but he did not want to spread messages of fear.
"We don't want to be scared out of our space," he said.
University of California, Los Angeles (UCLA)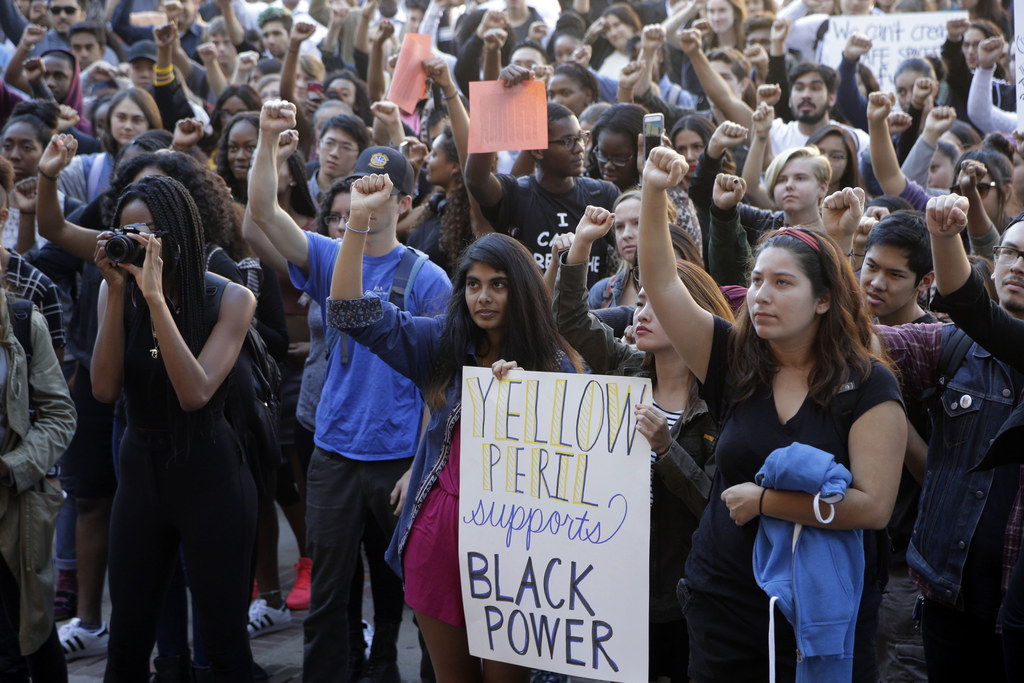 About 200 students and faculty descended upon the campus library at UCLA Thursday in a move of solidarity with students at Mizzou, the Daily Bruin reported.
The rally was organized by the Afrikan Student Union (ASU), who led the crowd in chants of "Black Bruins Matter" (after the school's mascot) and facilitated discussions and speeches from faculty members.
"How can we focus on studying if we know we are not valued in our everyday lives?" ASU board member Kamil Oshundara said to the Daily Bruin.
In a statement, ASU elaborated its support of Mizzou students.
We congratulate Jonathan Butler and the Brave 11 for their victory. We congratulate them for making the ultimate sacrifice by putting their physical bodies on the line: hunger striking until former President Tim Wolfe was removed. We thank and congratulate the participating members of the Mizzou football team for their sacrifice of security and passion, and resultant victory. They embraced the longstanding moral tradition of Black athletes like Muhammad Ali and John Carlos by refusing to practice or play until former President Tim Wolfe was removed. We congratulate the coalition of Black students and alumni for their victory in demanding more from their institution. They rose up: sacrificing safety and security to advance the community: doing the work their administration failed to do. The Black Community of Mizzou, Concerned Student 1950, and the unnamed soldiers of liberation at Mizzou refused to allow structural oppression and administrative inaction to remain an expected and acceptable requirement for the continued education of Black Students.
In October, UCLA students issued a list of demands to the administration after a Kanye West-themed party was hosted by Sigma Pi Epsilon fraternity.
Pennsylvania State University
Clad in all black, scores of Penn State students participated in a demonstration on November 12 in support of the student activism at the University of Missouri.
Campus publication the Collegian reported that members of the Penn State Black Caucus, BLUEprint (which promotes freshmen well-being), and the Black Male Empowerment Group participated in the event.
According to philly.com, similar demonstrations were held at the University of Pennsylvania, Temple University, and Drexel University.
Brown University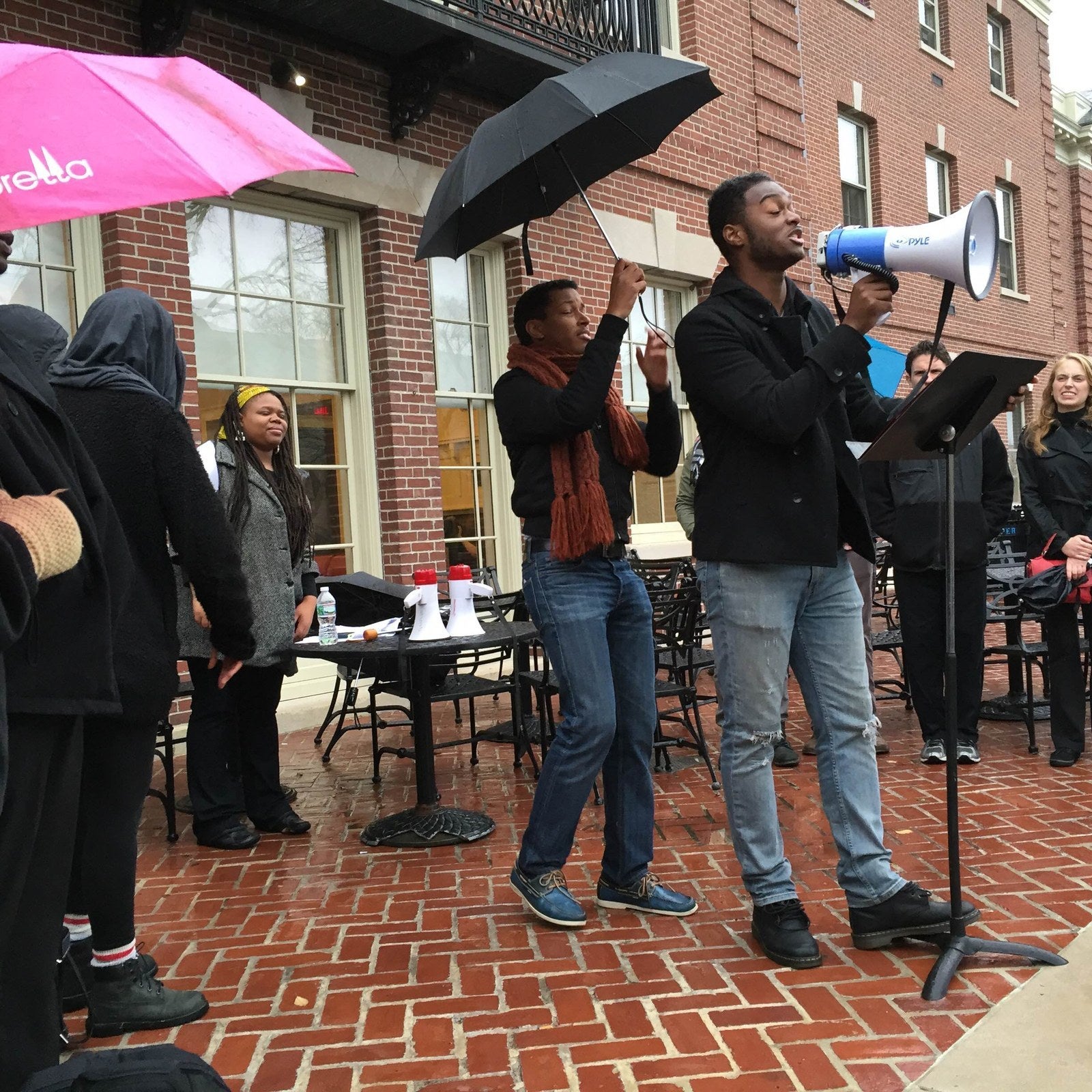 Undergraduate and graduate students of the Providence, Rhode Island Ivy League school organized a walk out and teach in on campus on Thursday. Around 300 students and faculty were in attendance.
Watufani Poe is a first-year doctoral student in the Africana studies department at Brown. He told BuzzFeed News, "When we heard about what happened at Mizzou and the escalation of things that are continuing to happen at Yale, we felt that we needed to respond in some way, in a show of solidarity."
Thursday's events were also aimed at "highlighting the ways that those oppressive issues are also playing out on Brown's campus."
Poe, who spoke during the teach-in, said the event included readings from Mizzou students' list of demands from the university administration, and manifestos from the Black Lives Matter coalition and the Fees Must Fall movement in South Africa. The goal, he said, was to highlight the struggles black people face not only on one campus, but all over the world.
"We're now in a tense place where folks are very loudly calling it out that these things have not stopped," he said. "We feel like any concessions we got were only there to silence us."