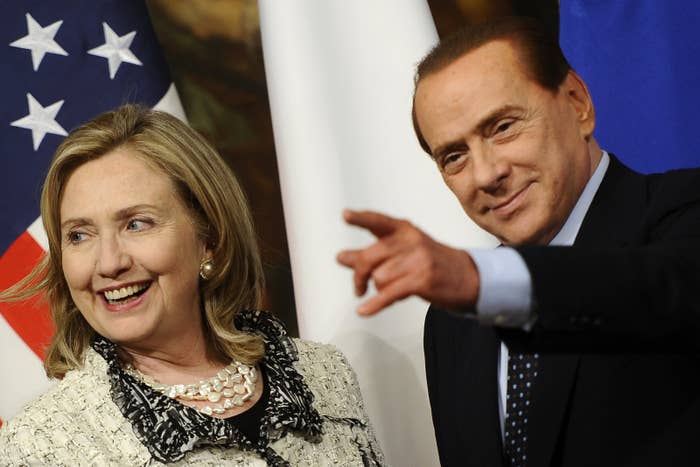 Hillary Clinton told bankers she embarked on a global "apology tour" after WikiLeaks published secret US diplomatic cables in 2010, causing male world leaders to cry.
She made the comments at a Goldman Sachs summit in Arizona on Oct. 29, 2013 while being interviewed by the bank's CEO, Lloyd Blankfein. The transcript of the speech was among emails belonging to her campaign chairman John Podesta that were released by WikiLeaks on Saturday afternoon.
"Let's say, hypothetically, that one country was eavesdropping on another country," Blankfein said to Clinton, before asking what she would then do to repair relations.

Clinton responded by saying she embarked on a global "apology tour" following the 2010 release of the cables, in which American diplomats wrote unflattering assessments of world leaders, including some allies.
In one section of the exchange, Clinton said some male leaders even cried to her, apparently putting on an Italian accent as she spoke that caused Blankfein to call her "Silvio."
Here's the transcript:

SECRETARY CLINTON: So, all right. This is all off the record, right? You're not telling your spouses if they're not here.

MR. BLANKFEIN: Right.

SECRETARY CLINTON: Okay. I was Secretary of State when WikiLeaks happened. You remember that whole debacle. So out come hundreds of thousands of documents. And I have to go on an apology tour. And I had a jacket made like a rock star tour. The Clinton Apology Tour. I had to go and apologize to anybody who was in any way characterized in any of the cables in any way that might be considered less than flattering. And it was painful. Leaders who shall remain nameless, who were characterized as vain, egotistical, power hungry --

MR. BLANKFEIN: Proved it.

SECRETARY CLINTON: -- corrupt. And we knew they were. This was not fiction. And I had to go and say, you know, our ambassadors, they get carried away, they want to all be literary people. They go off on tangents. What can I say. I had grown men cry. I mean, literally. I am a friend of America, and you say these things about me.

MR. BLANKFEIN: That's an Italian accent.

SECRETARY CLINTON: Have a sense of humor.

MR. BLANKFEIN: And so you said, Silvio.

(Laughter.)
In the leaked cables, Berlusconi was described as being "feckless, vain, and ineffective as a modern European leader." His "penchant for partying hard" had also had adverse effects on his health, according to one assessment from the then-US ambassador to Italy. Diplomats also had suspicions Berlusconi was "profiting personally and handsomely" from secret deals with Russian President Vladimir Putin.
Clinton's campaign did not immediately respond to a request for comment.