A group of Cleveland police officers filed a lawsuit Friday charging the department with doling out punishments based on race.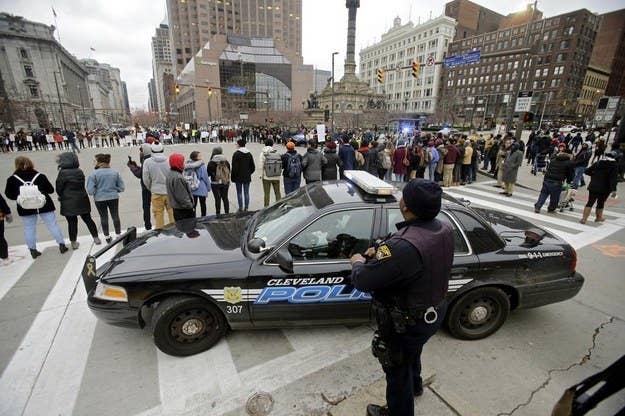 The officers filed a federal lawsuit against the Cleveland Police Department on Friday, Nov. 28, for racial discrimination following a fatal chase in November 2012 in which two African-American suspects were shot and killed. The lawsuit charges that the department has a history of doling out harsher punishments to non-black officers who shoot black suspects.
The lawsuit was filed the night before the two-year anniversary of the fatal chase, in which 13 police officers fired 137 rounds into the vehicle of Timothy Russell and Malissa Williams, hitting them a total of 20 times. Police later learned that neither Russell nor Williams were carrying weapons the night of the incident. The Cleveland Plain-Dealer reported that the city later reached a settlement with the victims' families for $3 million.
According to the complaint, police officers who have been involved in shootings are ordered to serve a 45-day "cooling off period" in the department gym, performing simple tasks. Additionally, during this period, officers are not allowed to accrue overtime hours or seek out other employment; they are not compensated for court appearances, nor are they eligible to apply for promotions or transfers of any kind. The officers call the gym duty "menial" and "unpleasant" in the complaint, and argue that the non-black officers' assignments were "substantially longer than that which had been meted out to similarly situated African-American officers." The officers claim that the other conditions of the punishment prevent them from earning "a substantial amount of income that they would have otherwise received."
The nine officers were placed on administrative leave with full pay immediately following the shooting. The cooling off period began on Dec. 3, 2012. By June 3, 2013, all but one of the officers was reinstated to full duty.
The lawsuit alleges that a "media inquiry" about the status of the officers' employment status pressured former Chief of Police Michael McGrath to reorder the non-black officers back to restrictive duty, violating their civil rights. They all returned to full duty again on June 13, 2014. The suit does not list a specific amount of damages, but claims that the unfair punishment has caused "emotional distress and mental anguish."
The charges came less than one week after the fatal shooting in Cleveland of 12-year-old Tamir Rice, who is black, by rookie Officer Timothy Loehmann, who is white. Rice was seen carrying an "air soft" toy gun, which Loehmann mistook for a real weapon, and shot him seconds after answering the call about the disturbance. Studies show that a young black male is 21 times more likely to be the subject of deadly force by the police than his white male counterpart.