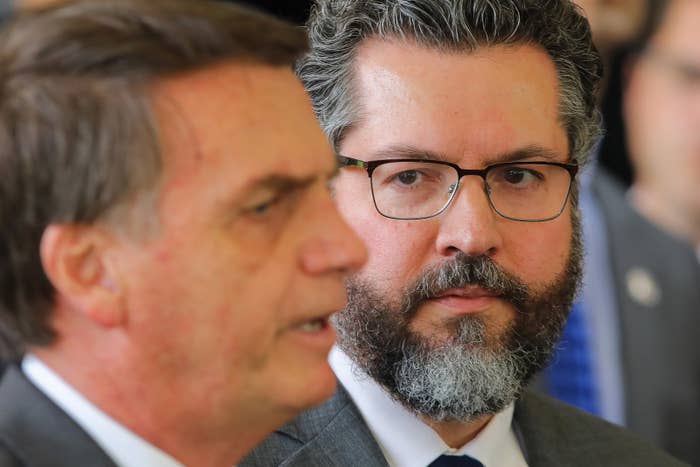 SÃO PAULO, Brazil — Brazil's incoming president on Wednesday announced his pick for foreign minister, a die-hard Trump supporter who has lauded the US president for protecting the West from "globalist cultural Marxism" on his personal blog.
President-elect Jair Bolsonaro, who won 55% of votes Oct. 28 in a race that has signaled the beginning of a monumental shift in Brazilian politics, shared his plans to appoint Ernesto Fraga Araújo to head the foreign ministry on Twitter, praising the "brilliant intellectual" with 29 years of experience. For the past two years, Araújo has overseen the United States and Canada office in the Department of Foreign Affairs.
Brazilian analysts and those close to Bolsonaro's party have long predicted Araújo's new assignment. Paulo Kramer, a politics professor and adviser to Bolsonaro's Social Liberal Party, told Reuters in October that Araújo would be the president-elect's likely pick for the foreign ministry.
Shortly after Bolsonaro's announcement, Kramer tweeted that with Araújo running the foreign ministry (also known as Itamaraty), "Brazil will finally resume its Western tradition/vocation" and could finally move away from "communist, third world ideological grub."
Araújo has been openly supportive of both Bolsonaro and Trump on his blog, which is a collection of arguments against globalism. He once wrote an article called "Trump in the West," in which he applauded the US leader for saving Western, Christian societies from radical Islam and global cultural Marxism — a phrase frequently associated with anti-Semitism. In the same piece, he rails against acceptance of transgender people, writing that they are "denying the biological fact of the birth of each person in a given gender."
The 51-year-old has also called the Workers' Party, Brazil's most prominent leftist party, a "terrorist party" on his blog, claiming that they were "preparing to take power in Brazil." The Workers' Party was once led by former president Luiz Inácio Lula da Silva, currently serving time in prison on corruption charges. The judge who brought those charges will serve as Bolsonaro's justice minister.
Less than a month since he won the election, Bolsonaro has already made clear some of his diplomatic plans. One of the moves he's been most vocal about is his plan to move the Brazilian Embassy in Israel from Tel Aviv to Jerusalem. The announcement mirrored that of Trump's, who formally recognized Jerusalem as the capital of Israel last December and ordered the US Embassy be transferred. The move officially took place on May 14, and garnered even more support from Trump's evangelical base, a religious group that also makes up a large contingent of Bolsonaro supporters.