Before Black Panther — the superhero film with a black cast whose trailers have consistently left people shook — opens globally on Feb. 16, it will make a special stop in a city near and dear to one of its stars, Lupita Nyong'o.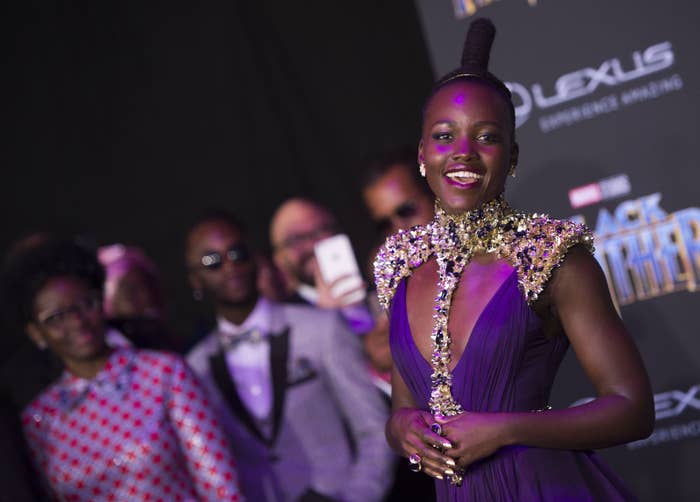 The Kenyan city of Kisumu will host one private and one public screening of the highly anticipated movie on Feb. 13, county spokesperson Aloice Ager confirmed to BuzzFeed News. Kisumu is located in Kisumu County, where the Oscar-winning actor grew up and where her father Peter Anyang' Nyong'o serves as governor.
This announcement for Black Panther, which is lovingly referred to as the "Lupita movie" by local news outlets, was well received by Kisumu residents, a majority of whom belong to the Luo tribe like Lupita.
Some had specific, thirst-quenching requests.
Even English Premier League diehards knew to prioritize the news.
And, of course, some were left stricken with FOMO.
Meanwhile, others decided to take matters into their own hands and go claim their blessings.
BuzzFeed News has reached out to Nyong'o's publicist to find out if she will attend the screening.
The screening comes at a time when a break from politics is extremely welcome for the city's residents. Kisumu is the stronghold for opposition leader Raila Odinga, who recently held an unofficial swearing-in ceremony for himself as the "People's President of Kenya." People in Kisumu are hoping that the Black Panther screening will be the diversion they need from the months-long saga of Kenya's controversial election season.

Ager told BuzzFeed News that while Gov. Nyong'o's motivation to secure an advance screening of Black Panther was due, in part, to the fact that his daughter was starring in the film, it was also part of a larger effort to make Kisumu, the third-largest city in Kenya, known as a home to arts and entertainment.
"Gov. Nyong'o wants to make Kisumu the hub of performing arts, and what better way to hit the ground running than by screening this premiere?" Ager said in a phone interview.
"He wants people to be able to make a living out of performing arts," he added. "That is one of our key agendas, as well as bringing theatre, opera, and an integrated performing arts center to Kisumu."
Ager also said it's important that people see another side of Kisumu. The tense political climate in Kenya has resulted in what he believes has been a narrow coverage of the western region of the country, which largely supports the opposition party and protested throughout elections.
"We are passionate about whatever we do in the community and the region," he said. "If it's about resistance, we resist passionately, but it's also a place where good things happen."
BuzzFeed News has reached out to Disney International for additional comment about the screening.