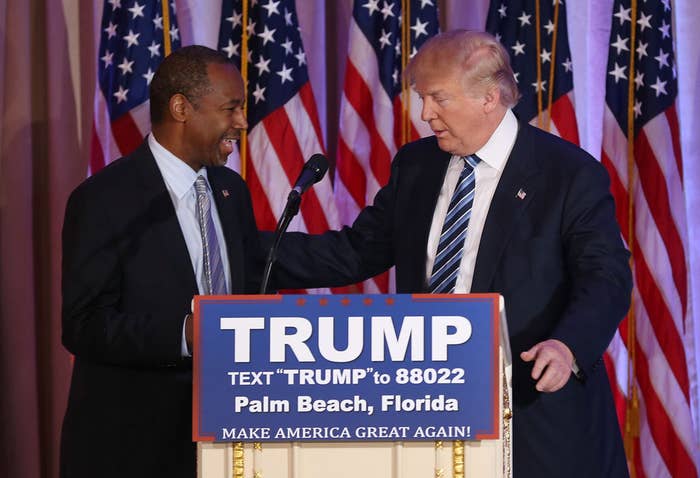 Ben Carson, who dropped out of the race for the Republican presidential nomination last week, formally endorsed Donald Trump on Friday.
During a press conference at the Mar-a-Lago Club in Palm Beach, Florida, the retired neurosurgeon said Trump is "actually a very intelligent man."
"There are two different Donald Trumps," Carson said. "The one you see on the stage, and the one who's very cerebral."
Carson hinted Thursday night that he would back Trump, but also mentioned he had been considering supporting Ted Cruz.
On Friday morning, however, Carson made his endorsement of Trump official on social media, tweeting that the billionaire is a "leader with an outsider's perspective."
Carson told reporters that after speaking more with Trump in private, he realized that they were "more aligned, philosophically and spiritually," than he'd previously thought.
Trump, who currently leads candidates in the bid for the Republican nomination, called Carson a "special, special man."
He also appeared to disagree with Carson's statement about his two different personality types.
"I don't think there are two Donald Trumps. You have all of this," he said, gesturing to the crowd, "and you have somebody else that sits, and reads, and thinks. I'm the thinker."
Both men dismissed their history of exchanging negative rhetoric.
"We've buried the hatchet," Carson said.
He also tweeted that Trump is the best candidate to face off against Hillary Clinton in the presidential race, and said he is "willing to do what needs to be done to break the stranglehold of interest groups and the political class."