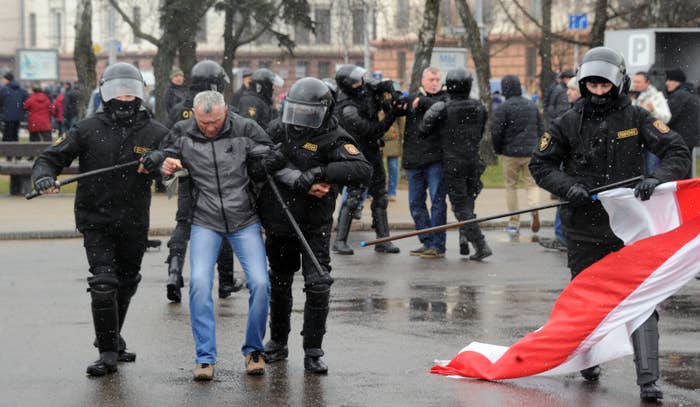 Thousands of people in Belarus took to the streets on Saturday to oppose a "social parasites" tax on people who have been unemployed for six months.
The tax promises to fine people about $230 if they have not worked in the past six months in order to push them to find a job. Critics say the levy punishes people who are already impoverished.
Belarusian police arrested hundreds of people during the massive protest in the capital of Minsk, where demonstrators reportedly shouted "Fascists!" at authorities repeatedly over the course of the day.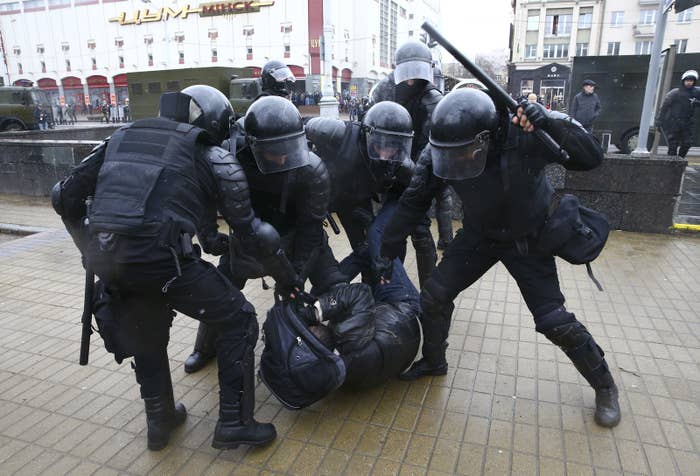 Officers also blocked several hundred more protesters from entering a demonstration that had been forbidden by the government, according to the BBC.
Reuters reported that several of the detained protesters had their signs confiscated and that some, including at least 10 journalists, had been beaten by police.
"I'm afraid but for how long can I be afraid? Why should I be afraid of prison if I'm already in prison?" demonstrator Lubov Sankevich told the news agency.

Another protester, Alexander Ponomarev, told ABC News that police were "beating the participants, dragging women by the hair to buses."
Video footage showed many of those detained were elderly protesters.
The protest Saturday marked the largest gathering in a series of demonstrations that had taken place over the past few weeks, the BBC reported.
Two other protests occurred Saturday in the cities of Brest and Grodno, according to ABC News. No arrests were reported from either location.
Belarusian President Alexander Lukashenko said that while he had suspended the tax for a year, he would not do away with it completely as he believed it encouraged discipline among the unemployed.