Administrators at American University in Washington, DC, are investigating a racist incident that took place on Monday in which several bananas marked with offensive messages were found hanging from nooses on campus.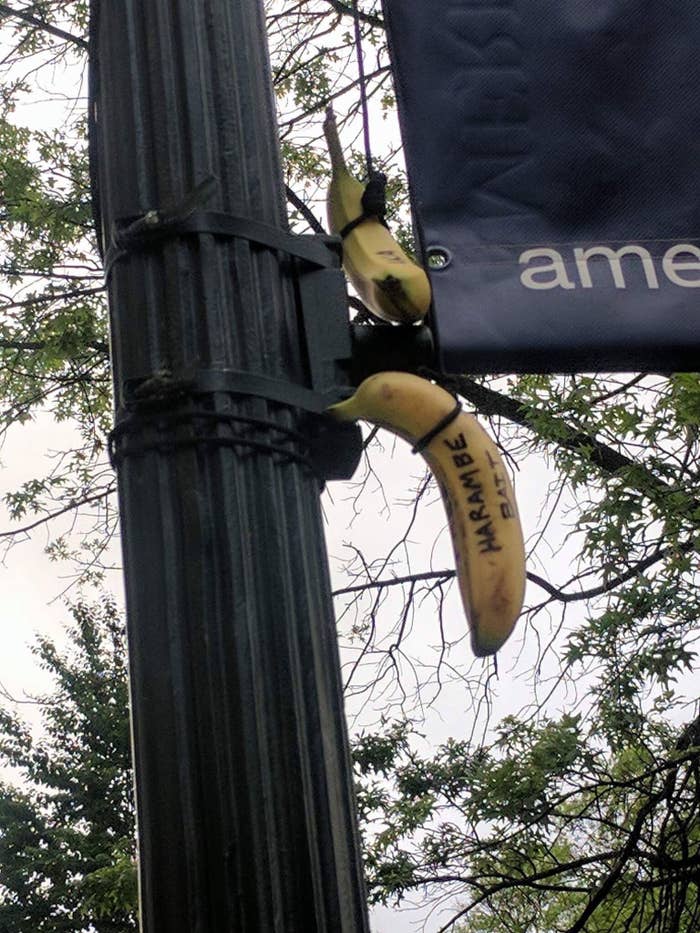 They were found the same day that Taylor Dumpson, a black female student and member of Alpha Kappa Alpha Sorority, Inc. — an organization comprised primarily of black women — took office as American University Student Government (AUSG) president.

Photos of the bananas show that they had racist messages written on them, such as "Harambe bait," which referenced the gorilla that was shot and killed at Cincinnati Zoo last year, and "AKA free."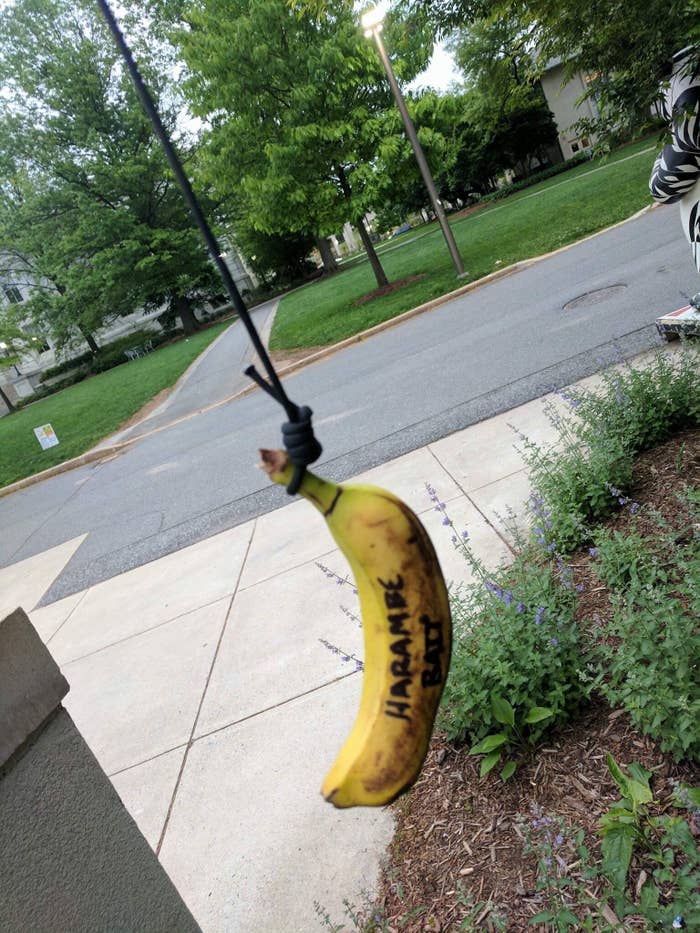 Dumpson, who is also the first black female student government president at American University, released a statement about the incident, saying it was "disheartening and immensely frustrating that we are still dealing with this issue after recent conversations, dialogues, and town halls surrounding race relations on campus."

She urged her fellow students to "unite in solidarity with those impacted by this situation," and to "use this time to reflect on what we value as a community and we must show that bigotry, hate, and racism cannot and will not be tolerated."
University President Neil Kerwin also put out a statement calling the incident a "crude and racially insensitive act of bigotry."
Kerwin emphasized that racist acts are "done to instill fear and inflict pain" on campus, and reassured students that "American University remains committed to principles of diversity, inclusion, common courtesy, and human dignity."
During a campus community meeting Tuesday, American University Public Safety Director Phillip Morse announced a $1,000 reward for anyone who brought forth information about the incident.
But a few students had already taken to social media to voice their frustration, and even warn prospective students about the treatment they may face if they decide to attend American University.
This is the second time this academic year that black women have been racially targeted at American University. A sophomore named Ma'at Sargeant told BuzzFeed News that on Sept. 8, a group of people who had not been identified at the time opened the door to her dorm and threw a rotten banana at her.
The same night, another student, Neah Gray, who lived nearby, said that a banana had been left outside of her room and that someone had drawn penises all over her whiteboard.
Gray tweeted a thread explaining that her assailants "walked free and untouched" after the incident, and called Monday's incident "triggering."
"This is not what I imagined my first letter to you all would be," Dumpson said in her statement. "In my first message to the student body, I would have wanted to talk about accountability, transparency, accessibility, and inclusivity. Now, more than ever, we need to make sure that members of our community feel welcomed and above all, safe on this campus."
BuzzFeed News has reached out to Dumpson for more information.