Atlanta Teachers Found Guilty Of Cheating Are Sentenced, With Two Taking Plea Deals
The 10 educators were convicted in a massive public school test-rigging scandal in Atlanta.
Two of ten educators convicted under the Racketeering Influence and Corrupt Organizations Act in a massive cheating scandal in Atlanta's public schools accepted a plea deal on Tuesday. The remaining eight accepted state-recommended punishments.
Judge Baxter granted most of the individuals from the latter group first-offender status. Under these circumstances, if the educators meet all of the stipulations of their sentences, their felonies will be wiped from their records. If they do not, they can be retried.
Among those who turned down plea bargains were three Atlanta Public School administrators who received much harsher punishments.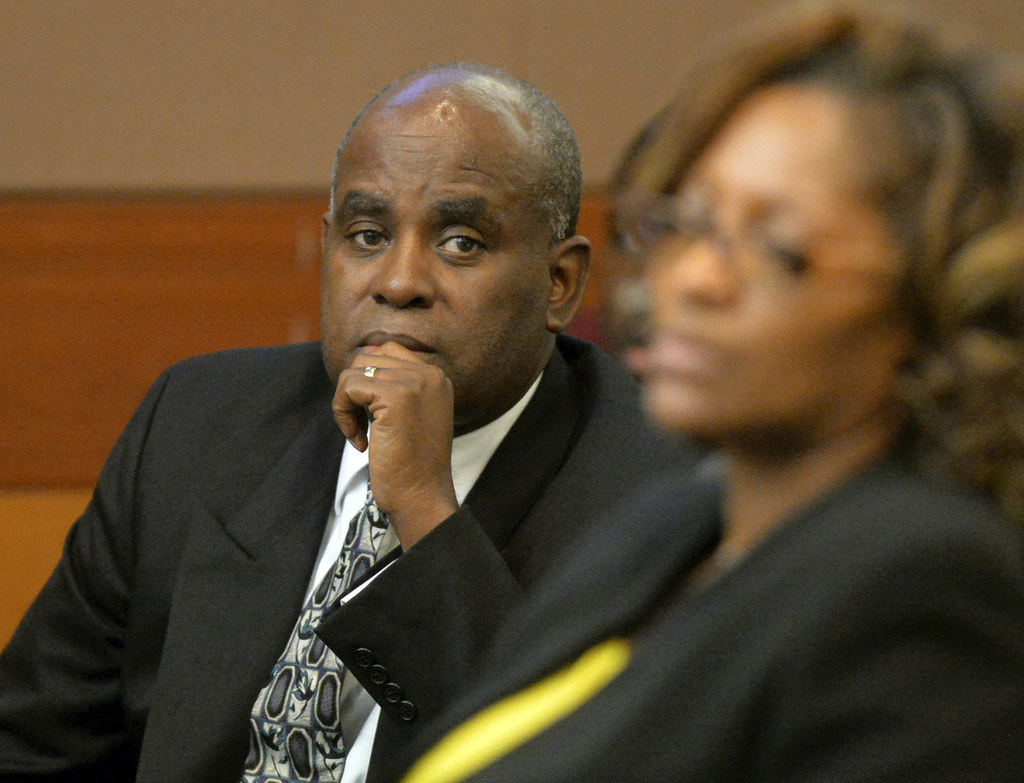 Donald Bullock
Bullock, who administered tests at Usher Collier Heights Elementary School, was found guilty of racketeering and multiple counts of making false statements. He has been sentenced to five years of probation, six months of weekends spent in jail, a $5,000 fine, and 1,500 hours of community service.
Bullock's attorney emphasized the "family considerations" that led him to accept the plea deal: He has two children, one of whom will graduate college in May, and expressed the importance of negotiating a deal that would allow him more time at home.
Fulton County Judge Jerry Baxter, who has been presiding over the case, said that he would allow Bullock to wait until after his son's graduation ceremony to begin serving his sentences.
Pamela Cleveland
The former Dunbar Elementary School teacher also accepted a plea bargain. She was sentenced to one year of home confinement — she will be unable to leave her home between the hours of 7 p.m. and 7 a.m. — a $1,000 fine, and 1,000 hours of community service.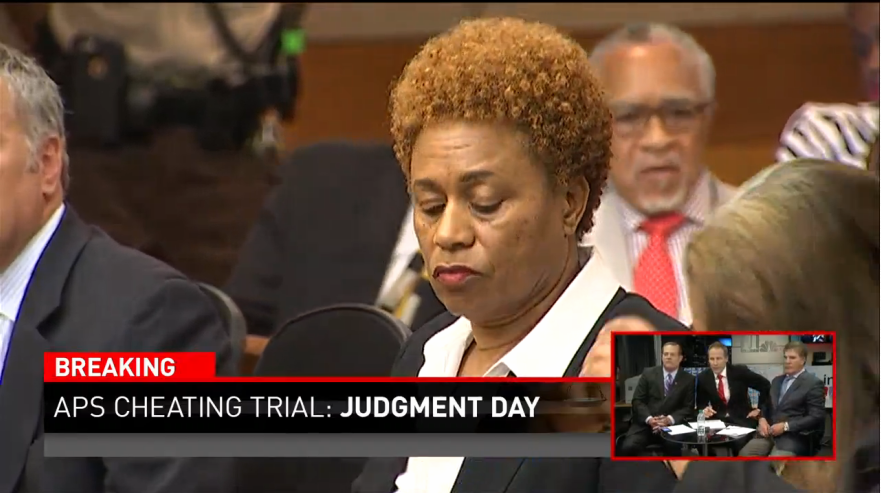 Sharon Davis Williams
Williams, who was found guilty of racketeering and maintained her innocence in court, decided not to accept a plea bargain and instead opted for the judge's sentencing.
Williams' lawyer asked Baxter to consider probation.
Although Williams was charged and convicted of fewer counts than Bullock, she was sentenced to 20 years in jail (of which she would serve seven), 2,000 hours of community service, and a $25,000 fine.
Michael Pitts
A former executive director of the School Reform Team, Pitts was found guilty of racketeering and influencing witnesses.
Pitts spoke on his own behalf, providing his background in inner city school reform in Memphis, Tennessee, before moving to Atlanta to work with former Atlanta Public Schools Superintendent Beverly Hall.
"I'm very distraught," he said. "But I'm not making any excuses."
Despite his plea, Baxter sentenced Pitts to 20 years in prison (of which he would serve seven), 2,000 hours of community service, and a $25,000 fine.
Tamara Cotman
Cotman, along with Pitts and Williams, served as a School Reform Team executive director. Her sentence from Baxter mirrored that of the other two: 20 years in prison (of which she is expected to serve seven), 2,000 hours of community service, and a fine of $25,000.
Unlike the other educators who were considered to have played a less significant role in the cheating, Cotman, Pitts, or Williams will not be granted first-offender status.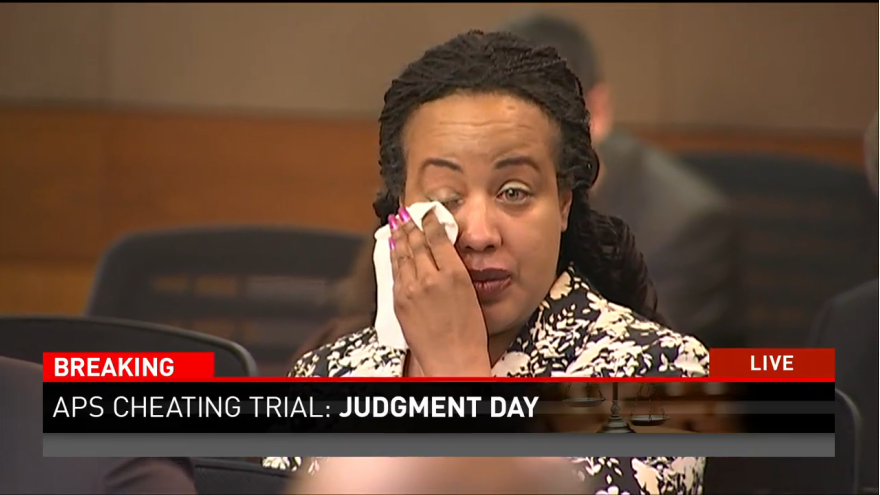 Angela Williamson
The ex-Dobbs Elementary School teacher was found guilty of racketeering and four counts of false statements and false swearing. Her attorney said that none of Williamson's students were struggling, and that many of her former students went on to become high school class valedictorians.
Her attorney said that sending Williamson to prison "would serve nobody in this community."
He added, "She wants to raise her children," and asked the judge to "temper justice with mercy."
The judge decided to follow the state's recommendation: five years in prison (of which she will serve two), 1,500 hours of community service, and a $5,000 fine.
Dana Evans
Evans is the former principal of Dobbs Elementary school, and was charged with racketeering and false statements. Evans' lawyer alleged that when she took on an administrative role at the primary school, cheating had already been taking place in the fourth grade, but that her predecessor was not being punished.
"This has been a really hard case," the judge said, but maintained that Evans was, in fact, aware of the malfeasance during her role as principal.
Evans was sentenced to five years in prison (of which she will serve one) and 1,000 hours of community service.
Tabeeka Jordan
Jordan was an assistant principal at Deerwood Academy, which, according to Baxter, is where the cheating scandal began.
Jordan's lawyer said that during her administrative tenure, she provided students with rides to school, bought groceries to feed children who arrived at school hungry, and combed their hair when they appeared "unkempt."
The attorney asked the judge to grant Jordan five years of probation, but he accepted the state prosecutor's recommendation and sentenced her to five years in prison (of which she would serve two), a $5,000 fine, and 1,500 hours of community service.
Diane Buckner-Webb
Buckner-Webb was a Dunbar Elementary School teacher and was found guilty of racketeering and making false statements. She was one of the educators who actively changed answers on students' tests.
"What is an appropriate sentence for a 53-year-old woman?" Webb's attorney asked the court. He emphasized, as many others have, Bucker-Webb's distinguished status as a teacher.
On her behalf, Webb's attorney said, "I also acknowledge that there was evidence to support the jury verdict. I apologize for unethical acts that tainted the investigative process."
"I don't want an apology," the judge said. "I want these children, who were short-changed and cheated, to have the apology."
Judge Baxter sentenced Webb to five years in prison (of which she will serve one), a $1,000 fine, and 1,000 hours of community service.
Theresia Copeland
Copeland worked as a testing coordinator at Benteen Elementary School, and was sentenced to five years in prison (of which she will serve one), 1,000 hours of community service, and a $1,000 fine.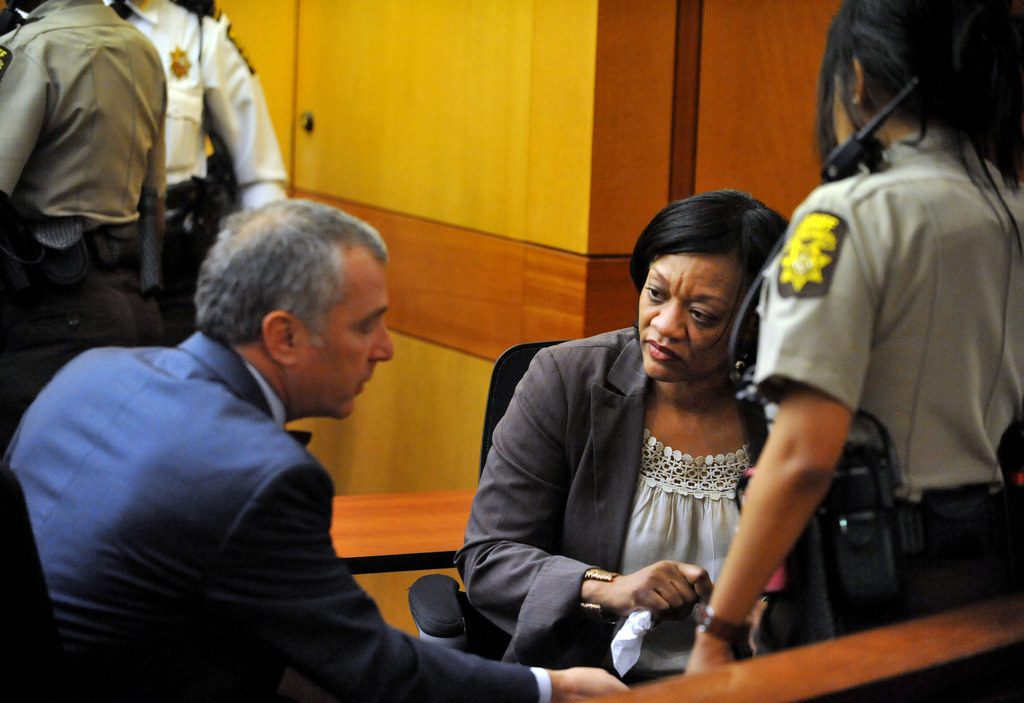 Here's Monday's earlier report on the case from BuzzFeed News:
Ten teachers, administrators, and faculty members of Atlanta Public Schools were initially scheduled to be sentenced Monday afternoon after being convicted of racketeering charges, concluding a seven-year-long cheating scandal that began with a local newspaper's investigative report. Ongoing negotiations resulted in an extension.
Nearly 200 Atlanta Public Schools (APS) employees were found guilty of changing students' answers on Scantrons for the Georgia Criterion-Referenced Competency Test, as well as attempting to destroy evidence of the wrongdoing during the investigation.
Because they were charged with racketeering, as opposed to cheating, they could each face up to 20 years in prison, although many character witnesses and community members who support the teachers have come forward urging the judge to exercise leniency in his sentencing. The educators have been at the county jail awaiting their sentencing since their conviction on April 1.
The scandal was sparked after a deep dive by the Atlanta Journal Constitution in 2008 revealed that one elementary school in Atlanta recorded remarkably high test scores. The APS stated at the time that it would not investigate further, but the newspaper's report did prompt state probes.
The ordeal would continue for another seven years.
Former Atlanta Public Schools Superintendent Beverly Hall, who was named National Superintendent of the Year in February 2009, was suspected of having been at the helm of the cheating schemes. Hall denied the possibility of cheating, but was later suspected of attempting to hide evidence of malfeasance.
In June 2009, the state found "strong evidence" of cheating and "resets" (from frequent erasures on students' tests that consistently changed incorrect answers to be correct).
After the state investigation concluded in 2011, 180 Atlanta Public Schools workers were found to have conspired in cheating schemes, sometimes even hosting social gatherings to erase answers and re-mark them with correct responses. A grand jury indicted 35 educators.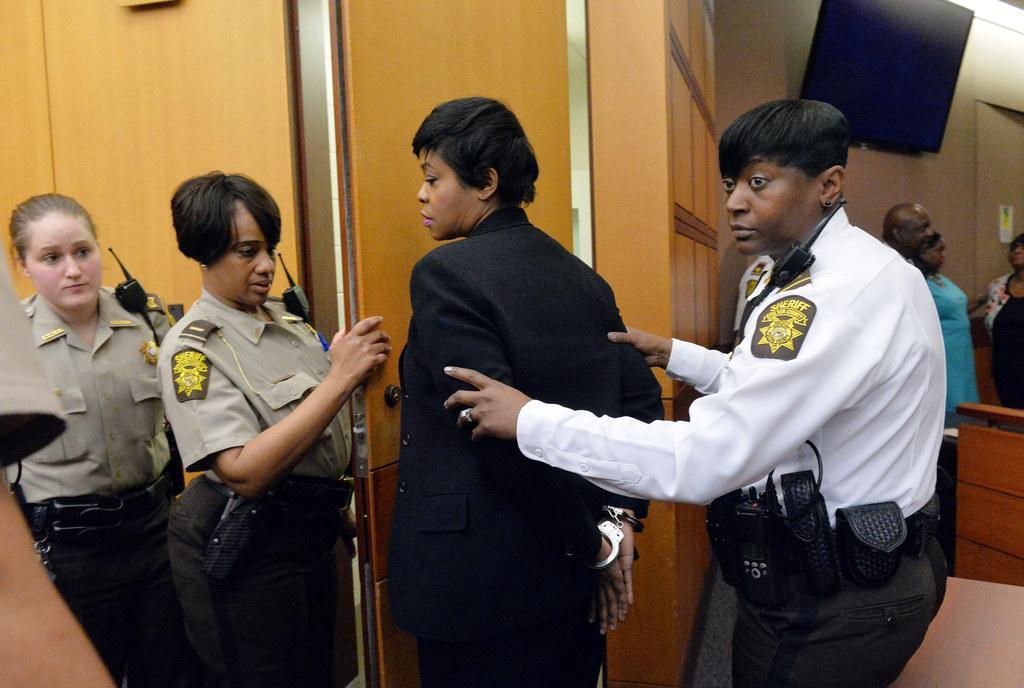 Of the 35 facing charges, 21 reached plea deals. Hall and one other educator died before the sentencing, and one elementary school teacher was acquitted. Another APS worker recently gave birth, and will be sentenced at a later date. The remaining 10 are currently locked in negotiations for a lighter sentence, which are scheduled to be announced in court at 10 a.m. Tuesday.
Throughout the trial, people from the community have come forward to highlight the important role the APS educators have played in Atlanta's overall academic environment.
The New York Times reported that when Dr. Dana Evans, former principal of Dobbs Elementary School, made a case for herself in court, Superior Court Judge Jerry Baxter admitted that his own son had been advised by Evans when she worked as a school counselor.
Rev. Bernice King, the daughter of Martin Luther King Jr. (an APS alum), said in a statement, "While I agree that conspiring to change test scores is unethical and our laws clearly express that it is a crime, I don't believe that 15-to-25-year prison sentences align with the crimes that were committed by the 'APS 11.'"
She added that there are "people who have committed far more egregious offenses that have severely harmed humanity who have not served such lengthy prison sentences."
King is not the first to question the disproportionate punishment in the case. In the past, even high-profile cases of educators cheating have not ended in such harsh punishment. Typically, as the Marshall Project reports, the guilty parties lose their administrative licenses, receive fines, and get probation. When they are issued jail time, their sentences are often reduced significantly.
The scandal reignited the ongoing debate about the effectiveness of using standardized tests as barometers for student achievement. It also called into question the use of test scores as a justification for punishing educators who fail to meet certain benchmarks under the No Child Left Behind and Race to the Top initiatives.