A former, disgraced journalist has been arrested in connection with several bomb threats made against Jewish Community Centers and the Anti-Defamation League as part of an alleged revenge scheme against a romantic partner, federal authorities said Friday.
Juan Thompson, 31, was arrested in St. Louis on cyberstalking charges, according to a statement released by Preet Bharara, US attorney for the Southern District of New York. Authorities believe Thompson phoned in eight threats in the woman's name to JCCs and the ADL.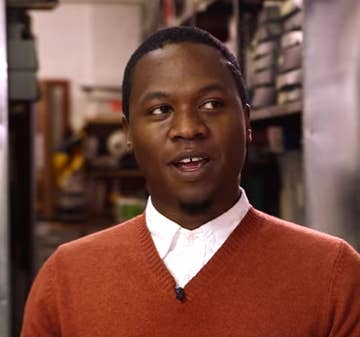 Thompson worked at The Intercept from November 2014 until January 2016. He was found to have fabricated a story about Dylann Roof, and to have created fake email accounts to impersonate other people.

Other stories The Intercept had to correct included quotes attributed to people Thompson described as Donald Trump supporters; a criminal justice professor he claimed talked to him about violence against black women; and an activist he wrote had alleged corruption in Chicago courts.
The editor-in-chief of The Intercept, Betsy Reed, told BuzzFeed News that the publication has not been in touch with Thompson since he was fired.

Shortly after his arrest, The Intercept released this statement:
We were horrified to learn this morning that Juan Thompson, a former employee of the Intercept, has been arrested in connection with bomb threats against the ADL and multiple Jewish Community Centers in addition to cyberstalking. These actions are heinous should be fully investigated and prosecuted. We have no information about the charges against Thompson other than what is included in the criminal complaint. Thompson worked for the Intercept from November 2014 to January 2016, when he was fired after we discovered that he had fabricated sources and quotes in his articles.
The federal complaint alleges that between July 2016 through March 2017, Thompson sent emails and other forms of electronic communication to "engage in a course of conduct that placed that person in reasonable fear of the death of and serious bodily injury to that person."

"Thompson's alleged pattern of harassment not only involved the defamation of his female victim, but his threats intimidated an entire community," FBI Assistant Director in Charge William Sweeney Jr. said in a statement.
Authorities described Thompson's alleged threats as part of a "campaign of harassment" against the woman, identified as a social worker in New York City.
The complaint chronicles a series of correspondences between Thompson and the woman, and between him and the woman's employer.
Included in the messages were claims about the woman's sexual health, threats she'd purportedly directed at various JCCs, threats she'd allegedly made to his life, and photos of her.
According to the complaint, on July 27, 2016 — about one day after Thompson and the woman allegedly ended their relationship — the executive director of the organization where the woman works received an email indicating that she had been pulled over for a DUI and was being sued for spreading sexually transmitted diseases.
Over the next several weeks, the woman received several emails and text messages from someone who claimed to be Thompson's close friend or relative.
The sender made a variety of claims about Thompson, including that he was not responsible for the harassment she faced; that Thompson had sent her money to compensate for hurting her; and that he had been the victim of a robbery and shooting, faced critical injuries, and would soon be taken off life-support.
An investigator on the case noted in the complaint that Thompson had not, in fact, been the victim of a shooting.
The woman took out an order for protection against Thompson in August 2016. During that time, Thompson allegedly told her that his computer had been hacked by someone in Africa.
The woman's employer was contacted several times via email with messages stating that she had sexually transmitted diseases. The company also received a fax on one occasion claiming that the woman was anti-Semitic, along with anti-Semitic statements she had purportedly written. Photos of the victim were sent to the company through both mediums during that period.
On Oct. 5, the company's human resources manager received an email alleging that the woman had threatened to kill Thompson.
Ten days later, the National Center for Missing and Exploited Children received an anonymous message, later traced to Thompson's email address, in which the sender stated that they had met the woman at a disco-tech and that she said she watched child pornography.
"I thought she was joking until she showed me two pictures, on her phone, of a child engaged in sex acts," the message read.
An NYPD detective called Thompson one month later to discuss the message and spoke with someone claiming to be him. The person told the detective that he did not believe the woman watched child pornography, and claimed that his email account had been hacked the previous week.
Eventually, Thompson allegedly began sending bomb threats to various JCCs and the AFL in his name as well as the woman's.
Between Jan. 28 and Feb. 7, several JCCs in New York City and Michigan received bomb threats via email that were attributed to Thompson.
And on Feb. 24, 26, and 27, Thompson tweeted about needing a lawyer "to stop this nasty/racist #whitegirl I dated who sent a bomb threat in my name." He also claimed that the woman was anti-Semitic, and made comments about the recent bomb threats at JCCs.
Authorities believe Thompson sent threats implicating himself to support a claim that the woman was trying to frame him.

On or around Feb. 20, the complaint states, a JCC in San Diego, California, received an email from Thompson's account alleging that the woman "hates Jewish people and is the head of a run and put a bomb in the center" of the JCC "to kill as many Jews asap."

The ADL received an email on Feb. 21 indicating that the woman was "behind the bomb threats against jews [sic]. She lives in nyc [sic] and is making more bomb threats tomorrow."

The same day, the Council on American-Islamic Relations (CAIR) allegedly received an email from an anonymous account stating that the woman had "put a bomb in the Jewish center in Dallas."
The ADL tweeted Friday morning that they had been contacted by federal and local authorities: "FBI, NYPD, and NYS police told us an arrest made in bomb threats against ADL; several other Jewish institutions."
In a statement on Friday, the organization said that it had been in communication with FBI Director James Comey and that the "representatives of the Jewish community left with the highest confidence that the FBI is taking every possible measure to resolve the matter as quickly as possible."
During a press conference Friday afternoon, a spokesperson for the ADL cited the contradictory messages between what was relayed on Thompson's social media accounts, and the threats he sent.
"While the motive is unclear, the impact is crystal clear," the spokesperson said.
Doyle Murphy, a reporter at the St. Louis newspaper the Riverfront Times who had previously written about Thompson, on Friday published a new piece, alleging Thompson had "unravelled" and harassed him personally:
My wife and I were sitting on our couch one night when she tapped me on the elbow and showed me her phone. Someone had created a brand-new Twitter profile claiming I was a rapist. The person tweeted at her, my boss and other journalists around St. Louis. It was an insane — and, though it's hard to believe I even have to say it — completely untrue accusation.

...We finally contacted the St. Louis police department's cyber crimes unit. I still remember the detective stopping me before I could get the full explanation out.

"Does this have anything to do with Juan Thompson?" he asked.
There have been more than 100 anti-Semitic threats made to JCCs in the US and Canada so far this year.

FBI Director James Comey on Friday met with Jewish community leaders to discuss the continued threats, the bureau said in a statement. "The investigation into these threats is a top priority for the FBI. Agents and analysts across the country are working to identify and stop those responsible," the statement read.
The investigation into the remainder of the threats remains open, and authorities have said they do not believe Thompson is behind them all, nor the defaced Jewish cemeteries, according to the Washington Post.

Read the full complaint here: