Russian Missiles Intended For Syria Reportedly Crashed In Iran
Four missiles launched from Russian ships in the Caspian Sea supposedly crashed into each other over Iran, several media outlets reported, citing anonymous American officials.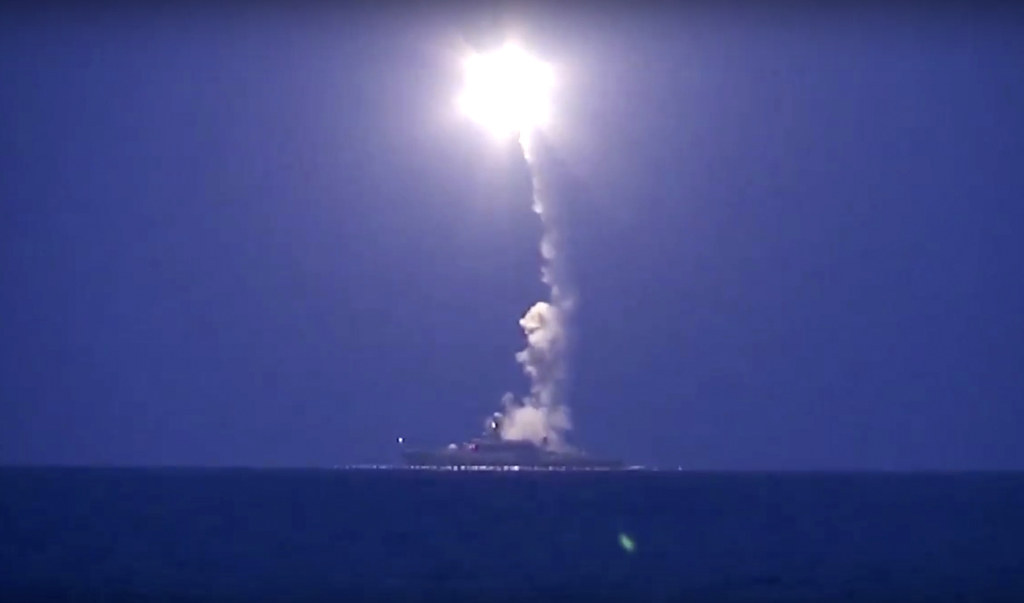 Several missiles from a Russian ship in the Caspian Sea aimed at Syria crashed in Iran on Wednesday, U.S. government officials who remained anonymous told CNN Thursday. Unnamed officials also confirmed the incident to the New York Times and the Washington Post.
According to U.S. military and intelligence surveillance, at least four missiles crashed into each other as they flew over Iran.
Officials told CNN they were unsure whether or not there were casualties.
A White House spokesperson could not share any further updates with BuzzFeed News.
The Washington Post reported that while the details of what may have caused the crash are still unclear, videos posted to social media show them flying at low altitude. This is common, but it does make for difficult navigation through the mountains, the Post reported.
On Wednesday, the Russian Defense Ministry announced in a statement that its Kalibr-NK missiles had all landed within nine feet of their intended targets. The missile's range is more than 900 miles.
The Russian Defense Ministry spokesperson posted an official statement to its Facebook page:
It translates to:
Unlike CNN we don't talk based on anonymous sources, but show the launch of our rockets and the striking of their targets in real time.

I can't speak for all but any professional in this area knows that in carrying out such operations an image is always fixed before and after a strike.

Further to that, our unmanned aerial vehicles are working 24 hours a day over Syria.

So, no matter how unpleasant or "unexpected" for our colleagues in the Pentagon and Langley yesterday's hit with a precision weapon on ISIS infrastructure in Syria was, all rockets fired from the ship hit their targets.

This is a fact. Otherwise it would be necessary to admit that the sites of the terrorist group ISIS in Syria that are located far from each other blew up themselves.

And at the same time.
Meanwhile, hardline Iranian news agency Fars alleged that reports of Russian missiles in the country were fabricated by the U.S.
Local media and officials appear to believe explosions heard earlier in rural areas may have come from a drone.
According to Russian newspaper Kommersant, today marks the "first use of cruise missiles against ground targets in a real combat operation in Russian and Soviet military history."
Earlier today, NATO defense ministers met in Brussels to strategize a response to Russia's increasing presence in Syria, and Syria's announcement of a large-scale ground offensive.
BuzzFeed News has reached out to the Pentagon for more information.