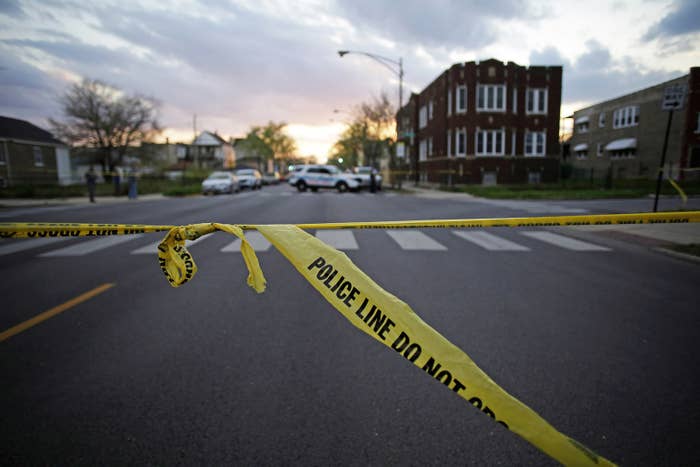 Chicago Police have made an arrest connected to the rape of a 15-year-old girl that was broadcast on Facebook Live to dozens of viewers, police said in a statement.
Five or six males were believed to have taken part in the gang-rape of the girl on March 19, 2017.
In a statement provided to BuzzFeed News, police said they had made an arrest connected to the incident, but declined to provide more details. A press conference has been scheduled for Sunday morning at 11 a.m. to release more details.
The Associated Press reported the arrest involved a 14-year-old boy.
Deahvion Austin was initially reported missing by her mother on Monday, a spokesperson for the Chicago Police Department told BuzzFeed News Tuesday. The mother later reportedly saw video images of her daughter appearing to be gang-raped, the AP reported.
"She was found today [Tuesday] at 7:45 a.m.," the spokesperson said, adding that she was currently being treated at a nearby hospital. "It is now being investigated as a sexual assault."

Detectives are currently conducting interviews, but no one has been charged in the alleged attack.
According to local TV station WGN, Austin's uncle had informed her mother that he had seen a graphic video involving her daughter, which led the mother to believe she had been raped.
Austin's mother showed the images to Chicago Police Superintendent Eddie Johnson late Monday afternoon, the AP reported.
About 40 people reportedly watched the video, but no one reported the incident to police, according to the AP.
"Crimes like this are hideous and we do not allow that kind of content on Facebook," a spokesperson for the company said in a statement.
Facebook gives users an option to report content standards violations during livestreams, but also urges the public to contact law enforcement if a situation seems urgent.
"We take our responsibility to keep people safe on Facebook very seriously and will remove videos that depict sexual assault and are shared to glorify violence," the spokesperson said.
Austin's alleged attack would not be the first violent crime committed on Facebook's livestreaming service.
In January, four people from Chicago were charged with hate crimes and taken into custody for torturing a man on the social media platform.
That same month, three men were arrested in Sweden after a Facebook Live video showed the sexual assault of a young woman.