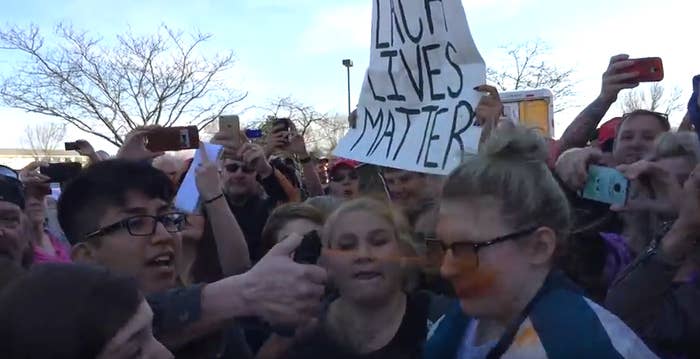 Police have spoken with the man who allegedly groped a 15-year-old protester at a Trump rally in Wisconsin on Tuesday, and are still working to find the man accused of pepper spraying her.
Janesville Police Lt. Keith Lawver told BuzzFeed News Thursday that no charges have been filed and the investigation is ongoing.
Lawver posted a notice Wednesday asking the public to help authorities identify the man who pepper sprayed the girl, who asked to be identified as Alex.
The high school sophomore told BuzzFeed News on Wednesday that the person she punched in response had touched her breast before the cameras began rolling.
Alex, who has already received several threats on social media, told BuzzFeed News that she was afraid to go to school today because of the way her story has spread.
"I'm not someone who goes around punching old men," she said. "I just wanted this person to get off of me."
Alex told BuzzFeed News that she attended the rally on Tuesday with a friend, to protest. She was seen holding a sign that read "Damn Donald. Back at it again with the white supremacy."
Alex said that at one point, she encountered an older man who began touching her chest.
"I told him to get off of me, and he started laughing," she said.
Eventually she confronted him.
"I looked at him and said, 'You're a grown-ass man and I am a 15-year-old girl. Are you proud of yourself?'" she told BuzzFeed News.
That was the moment at which people around them began to record the incident on their phones.
"You were touching my breast," she can be heard saying. "You fucking touched my chest."
The man insists that she touched him, and an argument ensued. Alex then punched the man in the face.
She told BuzzFeed News that she did not protest at the rally to incite violence.
"People keep saying that I punched that man because he's a Trump supporter," she said. "I was just trying to get him to leave me alone."
At that moment, another man clad in a red "Make America Great Again" baseball cap sprayed her with what police have identified as pepper spray. The crowd dispersed, and bystanders escorted her out.
At the end of one video, a man can be heard saying, "Thank god for mace."
In another, people nearby can be heard calling Alex several names, including a "bitch" and a "Communist nigger-lover."
Though she had trouble seeing, she remembers police officers putting her into their car and driving her to a nearby fire hydrant to rinse her eyes.
According to a statement from the Janesville Police Department, another girl, 19, was hit by some of the pepper spray.
"Both individuals received medical attention at local hospitals," police said. "We are currently looking for two suspects, one for the sexual assault and one for the pepper spray."
The incident comes amidst a slew of physical altercations that have taken place at Trump rallies in recent weeks. On March 19, one Trump supporter was caught on video kicking a protester.
On March 29, the presidential candidate's campaign manager, Corey Lewandowski, was charged with battery for allegedly manhandling a female reporter during an event in Florida on March 8.
Trump has continued to defend his staff member, insisting that he did nothing wrong.