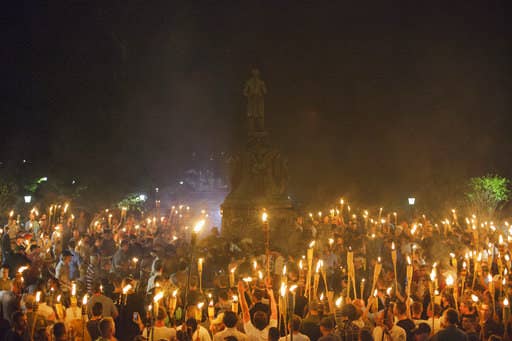 Four members of a white supremacist group were arrested Tuesday in connection with federal charges stemming from the violence at the Unite the Right rally held in Charlottesville, Virginia, last year, federal authorities announced.
The four men are believed to be "members or associates" of the Rise Above Movement (RAM), described by an FBI agent in a criminal complaint as a "militant white supremacist organization based in Southern California."
The individuals, who allegedly flew in from the West Coast to attend the rally, were identified as Cole White, Michael Miselis, Benjamin Daley, and Thomas Gillen. All four were charged with one count of conspiracy to violate the federal riots statute and one count of violating the federal riots statute.
The Unite the Right rally captured international headlines as violence broke out between various white supremacist groups and protesters in Charlottesville over the removal of a statue of Confederate Gen. Robert E. Lee.
Heather Heyer was killed when a car allegedly driven by James Alex Fields Jr., 21, drove into a group of counterprotesters, resulting in more than 30 others being injured. Fields was indicted in June on 30 counts, including a hate crime act that resulted in Heyer's death.
Tuesday's charges were not related to the death of Heyer.
According to the criminal complaint, the FBI gathered information on the group from the internet, including their "publicly viewable Twitter page," where the group "posts photos of themselves posing shirtless and wearing skull half masks."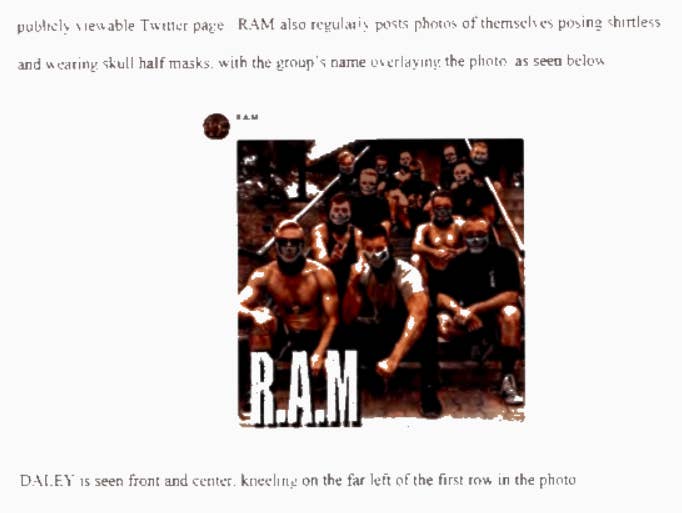 In the complaint, Dino Cappuzzo, a task force officer of the Justice Department and FBI, alleges the four men also engaged in acts of violence at political rallies in Huntington Beach and Berkeley, California, in 2017. Screenshots from YouTube videos allegedly showing each of the men engaging in violence were included in the complaint.
The complaint, which was first obtained by HuffPost, states that video footage and photographs confirm the men "were present and participated in the torch lit march that culminated in violence against students and other counter protestors."
The following day, the men allegedly engaged in other violent acts, including one instance in which White "head-butted a clergyman," the complaint states. In another screenshot, the complaint alleges White also head-butted a female counterprotester, resulting "in a severe laceration."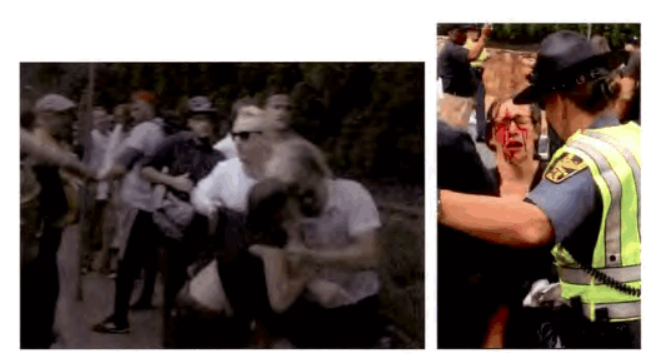 Yet another video captures Daley "in the process of grabbing a female counterprotester by the neck and slamming her to the ground," the complaint added.

President Trump, in a now-infamous press conference that happened just days after the rally, said blame was on "both sides."