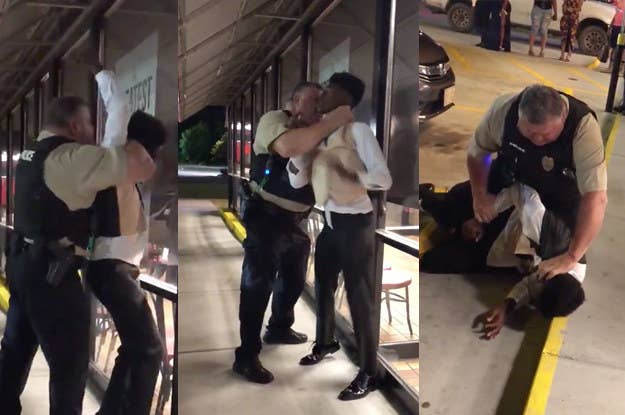 A police department in North Carolina is investigating after one of its police officers was caught on video choking and slamming a man wearing a tuxedo to the ground after he'd attended his sister's prom.
In the video posted to Facebook on May 8 — it's been viewed nearly 500,000 times — a white police officer can be seen choking 22-year-old Anthony Wall then slamming him to the ground.
"Get your hands off of me," Wall, who in the beginning of the video had his hands in the air, can be heard shouting.
"Get your supervisor out here and get your hands off of me," Wall continues to scream after he is pinned on the ground with the officer's left hand on Wall's head.
"Put you hand behind your back," the officer, who has not been identified, can be heard saying.

Wall had accompanied his sister to a prom on Saturday, May 5, and had gone to the Waffle House afterward to eat. The Warsaw Police Department, a town an hour outside of Raleigh, were called after Wall argued with the staff at the Waffle House.
Another cellphone video, shown on local news channel ABC11, shows an agitated Wall shouting at the staff of the Waffle House before police arrived. Wall said he's responsible for his actions at the Waffle House but said the actions of the police officer were not justified.
"I was pretty much trying to scream for air and trying to breathe because he was holding my throat and that's when I got aggressive with him because you are choking me," Wall told the television station.
Warsaw Police Chief Eric Southerland told the News & Observer that the incident is being investigated. "We are aware of the video and currently working on an investigation, following up based on the video posted, doing interviews, gathering video evidence," Southerland said.

"It's not what you're trained to do in incidents like this, but when you're dealing with someone fighting and resisting against an officer, you try to use proper tactics and go for one move, but that might not work because that person is moving or the officer is moving," Southerland said when asked if the officer's actions were in accordance with training guidelines.
"In real versus training situations, moves don't always work out like you want them to," Southerland said.
Wall was arrested for resisting arrest and disorderly conduct.
A spokesperson for the Waffle House said, "We are looking into the incident that occurred at our Warsaw, NC, restaurant to gather all the facts. Initial reports say the customer became agitated, and the police were called."
BuzzFeed News has reached out to Wall, the Warsaw Police Department, and the Waffle House for comment.