President Donald Trump on Wednesday held an iftar dinner — the meal when Muslims break their daily fast during the holy month of Ramadan — that drew criticism from Muslim advocates in the US.
This is Trump's first iftar dinner. He declined to hold one last year — breaking with more than 20 years of White House tradition — amid the legal wrangling and fallout from the controversial executive order banning travel and refugees from seven Muslim-majority countries and after fearmongering against Muslims on the campaign trail. After Ramadan in 2017, Trump tweeted false conspiracy theories about Muslims.
During this year's dinner, Trump struck a conciliatory tone in his brief remarks.
"Ramadan mubarak," Trump said, adding he was gathered with "some very good friends."
"We honor a sacred tradition of one of the world's great religions," he said, which spreads "a timeless message of peace, charity, and love."
He called his trip to Saudi Arabia a year ago "one of the most fabulous times" of his life, and said since then "deep progress" has been made.
But the White House declined to release the guest list, citing protocol for events held in the East Wing, the president's private residence.
The White House would only say about 30 to 40 members of the "Washington diplomatic community" were in attendance, and the pool reporters identified 18 ambassadors, including those from Jordan, Saudi Arabia, the UAE, Iraq, Egypt, and more. Eight additional members of the Trump administration were spread around seven tables in the roughly 50-person crowd.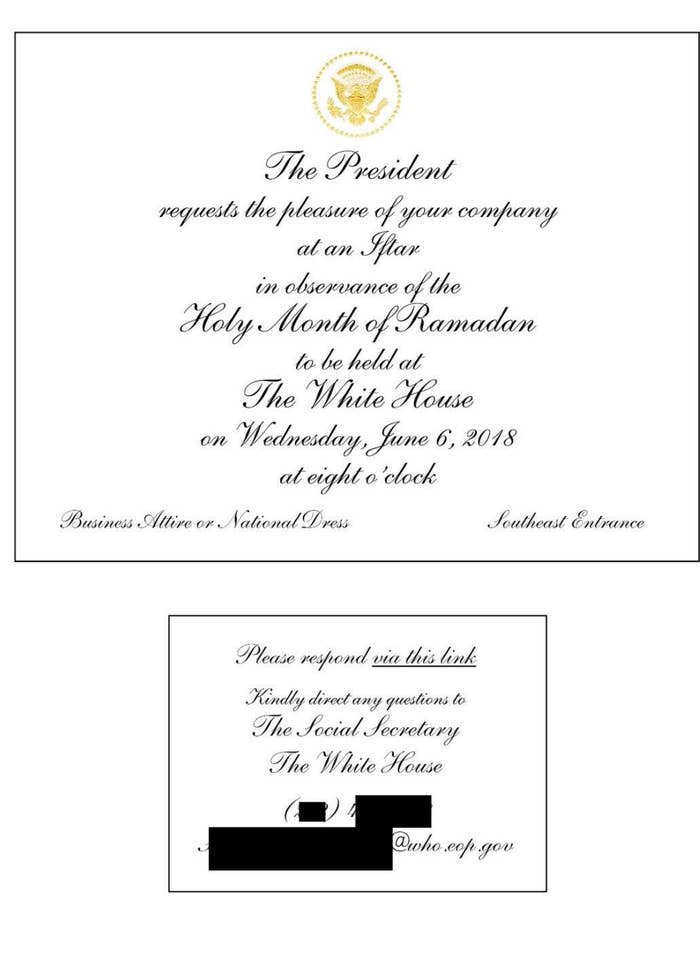 The guest list was a point of controversy for many Muslim American advocates and academics.

In previous years, the presidential iftar dinner invitees included prominent Muslim Americans, including religious leaders, young people, representatives from Muslim advocacy organizations, and diplomats.
In 2013, Barack Obama praised Dr. Iya Khalil, the daughter of a Libyan immigrant who started her own successful biotech company. In 2006, George W. Bush lauded the efforts of Farooq Muhammed, an EMT who is the son of immigrants from Pakistan and who treated those injured at the World Trade Center.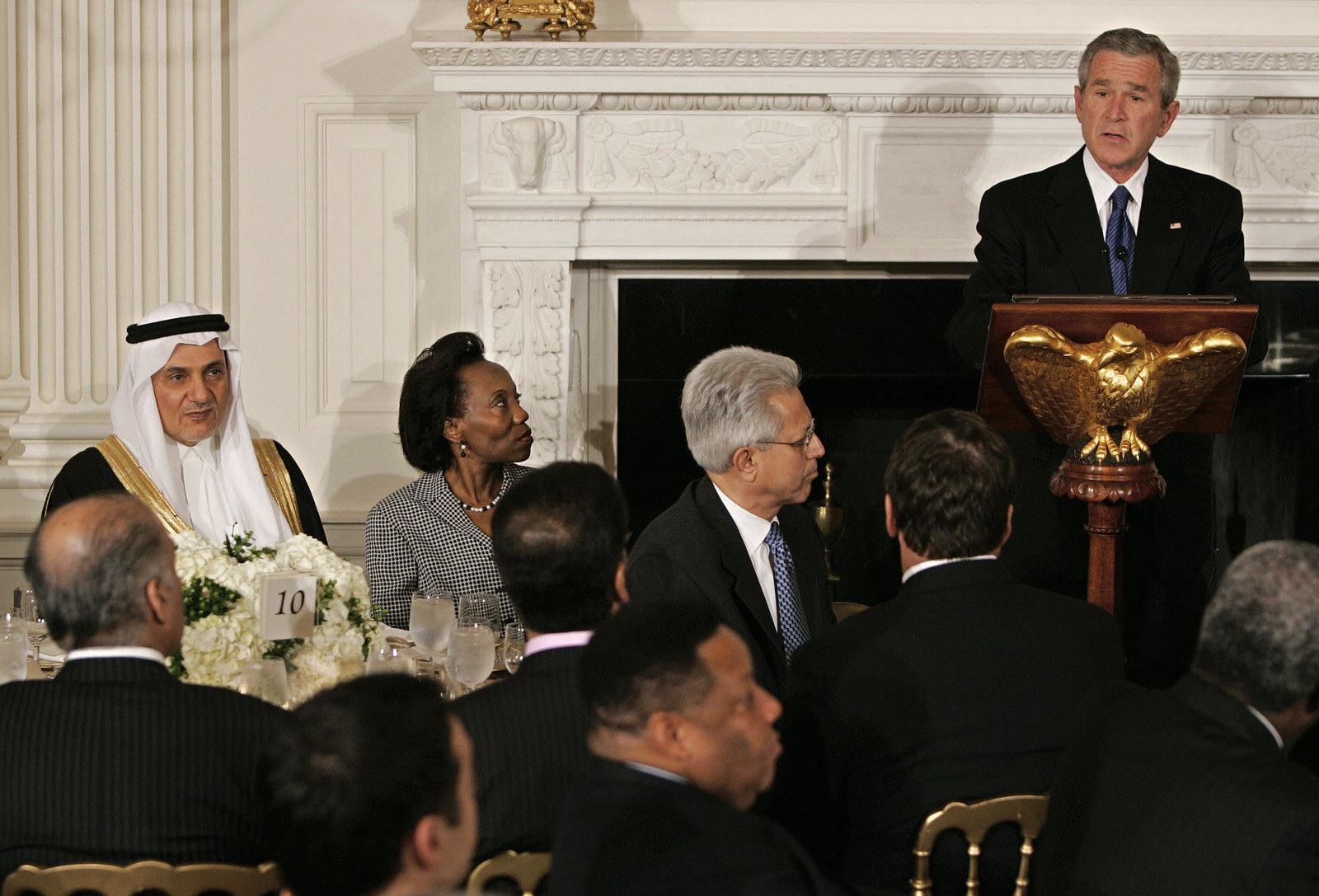 This year, representatives from the Council for American-Islamic Relations, Muslim Advocates, and the Muslim Public Affairs Council told BuzzFeed News they didn't receive an invitation. Muslim American advocates, in addition to civil rights organizations, held a small simultaneous counter-iftar outside of the White House titled "NOT Trump's Iftar."
By keeping the audience to a relatively deferential one following his past controversies surrounding Muslims, some say, Trump's dinner was an empty gesture.
"The Trump White House 'iftar' is a sham, a charade, and a mockery of both the sanctity of Ramadan and the ideals of a democratic government of the people by the people for the people," said Omid Safi, director of Duke University's Islamic Studies Center.
"Our beautiful faith of Islam is not a photo opportunity to be paraded around in his virtual reality of a presidency. To invite only foreign Muslim politicians further perpetuates the myth that Islam is somehow inherently foreign to the mosaic of American society," he added.
And Omar Noureldin, vice president of the Muslim Public Affairs Council, called it "a sad state of affairs" to "deviate from 20 years of tradition to break fast with foreign diplomats rather than his fellow Americans who happen to be Muslim."

Celebrating Ramadan has been a White House tradition since 1996, when then-first lady Hillary Clinton held an Eid dinner to mark the end of the Muslim holy month, during which observant Muslims fast from sunrise to sunset.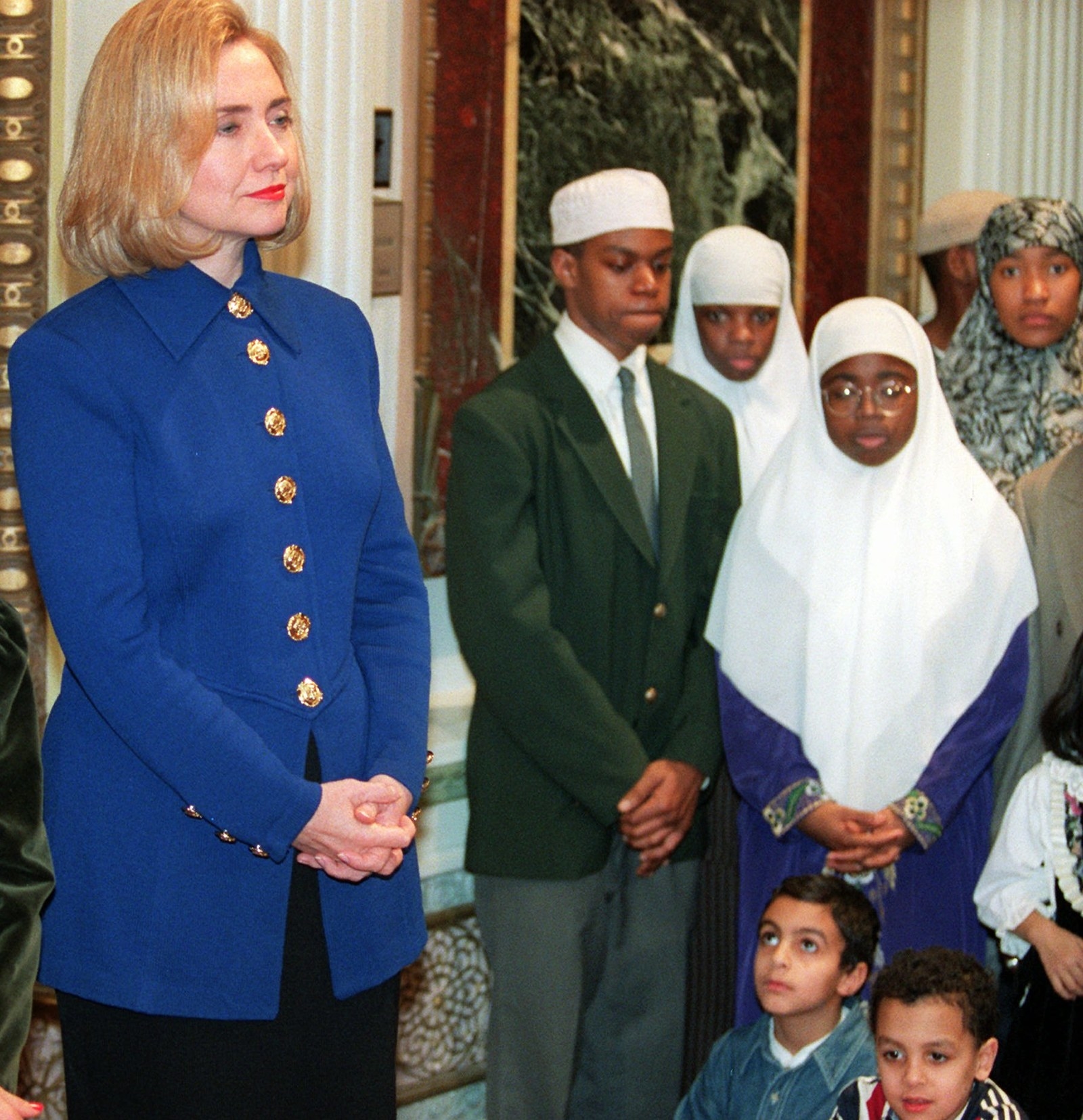 Since then the yearly iftar dinner has continued through the Clinton, Bush, and Obama presidencies.

Past iftars also had controversies.
In 2014, Muslim Americans criticized Obama for discussing Middle East politics, particularly the Israeli-Palestinian conflict, and reiterating Israel's right "to defend itself against what I consider to be inexcusable attacks from Hamas."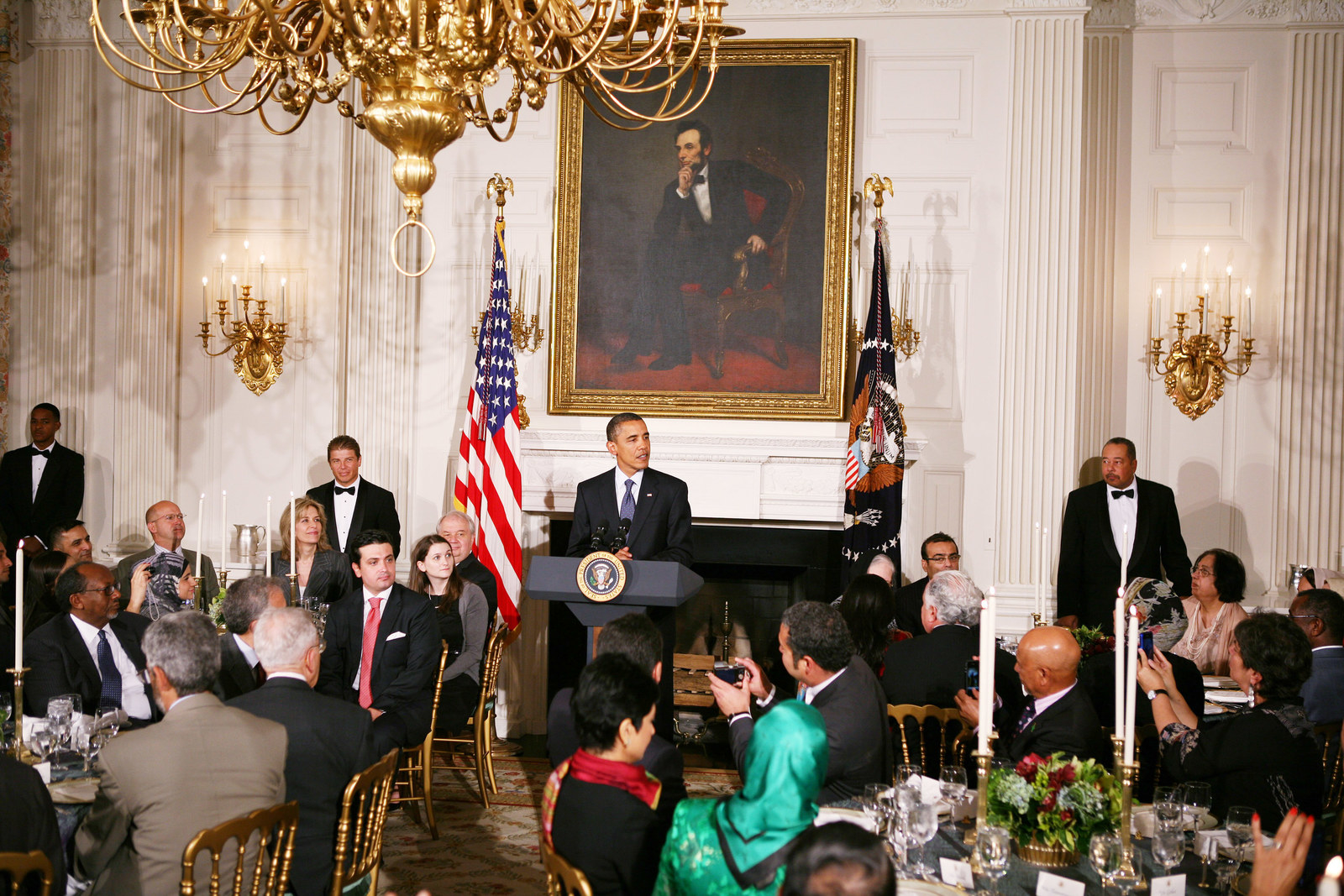 Additional concerns over the ethics of attending the iftar dinners during the Obama administration also concerned the use and escalation of his drone program, and the administration's failed promise to close Guantanamo.

Even if the larger Muslim American community was invited to Wednesday's dinner, it's unlikely that many prominent Muslim Americans would have attended amid calls for a boycott.
"Many American Muslims, even if they had been invited to Trump's White House Iftar, would not have attended," Noureldin said. "This is because the administration has done nothing to build bridges with a community it's targeted both politically and rhetorically."
Trump's relationship with Muslim Americans has been fraught, to put it mildly. In 2015, as a candidate, he called for "a total and complete shutdown of Muslims entering the United States until our country's representatives can figure out what is going on."

In 2016, during his presidential campaign, he stated, "I think Islam hates us."
As president, along with the travel ban, he retweeted three anti-Muslim videos posted by the leader of a far-right British political party.
Others questioned the reason and timing of this year's iftar, pointing out that it is occurring in the same month the US Supreme Court is expected to issue a decision on the legality of Trump's travel ban: