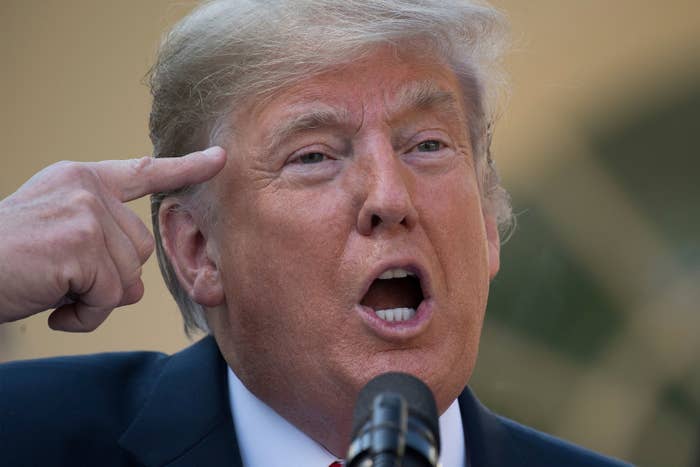 President Trump was apparently more hostile to women reporters than their male counterparts during a press conference Monday about a trade deal with Mexico and Canada and other topics.
When Trump called on ABC News reporter Cecilia Vega second, he said, "She's shocked that I picked her. She's in a state a shock."
"I'm not, thank you, Mr. President," Vega said.

"That's OK, I know you're not thinking, you never do," Trump retorted.

"I'm sorry?" Vega said.
"No, go ahead. Go ahead," Trump said.
For her second question, Vega attempted to ask the president about the allegations of sexual assault against Supreme Court nominee Brett Kavanaugh.
Trump immediately cut her off. "What does that have to do with trade?" he said. "I don't mind answering the question, but you know I'd like to do the trade questions."
He then said he would come back to her later.
Vega would later tweet, "A news conference means you get to ask whatever question you want to ask. #FirstAmendment."
A male reporter later said he also wanted to ask about Kavanaugh, to which Trump said, "Let's go."
But then he quickly said he was happy to take the male reporter's questions about Kavanaugh — later.
After a few minutes, another female reporter, Kaitlan Collins of CNN, said, "Now that you answered several questions on trade, I would like to turn to Kavanaugh."
"Don't do that. Do you have — Excuse me! Do you have a question on trade? We'll do a couple of more questions on trade. OK? Don't do that. And besides someone is before you. Do you have a question on trade?" the president said as the reporter tried to continue with her line of questioning.
Collins pressed, and Trump ultimately ignored her question and said, "Give her the mic, please."
An aide then took the microphone and gave it to the other reporter, a woman, who asked about Trump's border wall with Mexico.
Later in the news conference, Trump returned to Vega.
"OK, let's go, come on. You want to, I guess, get off trade. You want to get off trade. People are falling asleep with trade... to me it's the most exciting thing you can talk about, right? Let's go. Come on," he said.
The president also returned to Collins later in the press conference.
When she attempted a follow-up question, Trump said, "You know what, you've really had enough. You've had enough. Go ahead, please," Trump said, pointing to another reporter.
CORRECTION
Kaitlan Collins' name was misspelled in an earlier version of this post.