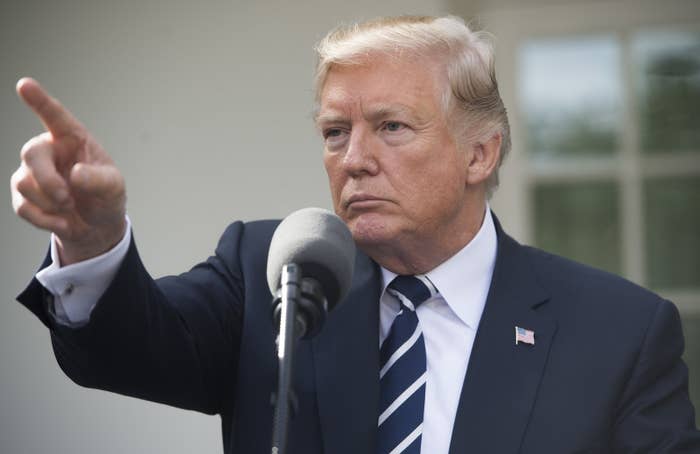 After falsely accusing former US presidents of not calling the families of fallen soldiers, President Trump on Tuesday called the four families of American troops ambushed two weeks ago in Niger, the White House said.
"President Trump spoke to all four of the families of those who were killed in action in Niger," White House press secretary Sarah Huckabee Sanders said in a statement. "He offered condolences on behalf of a grateful nation and assured them their family's extraordinary sacrifice to the country will never be forgotten."
The phone calls came a day after Trump revealed in a press conference that he hadn't called the families because he wanted "a little time to pass." Thirteen days had passed since the October 4 ambush.
During the remarks, Trump also made a claim that previous presidents, including Barack Obama, didn't make calls to the families of soldiers who had died.
"The traditional way if you look at President Obama and other presidents, most of them didn't make calls. A lot of them didn't make calls," Trump said in the White House Rose Garden.
Alyssa Mastromonaco, a former aide to President Obama, called the claim "a fucking lie" on Twitter.
Mastromonaco, a former White House deputy chief of staff for operations in the Obama administration, added: "to say president obama (or past presidents) didn't call the family members of soldiers KIA - he's a deranged animal."
Four US Army soldiers were killed and two others were wounded in an ambush by a group believed to be affiliated with ISIS on October 4, near the Niger–Mali border. All soldiers involved in the ambush were members of the US Army Special Forces, known as the Green Berets.

Trump also claimed that he had written letters to the families, saying they would "either go out today or tomorrow."

"I've written personal letters. They've been sent or they're going out tonight, but they were during the weekend," the president said.
"I like to call when it's appropriate, when I think I'm able to do it," Trump added. "They have made the ultimate sacrifice so generally I would say that I like to call. I'm going to be calling them."

Trump called the phone calls "a very difficult thing."
"It gets to a point where you make four or five of them in one day, it's a very tough day and for me that's by far the toughest," he said.
Retired Gen. Martin Dempsey, a former Chairman of the joint chiefs of staff, also hit back at Trump:
Sanders said that Trump's comments earlier in the day were not critical of former presidents' actions, and that instead he was stating that presidents chose to pay their respects to fallen soldiers in different ways.


"The president wasn't criticizing his predecessors, but stating a fact," Sanders said. "Sometimes they call, sometimes they send a letter, other times they have the opportunity to meet the family member in person. This president, like his predecessor, has done each of these."