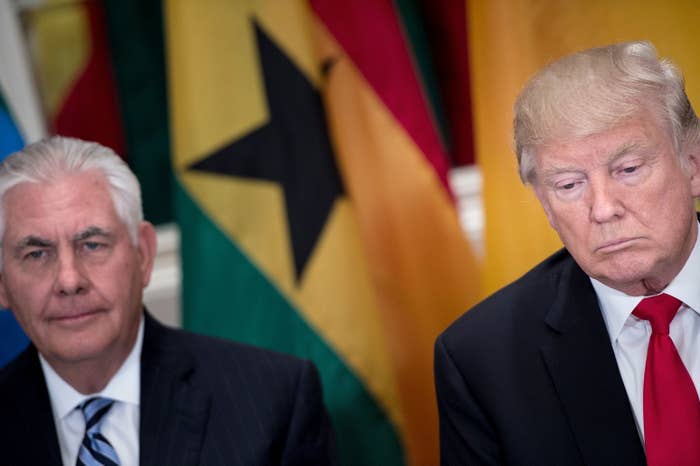 President Trump tweeted Sunday that he has told Secretary of State Rex Tillerson that he is "wasting his time" in negotiations with North Korea.
"I told Rex Tillerson, our wonderful Secretary of State, that he is wasting his time trying to negotiate with Little Rocket Man...," the president tweeted on Sunday morning, referring to North Korean leader Kim Jong Un by a nickname.

On Saturday, Tillerson told the press, "We ask, 'Would you like to talk?' We have lines of communications to Pyongyang — we're not in a dark situation, a blackout," according to the New York Times. "We have a couple, three channels open to Pyongyang," Tillerson added about the rare instance of direct communication between the two nations. It is unknown what, if anything, the communication has yielded. A State Department spokesperson said on Saturday that "North Korean officials have shown no indication that they are interested in or ready for talks regarding denuclearization."
In recent months, tensions have escalated between the US and North Korea as the isolated regime continues to conduct missile tests, and both nations have engaged in a war of words. North Korea had previously threatened to shoot down US warplanes and Trump has said the US would "totally destroy" North Korea if it threatened the US or its allies.
In a second tweet, Trump told Tillerson to "save his energy" trying to negotiate and that the US will "do what has to be done."
Later in the day, President Trump tweeted again about North Korea. Once again using the phrase "Rocket Man" to refer to Kim, Trump said, "Being nice to Rocket Man hasn't worked in 25 years, why would it work now?" He went on to say that former presidents Clinton, Bush, and Obama "failed."

"I won't fail," he wrote.
State Department spokesperson Heather Nauert said North Korea "will not obtain a nuclear capability. Whether through diplomacy or force is up to the regime," in a tweet.
It is unclear what Nauert meant in her tweet, since it is widely known that North Korea has had nuclear weapon capabilities for some time now, and conducted a test in 2006.