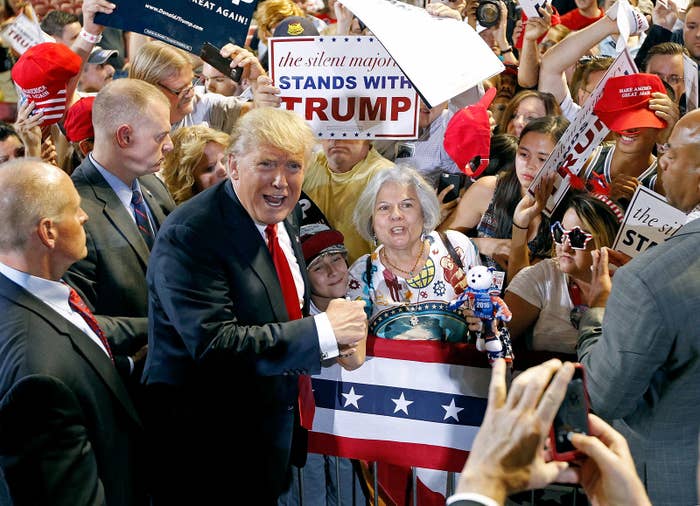 In a move that goes beyond his call to ban Muslim immigration into the United States, Donald Trump said Sunday that profiling American Muslims is something that needs to be considered.
In an interview with Face The Nation on CBS, Trump said that profiling Muslims was a matter of "common sense."
"Just as a bottom line here," host John Dickerson asked, "are you talking about increasing profiling of Muslims in America?"

"Well, I think profiling is something that we're going to have to start thinking about as a country," Trump responded.
"So, we really have to look at profiling. We have to look at is seriously. And other countries do it, and it's not the worst thing to do," he continued, citing Israel as an example.
"I hate the concept of profiling, but we have to use common sense. We're not using common sense."
Trump was also asked how mosques in the country should be "respectfully" checked, a phrase he used at a rally last Wednesday, but did not specify as to how that would be done.
Asked by Dickerson how Mateen, the Orlando shooter and an American citizen born in New York, would have been stopped by Trump's policy, he repeated the idea that people in the Muslim community failed to report Mateen's plan.
Using an example, Trump falsely reiterated that the Muslim community in San Bernardino, California knew of the attack but did nothing. Last week, Trump said that the San Bernardino couple had "bombs all over the floor of their apartment," but did not report the information to authorities. BuzzFeed News reported in March that there was no evidence to support this claim.
Pushing back, Dickerson asked, "But in [Mateen's] case, he was investigated twice by the F.B.I., was taken off a list, there was no red flag that suggested that he was going to go do this, so what was there to report?"
Trump said that there were "red flags" and that Mateen was "not a very good man."
"And you look at his past, I mean, I have never seen a past quite like that. You look at his record in school, you look at a lot of other things, I mean, there were a lot of red flags," Trump said.
Trump was also asked Sunday about criticism of him from prominent Republican leaders, including House speaker Paul Ryan and Senator Mitch McConnell.
"I would say this, if people and especially, you know, where people endorse me, Republican leaders, I think that honestly they should go about their business and they should do a wonderful job and work on budgets and get the budgets down and get the military the types of money they need and lots of other things," he said.
"And they shouldn't be talking so much. They should go out and do their job. Let me do my job."