After being called a disgrace by members of his own party, President Donald Trump on Tuesday tried to walk back comments he made about believing Russian President Vladimir Putin over US intelligence officials.
Trump had come under withering criticism for his press conference with Putin in Helsinki on Monday in which he said he believed the Russian leader's denials that he didn't meddle in the 2016 presidential election over the US's own intelligence agencies, which concluded Putin did exactly that. A former CIA director went so far as to say Trump had committed treason.
Asked on Monday whether he believed his own intelligence agencies or Putin on the question of interference into the US election, Trump said, "He [Putin] just said it's not Russia. I will say this. I don't see any reason why it would be."
But reading from a prepared statement at the White House on Tuesday, the president said he had meant to say he saw no reason why Russia "wouldn't" be responsible.
Trump said he had reviewed a clip and transcript of the press conference, and "realized there is a need for some clarification."
"In a key sentence in my remarks, I said the word would instead of wouldn't," he said. "The sentence should have been, I don't see any reason why it wouldn't be Russia."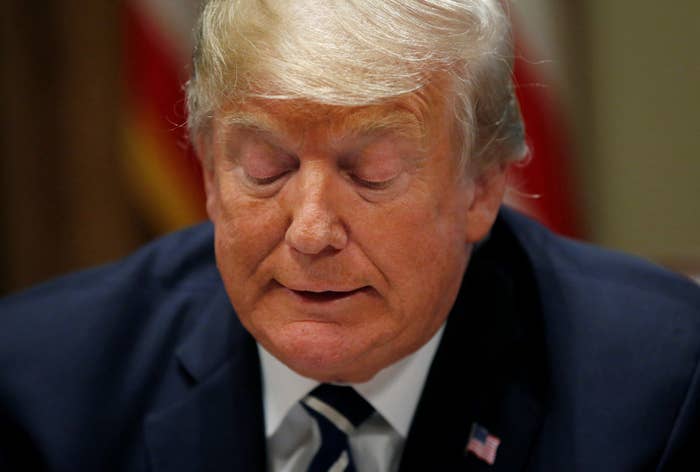 Trump also said he accepts the intelligence community's conclusion Russia meddled in the election — with a caveat.
"I have felt very strongly that while Russia's actions had no impact at all on the outcome of the election...let me be totally clear in saying that, and I've said this many times, I accept our intelligence community's conclusion that Russia's meddling in the 2016 election took place."
"Could be other people also," he immediately added. "There's a lot of people out there."
Despite the president's need for a "clarification" Tuesday, the president gave an interview with Fox News host Sean Hannity on Monday night without any deviation from his original statements at the press conference.
"Just to repeat it," Trump said as he looked down at a paper, "I said the word 'would' instead of 'wouldn't.'"

"The sentence should have been, 'I don't see any reason why it wouldn't be Russia.' Sort of a double negative," the president said.
Trump then went on to state that the US will "repeal [sic] any efforts" to interfere in elections this year.
"We're doing everything in our power to prevent Russian interference in 2018 and we have a lot of power," Trump said, before criticizing former president Obama for not doing enough about election interference in the 2016 presidential election.

"As you know, president Obama was given information just prior to the election, the last election, 2016, and they decided not to do anything about it," Trump said, claiming the previous administration did so because they assumed Hillary Clinton was going to win.

The president tweeted Wednesday morning that "so many people" in the intelligence services had "loved" the Helsinki press conference, though didn't issue a clarification of his comments.

"We got along well which truly bothered many haters who wanted to see a boxing match," he wrote.
He added that Russia agreed to "help with North Korea" — hinting at the denuclearization of the Korean Peninsula — though didn't specify any terms that had been agreed.

"There is no rush, the sanctions remain!" he wrote, reiterating comments he made to Hannity on Monday.