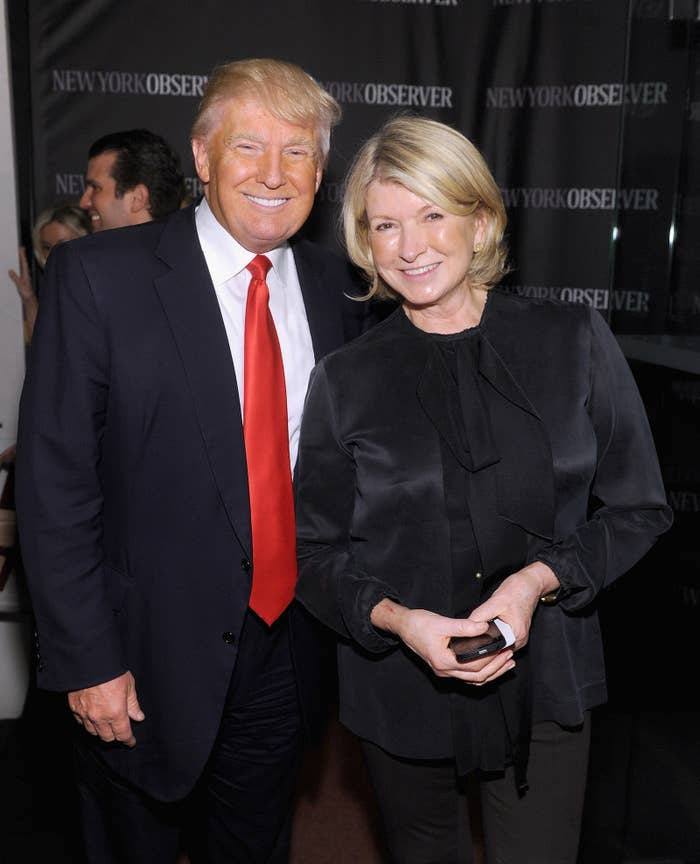 President Donald Trump on Thursday said he's considering a pardon and sentence commutation for Martha Stewart and Rod Blagojevich, two white-collar criminals who both have connections to the Apprentice reality show franchise he started.
Trump's comments came shortly after he said he'd pardon far-right commentator and conspiracy theorist Dinesh D'Souza.
Stewart was sentenced to five months in prison for insider trading that netted her about $227,000. Blagojevich, a former Democratic governor of Illinois, is serving a 14-year prison term that began in 2011 for trying to sell the Senate seat that became vacant when Barack Obama was elected president.
Blagojevich was immortalized when the FBI taped him saying, referring to the Senate seat, "I've got this thing, and it's fucking golden."

On Air Force One on his way to Houston, Trump told reports Blagojevich had said a "stupid" thing that "every other politician" says and questioned the length of his jail sentence.

"I'll tell you another one," Trump told reporters after discussing D'Souza. "There's another one that I'm thinking about — Rod Blagojevich. 18 years in jail for being stupid and saying things that every other politician, you know, that many other politicians say," Trump said, incorrectly stating how long the prison term was.
Blagojevich was a contestant on Celebrity Apprentice 3.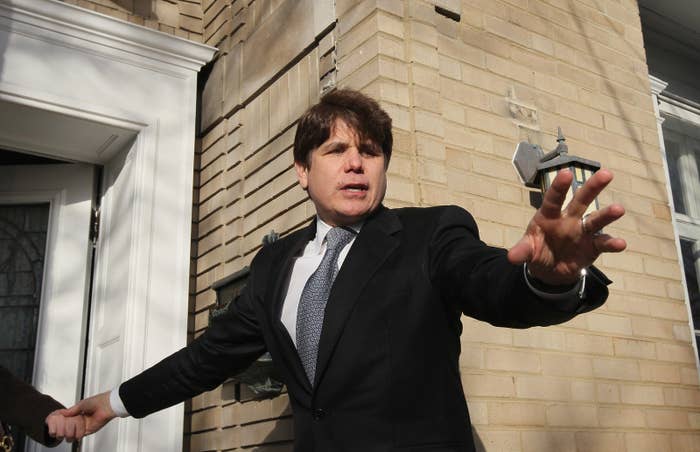 Blagojevich penned an op-ed in the Wall Street Journal on Tuesday, titled "I'm in Prison for Practicing Politics."
In it, he argues that the "Justice Department and Federal Bureau of Investigation are abusing their power to criminalize the routine practices of politics and government."
Blagojevich was also a contestant on Trump's TV show Celebrity Apprentice while he was awaiting trial in 2010.
"And there are others," Trump continued on Air Force One. "I think to a certain extent Martha Stewart was harshly and unfairly treated."
"And she used to be my biggest fan in the world," Trump added.

In May 2017, Stewart was photographed at an event giving the middle finger to a portrait of Trump.

Stewart and Trump got into a public battle over the Apprentice franchise in 2005. Her spinoff, The Apprentice: Martha Stewart, aired during the same season as Trump's show, and both performed poorly in ratings.
"Your performance was terrible in that the show lacked mood, temperament and just about everything a show needs for success," Trump wrote to her in a letter. "I knew it would fail as soon as I first saw it."
Stewart responded that Trump's "letter is so mean-spirited and reckless that [she] almost can't believe [her] longtime friend Donald Trump wrote it."
But in June 2017, Stewart told Food & Wine magazine that she tried to bury the hatchet with Trump.
"I sent my congratulations to the Trump family, and I think they have an opportunity — let's see how they do with it," she said.