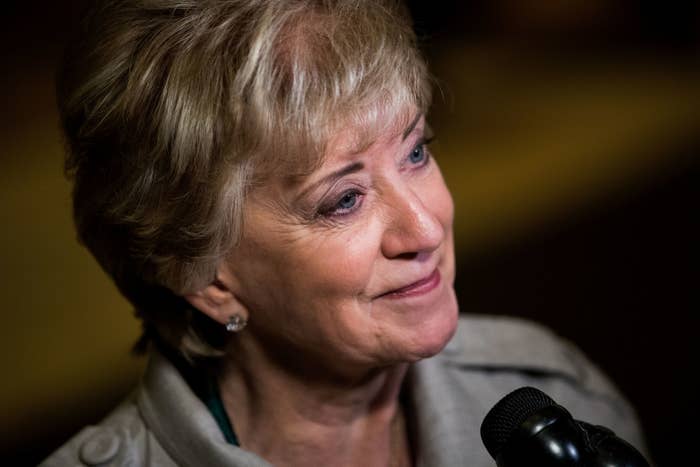 President-elect Donald Trump nominated Linda McMahon — a former CEO of the WWE and former candidate for the US Senate — to head the Small Business Administration.
Trump has appeared on the WWE many times over the years, and the McMahons — Linda and her husband, Vince — were big donors to his campaign.
The Small Business Administration helps "Americans start, build and grow businesses," according to the mission statement of the independent agency of the federal government.
"My America First agenda is going to bring back our jobs and roll back the burdensome regulations that are hurting our middle class workers and small businesses," said President-elect Trump in a transition team press release.
McMahon, he said, is "recognized as one of the country's top female executives advising businesses around the globe" and "is going to be a phenomenal leader and champion for small businesses and unleash America's entrepreneurial spirit all across the country."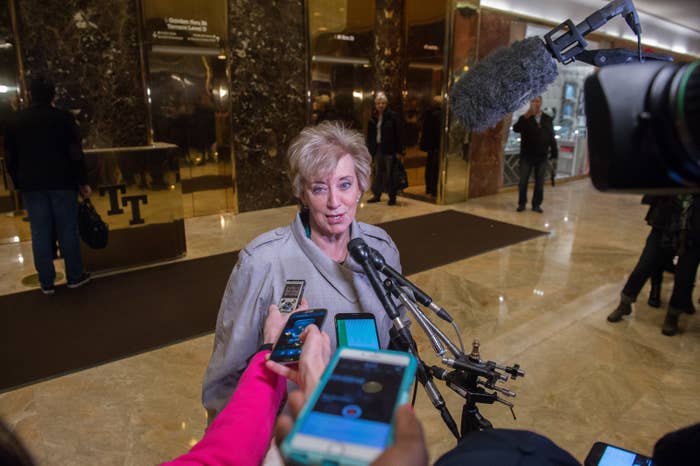 "Honored to be appointed by President-Elect @realDonaldTrump to serve as head of @SBAgov advocating for our small businesses & entrepreneurs!" McMahon said in a tweet.

In 2009 McMahon, 68, stepped down from the World Wrestling Entertainment, which she co-founded with her husband, in order to run for a Senate seat in Connecticut. McMahon lost in 2010, and again in 2012.
In a March 2016 interview with Yahoo Global News anchor Katie Couric, McMahon said Trump's choice of words about women were "deplorable."

"Those [comments] were just over the top; they were deplorable, objectionable absolutely," McMahon said. "He's not helping, certainly, to put women in the best light. Maybe he regrets them, maybe he doesn't. I realize he punches hard when he punches back, but that's just over the top. I wish that no candidate would make those comments."
But months later, in August and September, McMahon donated $6 million to a pro-Trump super PAC, The Washington Post reported. McMahon and her husband also donated $5 million to Trump's charity, the paper also reported, between 2007 and 2009.
Trump has appeared on televised WWE events on numerous occasions; most notably in 2007, when he competed in "Battle of the Billionaires" at WrestleMania 23. The event culminated with Trump shaving McMahon's husband's head.
Trump — when he owned the now-defunct Trump Plaza in Atlantic City — hosted WestleMania IV and V, saying "Everybody in the country wanted this event, and we were able to get it," Rolling Stone reported in a retrospective on Trump's relationship with America's premiere wrestling entertainment company.

In 2013, Trump was inducted into the WWE Hall of Fame.
This is a developing story. Check back for updates and follow BuzzFeed News on Twitter.