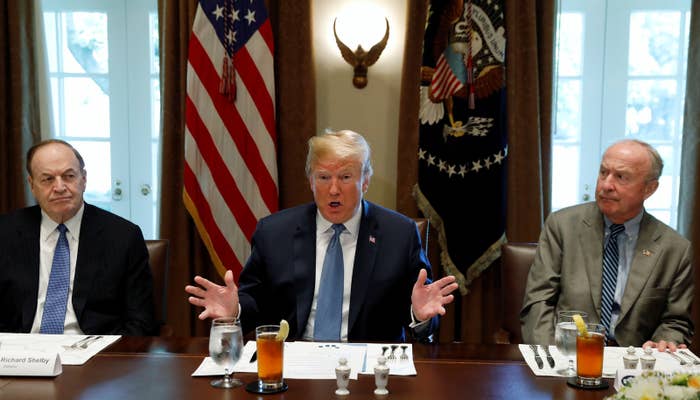 President Donald Trump on Tuesday told Republican members of Congress that the US has "the worst immigration laws in the history of the world."
He also had a solution: "It's so simple. It's called 'I'm sorry you can't come in. You have to go through a legal process.'"
"You don't have to see a judge where the judge is going to take three years before you can come back and in the meantime you never come back because you're already in the country," he said.
The comments came after Trump signed an executive order on family separations last week after widespread criticism of the administration's new "zero tolerance" immigration enforcement policy. The new order keeps detained families together instead of separating parents from their children at the southern border.
"We inherited a lot of different things, but of all of them, immigration makes the least sense. It's a hodgepodge of laws," Trump said.
The president also complained a day after advocating for the deportation of undocumented immigrants without "judges or court cases," criticizing calls to bolster the immigration court system.
"How do you choose 5,000 judges? Can you imagine the corruption? Go to the barbershop, grab somebody, make them a judge," the president said.
And while he encouraged immigration, Trump insisted that "they have to come in through the merit system."
"They have to be people who love our country and help our country," he said.
As the debate and crisis over immigration and child separation at the border continue, Vice President Mike Pence and Homeland Security Secretary Kirstjen Nielsen were slated to discuss in Brazil the Latin American country's issues with immigration on its own northern border. Pence is also expected to travel to Ecuador and Guatemala to discuss immigration in Central America, an issue that wasn't originally on the agenda, the Wall Street Journal reported.